Shahi Mutton Chops Recipe | Masala Mornings | Masala TV | Shireen Anwar | Fusion Food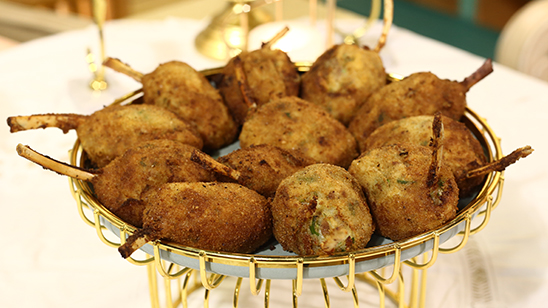 Dec 09, 2023 at 12:33 PM (GMT -05:00)

Check out the Shahi Mutton Chops Recipe in Urdu. Learn how to make best Shahi Mutton Chops Recipe , cooking at its finest by chef Shireen Anwar at Masala TV show Masala Mornings. Check all the Pakistan Cooking recipes in Urdu of Masala TV. Also Check Shahi Mutton Chops Recipe , ingredients and complete Method.
Make these Shahi Mutton Chops for your loved ones this eid and make great memories on the dinner table.
Watch this Masala TV video to learn how to make Shahi Mutton Chops , Buttermilk pound cake and Creamy pasta César salad Recipes. This show of Masala Mornings with Chef Shireen Anwar aired on 19 July 2021.
Ingredients:
Evaporated milk ½ cup
Mutton chops ½ kg
Onion chopped ½ cup
Potatoes boiled and mashed 2 cups
Green chilies finely chopped 1 tbsp
Coriander leaves finely chopped ½ cup
Lemon juice 2 tbsp
Allspice 1 tsp
Cheddar cheese grated ¾ cup
Salt 1 tsp
Egg beaten 1
Dried bread crumbs 1 cup
Method:
Combine the milk, mutton chops, chopped onion, boil for 30 mins until chops tender and no liquid left, shred the meat of all the bones and mash well, keep aside. Reserve 12 clean rib bones from the boiled chops, keep aside. Mix the shredded meat, mashed potato, green chilies, coriander leaves, lemon juice, allspice, cheese and salt, mix well, divide into 8 to 10 portions, wrap a portion around the top of each bone, dip each chop in beaten egg, coat with bread crumbs, deep fry in hot oil till golden brown, serve chops with chatni or ketchup.
Ingredients:
Butter 6 ounces
Sugar 1 cup
Eggs 3
Vanilla essence 1 ½ tsp
heaped buttermilk 1 cup
Flour 2 cups
Baking powder 1 ½ tsp
Salt ½ tsp
Ingredients for strawberry lemon sauce:
Strawberry jams ½ cup
Lemon juice 2 tbsp
Icing sugar 2 tbsp
Method for cake:
Pre-heat oven to 180 d, grease bundt pan with butter and lightly flour tapping out the excess flour. Beat butter and sugar until light and fluffy, add the eggs one at a time, beat until well mixed, scrapping down the sides of the bowl, add vanilla. In another bowl mix flour, baking powder and salt, add half of the flour mixture to the butter sugar mixture, add 1/3 of the buttermilk, repeat the process alternating between adding the dry ingredients and buttermilk, transfer mixture to the prepared bundt pan, spread mixture evenly, bake on 180 d for 45-50 mins, cool the cake in the pan for 30 mins, then turn out of the pan, cool on a wire rack, top with strawberry lemon sauce before serving.
Method:
In a sauce pan heat strawberry jam for 2 mins, add lemon juice, pour over the whole cake and serve.
Ingredients:
Boiled macaroni 2 cups
Cucumbers 2
Tomatoes seeded and cubed 2
Capsicum seeded and cubed 2
Apple diced 2
Vinegar 2 tbsp
Salt 1 tsp
Black pepper 1 tsp
Mayonnaise 1 cup
Cesar dressing 1 cup
Mustard 1 tsp
Ketchup 2 tbsp
Caster sugar 2 tbsp
Iceberg lettuce 1
Method:
Mix all above together, serve over a bed of iceberg lettuce, chill.

Shahi Mutton Chops Recipe in Urdu and English
At Masala TV you can check complete Shahi Mutton Chops Recipe in Urdu and English. This is one of the best recipes by chef Shireen Anwar at Masala TV show Masala Mornings. Check out the other best recipes of chefs Shireen Anwar.
Top relevant recipes of Shahi Mutton Chops Recipe in Urdu