Shawarma Platter Recipe | Masala Mornings | Masala TV | Shireen Anwar | Desi Food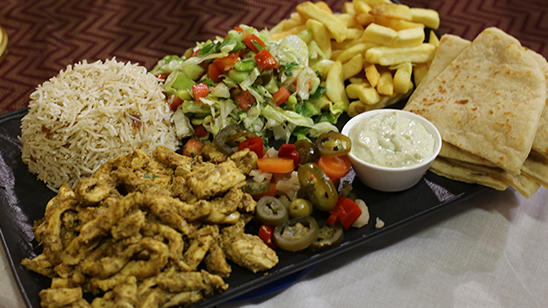 Aug 15, 2022 at 11:48 PM (GMT -04:00)

Check out the Shawarma Platter Recipe in Urdu. Learn how to make best Shawarma Platter Recipe , cooking at its finest by chef Shireen Anwar at Masala TV show Masala Mornings. Check all the Pakistan Cooking recipes in Urdu of Masala TV. Also Check Shawarma Platter Recipe , ingredients and complete Method.
Why go to a restaurant when you can make Shawarma Platter at home. Serve it with Pita Bread to get full vibe of a restaurant at home.
Watch this Masala TV video to learn how to make Shawarma Platter , Caramel bread surprise and Mango drink Recipes. This show of Masala Mornings with Chef Shireen Anwar aired on 12 July 2021.
Ingredients for shawarma spice:
Turmeric 1 tsp
Chili powder 1 tbsp
Coriander powder 2 tbsp
Black pepper powder 1 tbsp
Cloves powder ½ tsp
Cardamom powder 1 tsp
Nutmeg powder ½ tsp
Ginger powder 1 tbsp
Cumin powder 1 tbsp
Cinnamon powder 1 tsp
Ingredients for pita bread:
Wheat flour 2 cups
Yeast 2 tsp
Salt 1 ½ tsp
Sugar 1 tbsp
Oil 3 tbsp
Flour 4 cups
Lukewarm water 2 ½ cups
Ingredients for tahini sauce:
Tahini paste ½ cup
Lemon juice ¼ cup
Olive oil ¼ cup
Garlic crushed 1 tbsp
Parsley 1 tbsp
Yogurt 2 tbsp
Salt ½ tsp
Coriander leaves 1 tsp
Water as required
Ingredients to serve:
Salad 2
Iceberg chopped 2 cups
Tomato ½ cut into cubes
Capsicum cut into cubes 1
Cucumber 1 cut into cubes
Prepared tahini sauce as required
Sweet chili sauce as required
Ingredients for rice:
Boiled rice 2 cups
Brown onion 2 tbsp
Oil 2 tbsp
Salt ½ tsp
Cardamom powder ¼ tsp
Cinnamon powder ¼ tsp
Crushed cumin ½ tsp
Fries to serve
French fries fried 2 cups
Jalapeno slices
Jerkin slices
Tahini sauce as required
Pita sauce
Ingredients for shawarma:
Chicken breasts 3
shawarma spice 1 tbsp
Salt ½ tsp
Ginger garlic 1 tsp
Lemon juice 2 tbsp
tahini sauce 2 tbsp
Crushed red pepper 1 tsp
Method for shawarma:
Chicken breasts 3 cut into julienne cut into small cubes, marinate with shawarma spice 1 tbsp heaped, salt ½ tsp heaped, ginger garlic 1 tsp heaped, lemon juice 2 tbsp, tahini sauce 2 tbsp, pan fry for 10 mins, before removing add crushed red pepper 1 tsp.
Method for rice:
Heat oil, add brown onion, boiled rice with all the spices, ¼ cup water, mix well, leave it on dum till done, serve in shawarma platter.
Method tahini sauce:
Blend all together.
Method for Sharma spice:
Mix all together without roasting.
Method for pita bread:
Mix all together in a bowl and knead with lukewarm water until it forms a dough, knead well, bang the dough, leave to rise for 1 hour till double, punch down dough, make into balls, roll into ¼ plate size and cook on a tawa.
Method :
Spread French fries in the platter, top with sauces and veggies.
To assemble shawarma Spread pita, top with tahini sauce, prepared chicken, some fries, jalapeno, jerkins, some more tahini sauce, roll tightly, cut into pieces and serve in the platter.
Ingredients for crunch:
Ingredients for caramel sauce:
Butter 2 ounce
Sugar 1 cup
Cream 1 ½ cup
Caramel essence ¼ tsp
Whipped cream 3 cups
Bread slices cut into fingers 4-5
Cream cheese 4tbsp
Method:
Make crunch crush and save it.
Method for sauce:
Melt butter, add sugar till sugar melts, add in cream and essence, cook till sauce slightly thick, beat cream, add in ½ cup of prepared caramel sauce, remove edges of bread slices, cut in cubes of fingers, dip in sauce, arrange a layer of bread in a pyrex dish, top with some crushed crunch, spread caramel sauce, cream on it, again bread soaked in sauce, crunch, top with cream, finish it off with a thick layer of crunch, serve chilled.
Ingredients:
Mango squash ½ cup
Water 2glass
Ispaghol 2tbsp
Ice cubes 1cup
Method:
Blend all serve chilled

Shawarma Platter Recipe in Urdu and English
At Masala TV you can check complete Shawarma Platter Recipe in Urdu and English. This is one of the best recipes by chef Shireen Anwar at Masala TV show Masala Mornings. Check out the other best recipes of chefs Shireen Anwar.
Top relevant recipes of Shawarma Platter Recipe in Urdu