Shepherd's Pie Recipe | Dawat | Abida Baloch | British Food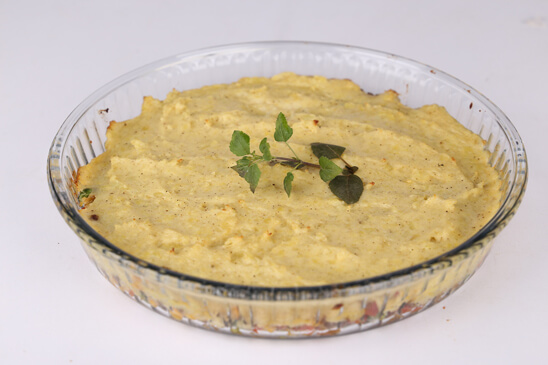 Jul 07, 2022 at 03:56 AM (GMT -04:00)

Check out the Shepherd's Pie Recipe in Urdu. Learn how to make best Shepherd's Pie Recipe , cooking at its finest by chef Abida Baloch at Masala TV show Dawat. Check all the Pakistan Cooking recipes in Urdu of Masala TV. Also Check Shepherd's Pie Recipe , ingredients and complete Method.
Shepherd's pie is a classic pie dish that you'll absolutely love. It crispy and delicious; have this one today!!
Watch this Masala TV video to learn how to make Shepherd's Pie and Sweet Potato Tikki Recipes. This show of Dawat with Chef Abida Baloch aired on 4 January 2021.
Ingredients For Potatoes:
Potatoes (peeled, boiled and mashed) 5-6
Salt to taste
Butter (melted) 4 tbsp
Milk 1/4 cup
Sour cream 1/4 cup
Ground black pepper to taste
For The Beef Mixture:
Oil 3 tbsp
Onion (chopped) 1 large
Carrots (peeled and cubed) 2
Garlic (minced) 2 cloves
Rosemary 1 tsp
Ground beef 300 gm
Peas 1 cup
Corn 1 cup
Flour 2 tbsp
Chicken stock 1 cup
Basil (chopped) 1 tbsp (for garnish)
Method:
Preheat oven to 200°. Add potatoes, melted butter, milk, and sour cream. Mash together until fully incorporated, then season with salt and pepper. Set aside.
In a large, skillet over medium heat, heat oil. Add onion, carrots, garlic, and rosemary and cook for 5 minutes. Add ground beef and cook until no longer pink, 5 minutes more. Stir in peas and corn and cook until warmed through, 3 minutes more. Season with salt and pepper. Sprinkle meat with flour and stir to evenly distribute. Cook 1 minute more and add chicken broth. Bring to a simmer and let mixture thicken slightly, 5 minutes. Top beef mixture with an even layer of mashed potatoes and bake until potatoes are golden. Garnish with basil before serving.
Ingredients:
Sweet potatoes (cooked and peeled) 1/2 kg
Gram flour (roasted) 2 tbsp
Fresh coriander (chopped) 1/2 cup
Chaat masala 1tsp
Green chilies (minced) 3
Garlic minced 1 tsp
Dried fenugreek leaves 1 tsp
Salt to taste
Red chili powder 1 tsp
Cumin powder (roasted) 1 tsp
All spice powder ½ tsp
Black pepper 1/2 tsp
Oil as required (for shallow frying)
Method:
Place the cooked and peeled sweet potatoes and the remaining ingredients together in a bowl. Using a potato masher or spoon, mash until well combined, take some of the mixture and form it into a ball, then flatten it into a patty. Repeat until all the mixture has been formed into patties then fry them.

Shepherd's Pie Recipe in Urdu and English
At Masala TV you can check complete Shepherd's Pie Recipe in Urdu and English. This is one of the best recipes by chef Abida Baloch at Masala TV show Dawat. Check out the other best recipes of chefs Abida Baloch.
Top relevant recipes of Shepherd's Pie Recipe in Urdu