Sindhi Aloo Tikki Recipe | Food Diaries | Chef Zarnak Sidhwa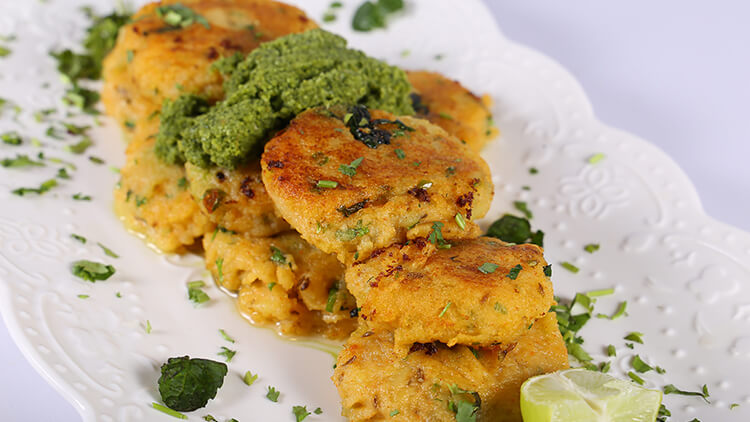 Feb 03, 2023 at 10:58 AM (GMT -05:00)

Check out the Sindhi Aloo Tikki Recipe in Urdu. Learn how to make best Sindhi Aloo Tikki Recipe, cooking at its finest by chef Zarnak Sidhwa at Masala TV show Food Diaries. Check all the Pakistan Cooking recipes in Urdu of Masala TV. Also Check Sindhi Aloo Tikki Recipe, ingredients and complete Method.
Served with green chutney, these Sindhi style aloo tikkis are bursting with flavorsome spices and made with mashed potatoes. Try this easy recipe and let us know what you think.
Watch this Masala TV video to learn how to make Sindhi Aloo Tikki ,Thai Sweet Chili Noodles and Chocolate Surprise Cupcakes Recipes. This show of Food Diaries with Chef Zarnak Sidhwa aired on 26 November 2019.
Ingredients:
Bread slices 4-5
Potatoes (boiled &mashed) 2 large
Chopped green chilies 2
Red chili powder ½ tsp
Crushed cumin seeds 1 tsp
Coriander leaves 1 tbsp
Mint leaves 1 tbsp
Salt to taste
Green chutney to serve
Method:
Soak bread slices into water and after a while, squeeze out water from the bread completely. Add mashed bread into a bowl. Add in mashed potatoes, green chilies, red chili powder, roasted crushed cumin seeds, coriander leaves, mint leaves and salt. Now grease your palm with little oil and make small balls and then flatten them and shape into tikkies. Heat oil in a pan and shallow fry the prepared tikkies until turn golden brown in color and crisp. Serve hot with green chutney.
Ingredients:
Spaghetti 8 oz
Creamy peanut butter 3 tbsp
Thai sweet chili sauce 3 tbsp
Apple cider vinegar 1-1/2 tbsp
Chopped peanuts as required
Coriander leaves for garnishing
Lemon wedges as required
Method:
Add the peanut butter, sweet chili sauce and apple cider vinegar in a small sauce pan. Heat up on low heat, stir and mix well. In a bowl, toss the earlier boiled and drained spaghetti with the peanut sauce. Top with the peanuts and coriander leaves, serve immediately.
Ingredients:
Flour 1 cup
Baking powder 1 tsp
Salt a pinch
Cocoa powder ¼ cup
Caster sugar 1 cup
Coffee 1 tbsp
Oil ½ cup
Milk ½ cup
Vanilla essence ½ tsp
Shredded basil 1 tbsp
Egg 1
For Frosting:
Unsalted butter 3 tbsp
Orange marmalade 3 tbsp
Milk 2 tbsp
Coconut milk 2 tbsp
Cardamom powder a pinch
Caster sugar ½ cup
Chopped orange rind as required
Method:
Mix flour, baking powder, salt, cocoa powder and caster sugar. Stir together coffee powder and ½ cup boiling water, then add it to the flour mixture along with the oil, milk, vanilla essence & egg. Fold in shredded basil leaves. Divide the prepared batter into the lined cupcake tin. Do not fill the liners till top. Bake for 15-20 minutes on 180°C. Once done, set them aside to cool on a wire rack. Meanwhile, prepare the frosting. Beat butter, marmalade, milk, coconut milk, cardamom powder and the sugar in a bowl till it begins to look creamy and fluffy. Fold in the orange rind; leave some to sprinkle as garnish. Spread the prepared frosting on the prepared cupcakes. Garnish with orange rind.

Sindhi Aloo Tikki Recipe in Urdu and English
At Masala TV you can check complete Sindhi Aloo Tikki Recipe in Urdu and English. This is one of the best recipes by chef Zarnak Sidhwa at Masala TV show Food Diaries. Check out the other best recipes of chefs Zarnak Sidhwa.
Top relevant recipes of Sindhi Aloo Tikki Recipe in Urdu