Sindhi Biryani Recipe | Dawat | Abida Baloch | Desi Food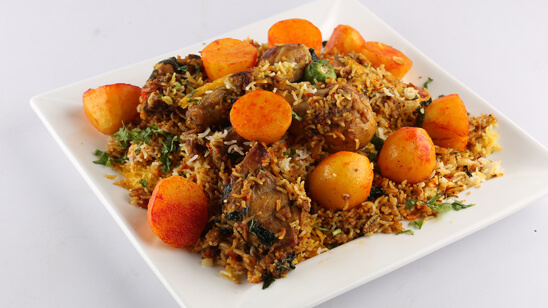 Feb 03, 2023 at 11:12 AM (GMT -05:00)

Check out the Sindhi Biryani Recipe in Urdu. Learn how to make best Sindhi Biryani Recipe , cooking at its finest by chef Abida Baloch at Masala TV show Dawat. Check all the Pakistan Cooking recipes in Urdu of Masala TV. Also Check Sindhi Biryani Recipe , ingredients and complete Method.
If you haven't tried this Sindhi Biryani Recipe yet, you are missing out on the most tempting, aromatic and scrumptious Biryani of your life. What are you waiting for? Have this one today!
Watch this Masala TV video to learn how to make Sindhi Biryani and Potato Soup Recipes. This show of Dawat with Chef Abida Baloch aired on 9 December 2020 .
Ingredients:
Chicken ½ kg
Fried onions ½ cup
Yogurt ½ cup
Boiled potatoes 4 large
Salt to taste
Tomatoes 5
Sindhi biryani masala ½ packet
Turmeric Powder 1 tsp
Red Chili Powder 1 tbsp
Coriander powder 2 tbsp
Green Chilies 12
Whole all spice 2 tbsp
Plums 6
Ginger garlic paste 1tbsp
Food color ½ tsp
Mint leaves ½ bunch
Sliced lemons 2
Green Coriander ½ bunch
Boiled rice ½ kg
Clarified butter ½ cup
Method:
Boil rice in water. Then heat clarified butter and cook tomatoes. Add potatoes, salt, red chili and fry with food color. Now add chicken, yogurt, ginger garlic paste, whole all spice and cook chicken. Then add sindhi biryani masala, coriander powder, turmeric and cook till chicken get tender. For simmering add half rice in grease pan then add potatoes, green chilies, lemon, fried onions, plums, chicken qorma and rest of the rice. In last add food color and let it simmer for 15 minutes. Serve with green coriander, mint and fried onion.
Ingredients:
Butter 3 tablespoons
Spring onion (chopped) 1 cup
Carrot (chopped) 1 cup
Garlic (minced) 1 teaspoon
Dried rosemary 1/4 teaspoon
Red pepper flakes (crushed) 1/4 teaspoon
All-purpose flour 3 tablespoons
Chicken stock 4 cups
Potatoes (cubed) 4 cups
Bay leaf 1
Salt, black pepper powder to taste
Cream ¼ cup
Cheese (grated) ½ cup
For Serving:
Spring onions (chopped) as required
Cheese (grated) as required
Sour cream as required
Hot sauce as required
Method:
In a large pot melt the butter over medium heat. Stir in the onions, carrots, and Cook, until they begin to soften; 5 to 6 minutes. Then stir in the garlic, rosemary, red pepper flakes, salt, black pepper, and then cook, for 30 seconds. Scatter the flour over the vegetables and cook, stirring, until It will smell toasty. Slowly whisk in stock, making sure there aren't any lumps of flour and whisk until blended. Increase the heat and bring the soup to a boil then reduce to a simmer. Now add the potatoes and bay leaf, and then cook, until the potatoes are fork tender. For a thick and blended soup, use a potato masher to mash or an immersion blender to blend about half of the potatoes in the soup. Stir in the cream and cheese, Serve with fresh herbs on top.

Sindhi Biryani Recipe in Urdu and English
At Masala TV you can check complete Sindhi Biryani Recipe in Urdu and English. This is one of the best recipes by chef Abida Baloch at Masala TV show Dawat. Check out the other best recipes of chefs Abida Baloch.
Top relevant recipes of Sindhi Biryani Recipe in Urdu