Sloppy Joes Recipe | Food Diaries | Masala TV | Zarnak Sidhwa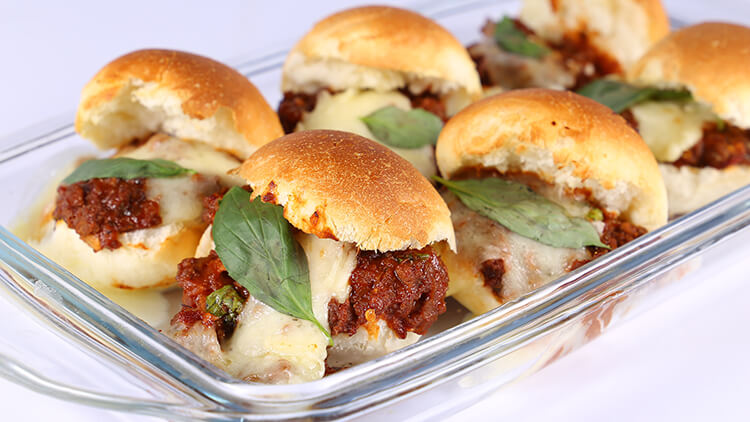 May 21, 2022 at 03:51 PM (GMT -04:00)

Check out the Sloppy Joes Recipe in Urdu. Learn how to make best Sloppy Joes Recipe, cooking at its finest by chef Zarnak Sidhwa at Masala TV show Food Diaries. Check all the Pakistan Cooking recipes in Urdu of Masala TV. Also Check Sloppy Joes Recipe, ingredients and complete Method.
Sloppy Joes is the best form of sandwich which is filled with yummy beef, tomato sauce and onions (as required). Try this easy to make and extremely delicious recipe.
Watch this Masala TV video to learn how to make Sloppy Joes ,Pistachio Chocolate Barfi and Daal Vegetable Oats Recipes. This show of Food Diaries with Chef Zarnak Sidhwa aired on 29 November 2019.
Ingredients:
Beef mince 250gm
Small buns as required
Grated mozzarella cheese ½ cup
Basil leaves handful
For Sauce:
Oil 2 tbsp
Crushed garlic 3 cloves
Crushed red chilies 1 tbsp
Salt 1 tsp
Oregano 1 tsp
Chopped onion 1
Sugar 1 tsp
Tomatos puree or paste 1 cup
Ketchup 2 tbsp
Chili garlic sauce 2 tbsp
Method:
Heat oil, add onion, sauté add garlic, salt, oregano, sugar, red chilies crushed and a little water, add ketchup, chili garlic sauce and tomato puree and let cook till thick. Heat oil adds the mince in a pan. Fry over a high heat until completely browned. Pour in the sauce and leave to bubble until thickened. Lightly toast the buns. Divide the mince between the buns. Sprinkle mozzarella cheese. Grill for 3-4 minutes, until the cheese is golden. Scatter with the basil.
Ingredients:
Pistachios ½ cup
Whole dried milk 250 gm
Condensed milk 100 gm
Cooking chocolate 100 gm
Caster sugar 100 gm
Method:
Crumble the whole dried milk, add caster sugar and condensed milk, knead to make smooth dough. Finely chop the pistachios and mix with the barfi. Divide the mixture into 12 small balls. Break the chocolate into small pieces and set over a double boiler to melt. Coat each ball well with the melted chocolate and set aside to cool.
Ingredients for Masala:
Dry red chilies 2-3
Cumin seeds 1 tbsp
Coriander seeds 1 tbsp
Split Bengal gram 1 tbsp
Turmeric powder 1 tsp
For Khichdi:
Clarified butter 2 tbsp
Mustard seeds 1 tbsp
Fenugreek seeds 1 tsp
Cashew nuts 1 tbsp
Minced garlic 3-4 cloves
Curry leaves few
Diced carrot 1
Chopped green beans ½ cup
Green peas ½ cup
Oats 2 cups
Boiled pigeon pea ½ cup
Prepared Masala as required
Salt to taste
Clarified butter 1 tbsp
Curry leaves few
Dry red chili as required
Cashew nuts as required
Sev as required
Method:
Boil pigeon pea till soft. Reserve the lentil water. In a pan, add red chilies, cumin seeds, coriander seeds, split Bengal gram and turmeric powder. Dry roast them for 4-5 minutes. Grind it into a fine powder. Keep aside. Heat clarified butter in a pan. Add mustard seeds, fenugreek seeds, broken cashews, garlic cloves, whole red chilies and curry leaves, mix well. Add carrots, green beans and green peas, saute for a minute. Add oats and pigeon pea and reserved lentil water as required. Add prepared Masala and salt, cook for 3-4 minutes. Ladle it out into a bowl. In a tempering pan, add clarified butter, curry leaves and cashew nuts. Pour the tadka over oats. Then top it off with thin sev.

Sloppy Joes Recipe in Urdu and English
At Masala TV you can check complete Sloppy Joes Recipe in Urdu and English. This is one of the best recipes by chef Zarnak Sidhwa at Masala TV show Food Diaries. Check out the other best recipes of chefs Zarnak Sidhwa.
Top relevant recipes of Sloppy Joes Recipe in Urdu