Sloppy Joes Recipe | Zarnak Sidhwa in Food Diaries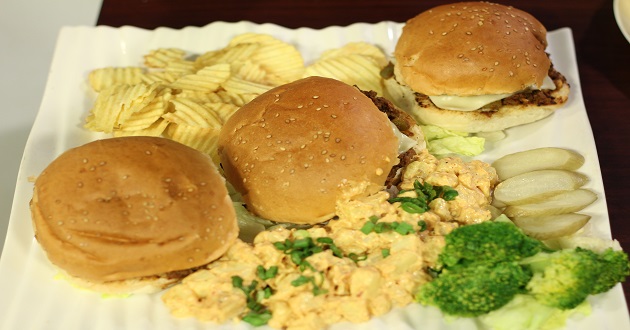 Jul 07, 2022 at 03:25 AM (GMT -04:00)

Check out the Sloppy Joes Recipe in Urdu. Learn how to make best Sloppy Joes Recipe, cooking at its finest by chef Zarnak Sidhwa at Masala TV show . Check all the Pakistan Cooking recipes in Urdu of Masala TV. Also Check Sloppy Joes Recipe, ingredients and complete Method.
Ingredients:
Butter 1 tbsp
Undercut mined beef 1/2 kg
Diced onion 1 (medium)
Diced green bell pepper 1 (small)
Chopped garlic 1 tbsp
Ketchup 3/4 cup
Water 1/2 cup
Brown sugar 1 tbsp
Chilli powder 1 tsp
Mustard paste 1 tbsp
Red chilli flakes 1/2 tsp
Worcestershire sauce 2 tbsp
Tomato paste 1 tbsp
Hot sauce 1 tbsp
Salt 1 tsp
Freshly ground black pepper 1 tsp
Burger buns to serve with
Method:
Add butter to a large pan over medium heat. Add ground beef and cook until brown till excess water is dried out. Add onions, green pepper, and garlic. Cook for a few minutes, or until vegetables are soft. Add ketchup, brown sugar, chili powder, mustard paste, chilli flakes, Worcestershire sauce, tomato paste, hot sauce and water. Stir to combine and simmer for 15 minutes, add salt and pepper to taste. Taste and adjust seasonings as needed.
Spread burger buns with butter and toast them. Spoon meat mixture over the buns, topping with shredded cheddar cheese. Serve hot with potato salad.

Sloppy Joes Recipe in Urdu and English
At Masala TV you can check complete Sloppy Joes Recipe in Urdu and English. This is one of the best recipes by chef Zarnak Sidhwa at Masala TV show . Check out the other best recipes of chefs Zarnak Sidhwa.
Top relevant recipes of Sloppy Joes Recipe in Urdu