Soft and Quick Afghani kebab Recipe | Lively Weekends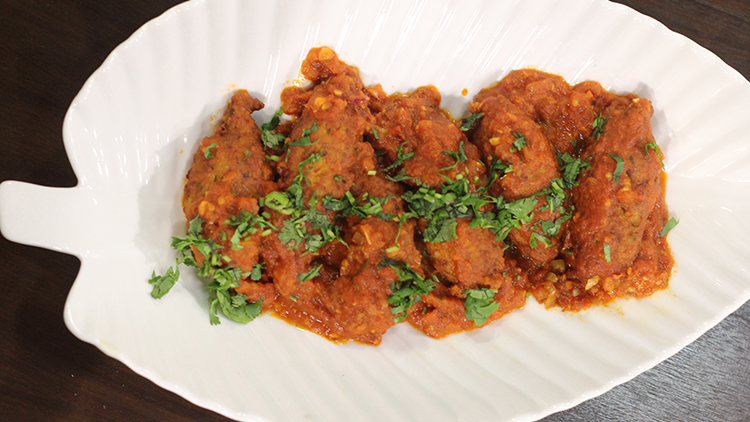 Sep 25, 2023 at 04:43 PM (GMT -04:00)

Check out the Soft and Quick Afghani kebab Recipe in Urdu. Learn how to make best Soft and Quick Afghani kebab Recipe, cooking at its finest by chef at Masala TV show Lively Weekend. Check all the Pakistan Cooking recipes in Urdu of Masala TV. Also Check Soft and Quick Afghani kebab Recipe, ingredients and complete Method.
How to make Afghani kabab with tomato gravy with step by step recipe
Watch this Masala TV video to learn how to make Afghani kebab ,Chicken Casserole and Lemon Dream Recipes. This show of Lively Weekend with Host Kiran Khan aired on 29 September 2019.
Ingredients:
Chicken minced 1 kg
Green chilies 6
Salt 1 tsp
Ginger paste 1 tsp
Garlic paste 1 tsp
Roasted cumin powder 1 tsp
All spice powder 1 tsp
Desiccated coconut 1 tsp
Egg 1
Bread sliced 3
Onion 1 small

Ingredients for Gravy:

Tomatoes 3-4
Garlic 1 tbsp
Green chilies chopped 2-3
Black pepper ½ tsp
Red chili powder 1 tsp
Oil ½ cup
All spice powder 1/2tsp
Cumin ½ tsp
Salt to taste
Method:
Chop above mentioned ingredients in a chopper until well combined. Form into seekh kebabs. Fry these kebabs on medium low flame until light golden. Gather in a dish and give a smoke of coal.
Method for Gravy:
Heat oil
Add garlic paste fry until aroma is sensed; add tomato and all the spices. Cook until oil separates.
Add 2 cups of water wait till a boil and now add all the kebabs. Cover and simmer on low heat for 10mins.
Serve with garlic rice.
Ingredients:
Olive oil 6 tbsp
Chicken boneless 1 kg
Onion finely chopped 50gm
Garlic finely chopped 50gm
Vinegar 2 tbsp
Mustard paste 1 tsp
Pepper sauce 1 tsp
Stock 1 tsp
Capsicum 250 gm
Carrots 250 gm
Onions chopped 6
Mushrooms diced 1 tin
Rosemary 1 tbsp
Black olives 8
Cream diluted 200 gm
Salt 1 tbsp
Black pepper 1 tbsp
Cheese 200 gm
Cherry tomatoes 6-8
Method:
In a pot add oil, garlic and onion. Then add cubed chicken cook until white…
Add vinegar, mustard, tabasco, cook until tender.
Add salt pepper and rosemary. Add cream and cook for few more minutes. In a Pyrex dish, out the sauté chicken spread cheese, sprinkle cherry tomatoes.
Bake until cheese melts, serve with baguettes.
Ingredients:
Caster sugar 100 gm
Water 200 gm
Lemon juice 50 gm
China grass 2.5 gm
Lemon zest 1 lemon
Coconut Milk 50 gm
Gelatin powder 3 gm
Cold water 18gm
White chocolate 200 gm
Whole milk 95gm
Cream 95gm
Vanilla paste 1 tsp
Cream 200 gm
Cornflakes 100 gm
White chocolate 50 gm
Shredded coconut 20gm
Lemon zest 1 lemon
Lemon Coconut Curd
Method:
1. Add the water, sugar, lemon juice & agar agar to a saucepan. Place it over a medium heat and allow it to boil for 2m – it is important to boil it in order to activate the agar agar.
2. Once boiled, pour it into a bowl and stir through the lemon zest.
3. Place it into the fridge and allow it to set completely, about 1 hour.
4. Once set, blend the mixture until smooth and slowly pour in the coconut milk. Blend again to combine then pour it through a fine sieve. Set aside in the fridge until ready to use.
Vanilla Mousse :
1. Place the gelatin powder and water into the bottom of a small saucepan and leave them for 15m. Do not stir them together, simply pour the water over the top and leave it.
2. Place the chocolate in a bowl and melt it over a bain marie. Don't melt it completely, just about 60% so there are a few lumps left.
3. Pour the milk and 95g cream into a saucepan along with the vanilla paste. Heat it until it is steaming but not quite boiling then immediately pour it over your melted chocolate and whisk the whole mixture together until it is smooth. Allow to cool for 10m (this is key don't skip the cooling)
4. Add the remaining cream to a bowl and whisk it until you have soft peaks. Take a small amount, about 3-4 Tbsp and whisk this into the melted chocolate to even out the mixture and bring the textures closer together (this helps to prevent it from all lumping up!). Then add the remaining cream in two parts, whisking it together until it is smooth and combined.
Corn flake base:
Melt chocolate and mix all in.
Layering:
Cornflakes base
Vanilla mousse
Lemon curd
Vanilla mouse

Soft and Quick Afghani kebab Recipe in Urdu and English
At Masala TV you can check complete Soft and Quick Afghani kebab Recipe in Urdu and English. This is one of the best recipes by chef at Masala TV show Lively Weekend. Check out the other best recipes of chefs .
Top relevant recipes of Soft and Quick Afghani kebab Recipe in Urdu