Soft Pretzels Recipe | Food Diaries | Zarnak Sidhwa | Bakery Items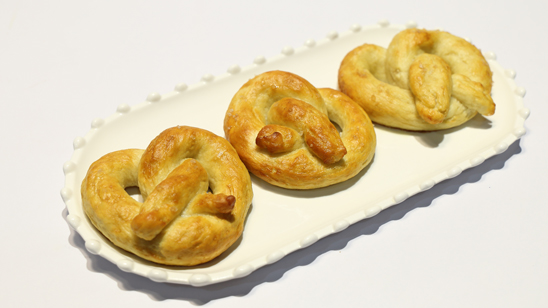 Sep 22, 2023 at 05:18 PM (GMT -04:00)

Check out the Soft Pretzels Recipe in Urdu. Learn how to make best Soft Pretzels Recipe , cooking at its finest by chef Zarnak Sidhwa at Masala TV show Food Diaries. Check all the Pakistan Cooking recipes in Urdu of Masala TV. Also Check Soft Pretzels Recipe , ingredients and complete Method.
These Soft Pretzels will change your breakfasts and evening teas forever! You can have them with a chocolate spread, cream cheese or as it is!
Watch this Masala TV video to learn how to make Soft Pretzels, Middle Eastern Vegetable Salad and Fried Fish Recipes. This show of Food Diaries with Chef Zarnak Sidhwa aired on 11 June 2020.
Ingredients for Dough:
Flour 2 ½ cups
Salt 1 tsp
Sugar 1 tsp
Yeast 2 ¼tsp
Warm water ¾- 1 cup
Topping:
Boiling water 1 cup
Baking soda 2 tbsp
Coarse salt to taste
Melted unsalted butter 3 tbsp
Method:
Put all dough ingredients in a stand mixer. Combine, and knead for 5 minutes. Flour the dough, cover, and let rest for 30 minutes. While dough is resting, prepare the topping. Combine boiling water and baking soda in a shallow dish. The baking soda should dissolve almost completely. Allow mixture to cool. Transfer dough to working surface and cut into 8 equal pieces. Roll each piece of dough into a long rope. Twist into a pretzel shape. Place twisted pretzels 4 at a time into the baking soda mixture. Be sure to cover their surfaces. Leave them in the baking soda bath for 2 minutes. Transfer pretzels onto silicon lined baking sheet, sprinkle with salt, allow to rest for 10 minutes. Bake at 200 degrees C for 8 – 9 minutes. Remove pretzels when golden brown and brush with melted butter.
Ingredients:
Spring onions, sliced 5
Tomatoes, seeded and diced 2
Cucumber, seeded and diced 1
Chickpeas, boiled 1 cup
Chopped parsley 1/3 cup
Chopped mint leaves 1/3 cup
Basil leaves 1/3 cup
Lemon juice 1/2 cup
Minced garlic 1 tbsp
Salt and ground black pepper to taste
Tabasco sauce a dash
Olive oil 1/2 cup
Feta cheese, diced 8 oz
Toasted pita bread for serving
Method:
Place the spring onions, tomatoes, cucumber, chickpeas, parsley, mint, and basil in a large salad bowl and toss to combine. Whisk together the Tabasco sauce, lemon juice, garlic, salt and pepper. Slowly whisk in the olive oil. Pour the dressing over the salad, tossing gently to coat all the vegetables. Add the feta, sprinkle with salt and pepper, and toss gently. Serve the salad with the toasted pita bread.
Ingredients:
Fish fillet 6
Coriander crushed 1 tsp
turmeric 1/2 tsp
Red chili powder 1/2 tsp
Kashmiri red chili powder 1/2 tsp
Garlic paste 1/2 tsp
Lemon juice 1 tsp
Corn flour 2 tbsp
Water 1 tbsp
oil to deep fry
Method:
Mix all ingredients, marinate the fish for few minutes. Put it in a Dawlance Air Fryer/ Microwave oven and cook until done. Serve.

Soft Pretzels Recipe in Urdu and English
At Masala TV you can check complete Soft Pretzels Recipe in Urdu and English. This is one of the best recipes by chef Zarnak Sidhwa at Masala TV show Food Diaries. Check out the other best recipes of chefs Zarnak Sidhwa.
Top relevant recipes of Soft Pretzels Recipe in Urdu