Spaghetti Garlic & Oil Recipe | Food Diaries | Chef Zarnak Sidhwa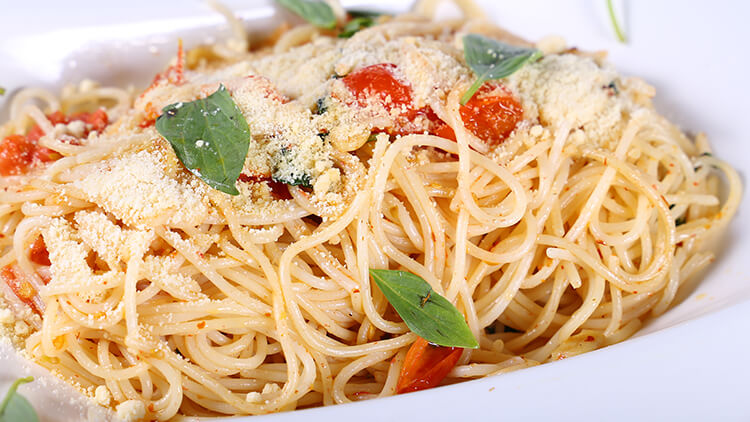 Jul 08, 2020 at 09:01 AM (GMT -04:00)

Check out the Spaghetti Garlic & Oil Recipe in Urdu. Learn how to make best Spaghetti Garlic & Oil Recipe, cooking at its finest by chef Zarnak Sidhwa at Masala TV show Food Diaries. Check all the Pakistan Cooking recipes in Urdu of Masala TV. Also Check Spaghetti Garlic & Oil Recipe, ingredients and complete Method.
Spaghetti boiled in water and a special sauce of made from garlic heated in olive oil and stirred with mashed cherry tomatoes. A unique garlicy taste in every bite gives this recipe its specialty.
Watch this Masala TV video to learn how to make Spaghetti Garlic & Oil ,Chana Kabab and Curry Leaves Prawns Recipes. This show of Food Diaries with Chef Zarnak Sidhwa aired on 21 November 2019.
Ingredients:
Spaghetti 1 packet
Cherry tomatoes 8-10
Sliced garlic 2-3 cloves
Red chili flakes 1 tsp
Olive oil 3-4 tbsp
Basil leaves few
Parmesan cheese to sprinkle
Salt to taste
Method:
Fill a saucepan with water, add salt generously and bring to a rolling boil. Add the spaghetti and cook till done. While spaghetti is cooking, heat the olive oil, add the chili flakes and sliced garlic cloves and let them get infused with the oil. The garlic slices should turn golden but take care not to burn it. Add the cherry tomato halves; let them cook for 5-6 minutes. Once the tomatoes are cooked, smash them gently with the back of the cooking spoon. Now stir the mashed tomatoes around, mixing it with the garlic and olive oil. This will be the sauce for the spaghetti. Add the cooked and drained spaghetti in the pan; add basil leaves and give everything a good mix and coat it well with the sauce. Serve immediately in individual bowls with a generous sprinkle of freshly grated Parmesan cheese and garnish with some fresh basil.
Ingredients:
Pitted dates 1 cup
Hot water 1 cup
Cashews 1 cup
Almonds 1 cup
Walnuts ½ cup
Pistachios ¼ cup
Sesame seeds ¼ cup
Pumpkin seeds ¼ cup
Grated coconut ½ cup
Honey ½ cup
Cardamom powder ½ tsp
Salt ¼ tsp
Oats ½ cup
Method:
In a bowl soak 1 cup dates in 1 cup hot water for 2 hours. Blend to a smooth paste without adding any water. Set aside. Dry roast cashews, almonds, walnuts, pistachios, sesame seeds and pumpkin seeds, until the nuts turn crunchy. Now add coconut and continue to roast on low. Transfer to a bowl. Sauté the date paste on medium flame, until it starts to thicken. Add in roasted nuts, honey, cardamom powder and salt. Turn off the flame and mix everything very well. In another pan lightly roast the oats. Blend to a fine powder. Add in oats powder to the dry fruit dates mixture. Combine well. Transfer the prepared mixture into a greased plate lined with baking paper. Let set in the refrigerator. Unmould and cut into bars.
Ingredients:
Prawns ½ kg
Garlic paste 1 tsp
Minced ginger 2 tbsp
Curry leaves 5-6
Salt to taste
Black pepper as required
Lemon juice 2 tsp
Oil 1 tbsp
Method:
Marinate prawns in garlic paste and salt for 10 minutes. Heat oil, add ground pepper and chopped ginger. Add torn curry leaves, give it a good stir and add in prawns. Saute 3 minutes or so on high heat, finally add in lemon juice, toss and serve.

Spaghetti Garlic & Oil Recipe in Urdu and English
At Masala TV you can check complete Spaghetti Garlic & Oil Recipe in Urdu and English. This is one of the best recipes by chef Zarnak Sidhwa at Masala TV show Food Diaries. Check out the other best recipes of chefs Zarnak Sidhwa.
Top relevant recipes of Spaghetti Garlic & Oil Recipe in Urdu