Spicy Burritos Recipe | Food Diaries | Zarnak Sidhwa | Mexican Food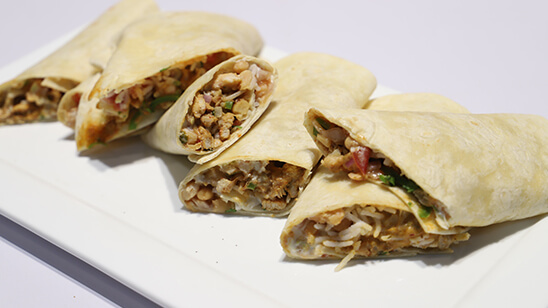 Dec 09, 2023 at 12:58 PM (GMT -05:00)

Check out the Spicy Burritos Recipe in Urdu. Learn how to make best Spicy Burritos Recipe , cooking at its finest by chef Zarnak Sidhwa at Masala TV show Food Diaries. Check all the Pakistan Cooking recipes in Urdu of Masala TV. Also Check Spicy Burritos Recipe , ingredients and complete Method.
Spicy Burritos has authentic Mexican flavors that will set your taste buds on fire. If you like spicy food, this one is for you!
Watch this Masala TV video to learn how to make Spicy Burritos , Ananas zarda and Taco Seasoning Mix Recipes. This show of Food Diaries with Chef Zarnak Sidhwa aired on 30 September 2020.
Ingredients:
Chicken breasts, cut in strips ½ kg
Capsicum, cut into thin slices 1
Onion, sliced 1
Olive oil 1 tbsp
Ginger garlic, chopped 1 tbsp
Chili sauce ¼ cup
Beaten yogurt 1/4 cup
Cream cheese ¼ cup
Taco seasoning mix 1 tsp
Baked black beans 1 cup
Ground cumin 1 tsp
Boiled rice 1 cup
Flour tortillas 6
Shredded iceberg lettuce 1 cup
Tomato salsa 1 cup
Shredded mozzarella and cheddar cheese ½ cup
Method:
Heat olive oil and add sliced onion, ginger and garlic. sauté until light brown. Now add Ground cumin, capsicum, chicken, baked beans, taco seasoning mix and hot sauce add little water if required. Keep thick consistency. Take tortillas and warm on tawa. Spread a layer of rice, lettuce, tomato salsa, cooked chicken, black beans, beaten yogurt and cream cheese. Sprinkle cheese on top. Fold tortillas and tuck in the sides and roll up tightly. Cut the burritos into half and serve.
Ingredients:
Clarified butter 1 tbsp
Pineapple, cubed 1 cup
Rice, soaked 1 cup
Saffron a pinch
Clarified butter ¼ cup
Cardamom pods 2
Cloves 2
Sugar ½ cup
Cashew nuts, chopped 2 tbsp
Mixed dried fruits, chopped ½ cup
Khoya ¼ cup
Method:
Heat ghee in a pan, add pineapple pieces and sauté it then add a little water, let it cook with closed lid for 3 to 4 minutes until tender. Cook the rice till half done in water. Drain off excess water and keep aside. Heat ghee in another pot. Add cardamom pods and cloves to it. Sauté for a minute. Add in 2-3 ladles of half cooked rice and mix. Now add 1 ladle of sugar and spread it on top of the rice along with little amount of prepared pineapple. Cover this with another layer of rice. Repeat the same for the rest of the rice by making alternative layers of rice, pineapple and sugar. Do not mix it. Cover it with a lid and cook on medium flame for 7-8 minutes. Remove the lid. The sugar crystals will start to melt. Now gently give it a stir and cover again. Meanwhile in a pan, add ghee and roast chopped cashew nuts, almonds and raisins. Once the sugar melts completely, add in roasted nuts ,saffron and khoya. Give it a stir and cook for another 5-6 minutes without covering. Turn off the flame and serve hot.
Ingredients:
Chili powder 1 tsp
Ground cumin 1 tsp
Garlic powder 1 tsp
Paprika 1 tsp
Dried oregano ½ tsp
Onion powder ½ tsp
Fine sea salt ¼ tsp
Black pepper ¼ tsp
Crushed red pepper flakes ¼ tsp
Method:
Combine ingredients Add all of the ingredients to a small jar and stir (or shake) until evenly combined. Store. Use immediately or cover and store for up to 1 year.

Spicy Burritos Recipe in Urdu and English
At Masala TV you can check complete Spicy Burritos Recipe in Urdu and English. This is one of the best recipes by chef Zarnak Sidhwa at Masala TV show Food Diaries. Check out the other best recipes of chefs Zarnak Sidhwa.
Top relevant recipes of Spicy Burritos Recipe in Urdu