Spicy Chicken Pasta Recipe | Food Diaries | Zarnak Sidhwa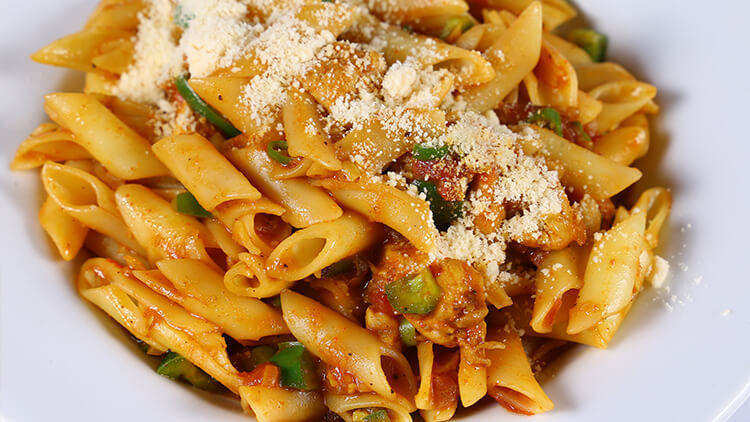 May 21, 2022 at 03:08 PM (GMT -04:00)

Check out the Spicy Chicken Pasta Recipe in Urdu. Learn how to make best Spicy Chicken Pasta Recipe, cooking at its finest by chef Zarnak Sidhwa at Masala TV show Food Diaries. Check all the Pakistan Cooking recipes in Urdu of Masala TV. Also Check Spicy Chicken Pasta Recipe, ingredients and complete Method.
Boiled pasta served with a special spicy chicken sauce made with selective ingredients. This special spicy chicken pasta is the perfect recipe for the spice lovers to enjoy.
Watch this Masala TV video to learn how to make Spicy Chicken Pasta and Malva Pudding Cupcakes Recipes. This show of Food Diaries with Chef Zarnak Sidhwa aired on 14 November 2019.
Ingredients:
Chicken strips 200gm
Soy sauce 1 tbsp
Black pepper ¼ tsp
Ginger ½ tsp
Garlic ½ tsp
Oil ¼ cup
Chopped garlic 1 tbsp
Onion ½ cup
Salt ½ tsp
Green chili 1 tbsp
Chopped tomato 1 cup
Water ½ cup
Chili powder ½ tsp
Cumin powder ½ tsp
Turmeric powder ¼ tsp
Black pepper ¼ tsp
Tomato sauce 2 tbsp
Chopped capsicum 1
Boiled pasta 2 cups
Parmesan cheese to garnish
Method:
Heat oil. Add in the chopped onion and garlic, ginger and sauté, add in the chicken strips and salt, pepper, soya sauce, once chicken is half done, add the green chilies, tomato, very little water, chili powder, cumin powder, turmeric powder, tomato sauce, capsicum and sauté well. Once sauce is ready, fold in the earlier boiled pasta. Top with shavings of cheese and serve immediately.
Ingredients:
Eggs 2
Brown sugar ¾ cup
Apricots jam 3 tbsp
Melted butter 2 tbsp
Milk 2/3 cup
Vinegar 1 tsp
Flour 1 cup
Corn flour 1tsp
Baking soda 1 tsp
Salt 1 pinch
For Sauce:
Cream 80 ml
Water 40 ml
Butter 1 tbsp
Brown sugar 80 ml
For Topping:
Cream 250 ml
Icing sugar 60 gm
Method:
Beat the sugar and eggs together. Add the apricot jam and melted butter and whisk to combine. Stir the vinegar into the milk and then pour that into the egg mixture and stir through. Sift the dry ingredients and whisk together before adding to the wet ingredients. Line a muffin baking tray with large cupcake casings. Pour in batter. Bake in the oven at 180 degrees C for 15 – 18 minutes, check if they are done by inserting a knife into the middle of one of the centre cup cakes and if it comes out clean, they are done. Place all the sauce ingredients into a saucepan and heat gently, stirring continuously, until the sugar has dissolved, then remove from the heat. Once the cup cakes are done, remove from the oven, poke several wholes over each surface and pour 1 tablespoon of sauce over each cup cake. Allow to cool completely in the muffin tray before adding the topping.
To make the cream topping, beat cream and icing sugar in a bowl until stiff peaks form, then spoon onto your cup cakes and serve immediately.

Spicy Chicken Pasta Recipe in Urdu and English
At Masala TV you can check complete Spicy Chicken Pasta Recipe in Urdu and English. This is one of the best recipes by chef Zarnak Sidhwa at Masala TV show Food Diaries. Check out the other best recipes of chefs Zarnak Sidhwa.
Top relevant recipes of Spicy Chicken Pasta Recipe in Urdu