Spicy Fried Chicken Recipe | Food Diaries | Zarnak Sidhwa | Fast Food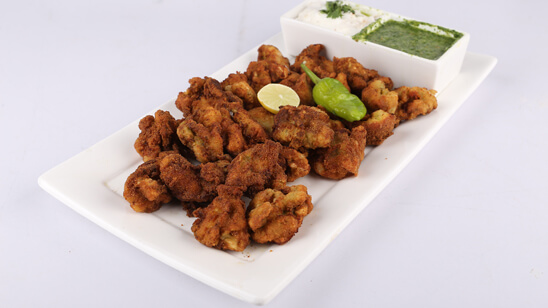 Apr 19, 2021 at 11:47 PM (GMT -04:00)

Check out the Spicy Fried Chicken Recipe in Urdu. Learn how to make best Spicy Fried Chicken Recipe , cooking at its finest by chef Zarnak Sidhwa at Masala TV show Food Diaries. Check all the Pakistan Cooking recipes in Urdu of Masala TV. Also Check Spicy Fried Chicken Recipe , ingredients and complete Method.
Spicy Fried Chicken has an extra spicy taste that will fire up your taste buds. If you like spicy food, this one is for you.
Watch this Masala TV video to learn how to make Spicy Fried Chicken and Coffee cream cake Recipes. This show of Food Diaries with Chef Zarnak Sidhwa aired on 13 November 2020.
Ingredients:
Garlic cloves 4
Ginger 2
fresh coriander as required
Green chillies 3
Cumin seeds 1 tsp
Onion chopped 1
Juice of lemon 1
Salt 1 tsp
Chicken thighs, cubed 4
Flour 2 tbsp
Eggs 3
Breadcrumbs 1 cup
Oil for deep frying
To serve mayonnaise:
Mayonnaise 4 tbsp
Black pepper 1 tsp
Juice of lemon ½ tsp
Garlic clove, minced 1
Method:
Blend the garlic, ginger, green chillies, cumin seeds, onion, lemon juice and salt to a smooth paste. Add a little oil if needed. Put the chicken pieces in a bowl and pour the marinade over them then mix to coat well, cover with cling film and place in the fridge to marinate for at least 1 hour, overnight if possible. Heat oil. Add 1 egg into the chicken and mix well. Separate the remaining eggs and add the yolks to the chicken and mix again. Beat the egg whites in a separate clean bowl until frothy. Add the flour to the chicken mixture a little at a time until the chicken coating is thick but still sticky. Roll the chicken pieces in the breadcrumbs to coat well. Then coat each chicken piece individually before deep-frying until golden-brown and cooked through. Drain the chicken pieces on kitchen paper. Serve with the mayonnaise. Mix in the mayo some black pepper, garlic and lemon juice.
Ingredients :
Eggs separated 5
Sugar 1cup
Coffee ½ tsp
Hot water 3 tbsp
Vanilla essence 1 tsp
Flour 1cup
Baking powder 1 tsp
Whipping cream 2 cup
Sugar 2 tbsp
Coffee ¼ cup
Walnuts chopped Few
Method:
Beat egg yolks and 1 cup sugar until thick, add in essence. Dissolve coffee powder in boiling water. Sift in flour and baking powder. Beat egg whites until stiff. Fold into batter. Turn into 10-inch ring tin. Bake at 180 degrees c for 30 minutes. Invert onto rack and let stand until completely cool. For frosting, whip cream with 2 tablespoons sugar until soft peaks form. Add cold coffee and beat until stiff. Slice the cake. Use the cream frosting to fill layers and the cake.
Chill until whipped cream is slightly firm. Press walnuts onto sides of cake. Chill 4 hours before serving.

Spicy Fried Chicken Recipe in Urdu and English
At Masala TV you can check complete Spicy Fried Chicken Recipe in Urdu and English. This is one of the best recipes by chef Zarnak Sidhwa at Masala TV show Food Diaries. Check out the other best recipes of chefs Zarnak Sidhwa.
Top relevant recipes of Spicy Fried Chicken Recipe in Urdu