Spicy Vegetable Chowmein Recipe | Mehboob's Kitchen | Chef Mehboob Khan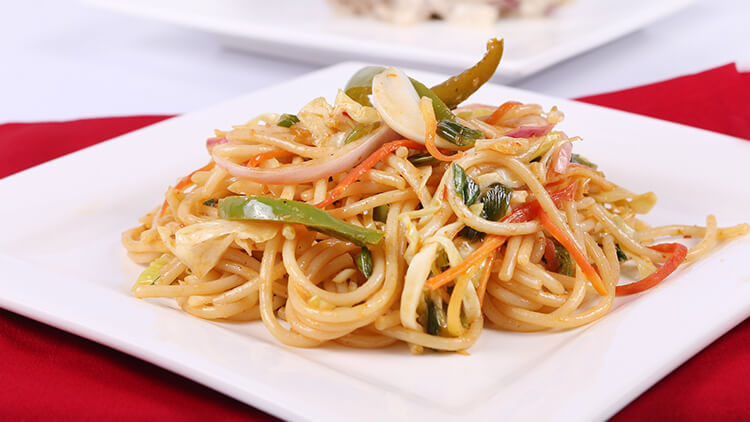 Nov 28, 2021 at 09:16 AM (GMT -05:00)

Check out the Spicy Vegetable Chowmein Recipe in Urdu. Learn how to make best Spicy Vegetable Chowmein Recipe, cooking at its finest by chef Mehboob Khan at Masala TV show Mehboob's Kitchen. Check all the Pakistan Cooking recipes in Urdu of Masala TV. Also Check Spicy Vegetable Chowmein Recipe, ingredients and complete Method.
The popular Chinese noodles stir fry dish. This is loaded with vegetables and flavored with different sauces.
Watch this Masala TV video to learn how to make Spicy Vegetable Chowmein ,Cheese Stuffed Chicken and Aalu Matar. This show of Mehboob's Kitchen with Chef Mehboob Khan aired on 1 October 2019.
Ingredients:
Chopped cabbage 1
Chopped onion 1
Chopped capsicum 2
Chopped carrots 2
Chopped green chilies 6
Bean sprouts 1 cup
Chopped green onion 2 bunch
Noodles ½ packet
Chicken cube 1
Red chili flakes 1 tsp
Sesame seed oil 1 tsp
Ginger garlic paste 1 tsp
Soy sauce 2 tbsp
White vinegar 2 tbsp
Chili sauce 2 tbsp
Oil 3 tbsp
Salt to taste
Method:
Boil the noodles, add in 2 tbsp oil while boiling, drains the water once boiled and wash them with cold water. Add some oil in them. In a pan, add in some oil and golden brown the onion. Add in 1 tsp ginger garlic paste and fry it. Add in chopped cabbage, chopped capsicum, 2 chopped capsicum, 2 chopped carrots, soya sauce, 2 tbsp white vinegar, salt and chopped green chilies. Cook it for 2 minutes. Add in the noodles. Then add in chili sauce, red chili flakes, chicken cube and some salt. Mix it well. Then add in 1 tsp sesame seed oil. In the end, add in 1 cup bean sprouts and 2 bunch of green onion. Serve hot.
Ingredients:
Skinless chicken breast 8
yogurt 2 cups
Chopped onion 1
Olive oil 1/3 cup
Chopped garlic 6 cloves
Lemon juice 1 tbsp
Garam masala powder 1 tbsp
Salt 1 tbsp
Freshly ground black pepper 1 tsp
Peeled, chopped ginger 1 tsp
Cheddar cheese as required
Mozzarella cheese as required
Method:
Working with one chicken breast at a time, put chicken between 2 sheets of waxed paper and pound to ½ inch thickness Transfer chicken breasts to a resealable plastic bag Combine the remaining ingredients in a food processor and blend until smooth Pour yogurt mixture over chicken, seal bag, and turn to coat. Marinate chicken in the refrigerator for at least 3 hours or overnight Stuff chicken with crushed cheese. Roll it to cover shredded cheese and pierce toothpick Heat a gas grill to medium-high. Brush grill grates with oil. Scrape excess marinade off chicken; season with salt. Grill chicken, turning once, until browned and cooked through, 3-4 minutes per side.
Ingredients:
Boiled potatoes (cubed) ½ kg
Peas 1 cup
Onion slices 1 large
Tomato (sliced) 3
Garlic slices ` 1 tbsp
Ginger 1 tbsp
Turmeric 1 tsp
Cumin seeds 2 tbsp
Green chili slices 2
Coriander powder 2 tbsp
Dried mango powder 1-1/2 tbsp
Salt 1 tsp
Black salt ½ tsp
Oil ½ cup
Method:
In a pan potatoes fry for 5 minutes and set aside .Now peas fry and set aside .in a sauce pan heat oil and fry onion slices fry then add garlic and ginger mix and fry for a minutes .after this add tomato, termeric, cumin and coriander powder add and cook for 10 minutes .Now dried mango powder, salt, black salt and green chili mix and cook for a minutes then potatoes and peas mix and serve.

Spicy Vegetable Chowmein Recipe in Urdu and English
At Masala TV you can check complete Spicy Vegetable Chowmein Recipe in Urdu and English. This is one of the best recipes by chef Mehboob Khan at Masala TV show Mehboob's Kitchen. Check out the other best recipes of chefs Mehboob Khan.
Top relevant recipes of Spicy Vegetable Chowmein Recipe in Urdu