Surti Locho Recipe | Food Diaries | Zarnak Sidhwa | Bakery Item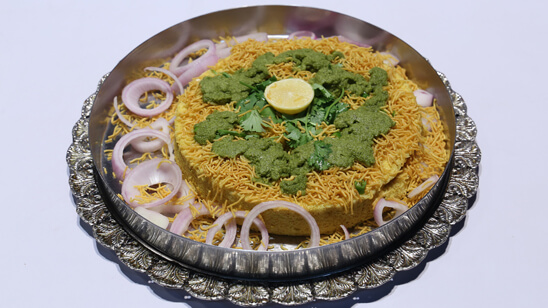 Dec 01, 2020 at 10:12 PM (GMT -05:00)

Check out the Surti Locho Recipe in Urdu. Learn how to make best Surti Locho Recipe , cooking at its finest by chef Zarnak Sidhwa at Masala TV show Food Diaries. Check all the Pakistan Cooking recipes in Urdu of Masala TV. Also Check Surti Locho Recipe , ingredients and complete Method.
Reminiscence the time of carefree childhood days with these French Pain Aux Raisins filled with Vanilla cream that tastes like pure goodness!
Watch this Masala TV video to learn how to make Surti Locho and French Brioche Recipes. This show of Food Diaries with Chef Zarnak Sidhwa aired on 11 September 2020.
Ingredients:
Split gram 1 cup
Split black gram 1/3 cup
Flattened rice 1/3 cup
Oil 3 tbsp
Green chilies 2
Ginger paste 1 tsp
Turmeric powder 1/4 tsp
Black pepper 1/4 tsp
Red chili powder 1/2 tsp
Fruit salt 1 tsp
Salt 1 tsp
To Serve:
Green coriander chutney 1/2 cup
Green coriander 1/2 bunch
Green chilies 5
Lemon juice 1 lemon
Sev 1 bowl
Method:
Clean the split gram and split black gram. Wash thoroughly and soak in water separately for 5-6 hours. Strain any remaining water from the soaked lentils. Wash flattened rice in water before using. Coarsely grind the split gram after removing the water as required. Remove the ground lentils into a big bowl. Finely grind the split black gram. Add the soaked flattened rice into it as well and grind finely. Take out the split black gram and flattened rice mixture and add it to the same bowl as the split gram. Mix all ingredients really well. Add ginger, turmeric powder, green chili, salt and half the amount of red chili powder. Mix all ingredients. Also add 2 tsp oil to the batter. If the batter appears to be thick, add 2-3 tbsp water to it. For making the Surtilocho, take a steamer and fill with water and let come to a boil. Lastly add the fruit salt to the batter and mix. Immediately pour the mixture in the greased tin or container. Tap the tin so that the mixture inside spreads out evenly. Sprinkle red chilli and black pepper on the top. Place the batter-filled container in the steamer and cook the Surtilocho for 20 minutes in the steam. Surtilocho appears to be puffy once cooked. Insert a knife, if the batter doesn't stick to knife then it is ready. Take out piping hot surtilocho onto a plate with the help of a spoon, serve green chutney on the side and sprinkle chopped coriander, green chilies chopped and juice of lemon, lastly sprinkle sev and serve immediately.
Ingredients:
Yeast 20gm
Water 1 Tablespoon
Milk, lukewarm 1 Tablespoon
Sugar 60gm
Eggs 3
Vanilla essence 1/2 tsp
Flour 17oz
Salt 10gm
Unsalted butter, diced 250gm
For Brushing:
Egg 1
Water 1 Tablespoon
Salt a pinch
Method:
Mix yeast in water and lukewarm milk. Let sit for few minutes. Pour in sugar, eggs, vanilla seeds, flour and salt, and mix on low speed with a paddle attachment for about 10 minutes. Add butter softened at room temperature in a few additions, and knead on low-medium speed until the dough becomes smooth and doesn't stick on the sides anymore, about 30-40 minutes. Cover the bowl with cling film and let rise at room temperature until the dough doubles in size, about 1 hour. Re-shape the ball by hand a little bit to release the air from the dough. Put back in the bowl, cover with cling film, and place in the refrigerator for 4 to 12 hours (ideally overnight). Remove the dough from the refrigerator and reshape a little bit. Grease a tinned-steel brioche mold. Shape into a thick oblong log and cut a quarter (1/4th) of the dough, that you will use for the brioche head. Shape the bigger part (the remaining 3/4th of the dough) into a smooth ball, hiding the folds underneath. Using 3 fingers joined together, pierce the dough, making a hole large enough so it looks like a donuts. Carefully transfer the dough into the brioche mold. Take the remaining quarter (1/4th) and shape into a small ball. Using your hands, carefully roll out one side so it looks like a big drop. Place the thinner part of the head ball into the donuts hole, and press with floured finger tips all around to make sure it seals the sides. Brush with the egg mixture, and keep the excess for later. Loosely cover the brioche with a cloth to prevent the dough from hardening, and let rise in a warm environment for about 1 hour and 30 minutes. The brioche must double in size. Preheat the oven to 180°C. Brush one more time with the egg mixture and bake for 20-30 minutes, until the brioche is golden brown. Transfer to a wire rack and let cool completely.

Surti Locho Recipe in Urdu and English
At Masala TV you can check complete Surti Locho Recipe in Urdu and English. This is one of the best recipes by chef Zarnak Sidhwa at Masala TV show Food Diaries. Check out the other best recipes of chefs Zarnak Sidhwa.
Top relevant recipes of Surti Locho Recipe in Urdu