Thai Beef Salad Recipe | Tarka | Masala TV | Rida Aftab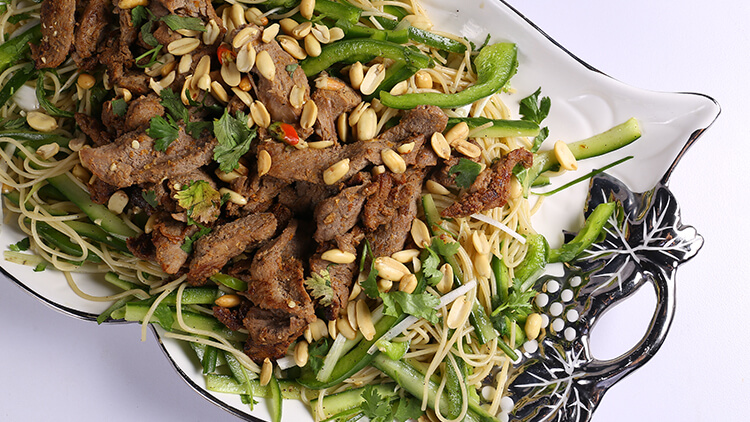 Dec 01, 2020 at 07:33 AM (GMT -05:00)

Check out the Thai Beef Salad Recipe in Urdu. Learn how to make best Thai Beef Salad Recipe, cooking at its finest by chef Rida Aftab at Masala TV show Tarka. Check all the Pakistan Cooking recipes in Urdu of Masala TV. Also Check Thai Beef Salad Recipe, ingredients and complete Method.
Citric taste of lemon zest, boiled rice noodles, savory taste of fried peanuts and many different vegetables make this recipe truly flavorsome. Try out this Thai beef salad prepared by Chef Rida.
Watch this Masala TV video to learn how to make Thai Beef Salad ,Spring onion rice and Chicken boti naan Recipes. This show of Tarka with Chef Rida Aftab aired on 25 November 2019.
Ingredients:
Undercut 300gm
Capsicum 1
Ocimum tenuiflorum 6
Coriander 2tbsp
Ginger garlic chopped 1tsp
Red chili 2
Lemon zest 1tbsp
Black pepper as required
Salt as required
Brown sugar 1tsp
Spring onion 2
Cucumber 1
Boil rice noodles 1cup
Peanuts fried ½ cup
Sesame oil 2tbsp
Method:
Marinate undercut with black pepper , salt and ginger garlic for 10 min , now add this in a pan and roast well , when it tenders and water dries remove, now in a bowl add beef Ocimum tenuiflorum, capsicum, coriander , cucumber , sprig onion , red chilies, brown sugar and boil rice noodles mix well , lastly add lemon zest and peanuts and serve.
Ingredients:
Chicken cut in cubes ½ kg
Boil rice ½ kg
Spring onion 200gm
Ketchup 5tbsp
Vinegar 2tbsp
Red chili powder 1tsp
Soya sauce 2tbsp
Whole spice ½ tsp
Green chili garlic sauce 2tbsp
Salt 1-1/2 tsp
Oil ½ cup
Method:
Heat oil add spring onion and fry 2 min and remove ,now in the same oil add chicken and fry till tender , now add ketchup, vinegar, red chili powder , soya sauce, whole spice, green chili sauce and salt cook 10 min and set aside, to serve heat oil add rice pour prepared cgicken gravy , fried onion and spring onion simmer 5 min mix and serve.
Ingredients:
Chicken 500gm
Ginger garlic paste 1tbsp
Green chilies 1tbsp
Red chili powder ½ tsp
Salt 1tsp
Whole spice 2tsp
Cream ¼ cup
Cardamom powder ¼ tsp
Lemon juice 1tbsp
Ingredients to garnish
Onion cut in rings as required
Lemon wedges as required
Naan as required
Method:
In a bowl add ginger garlic paste, green chilies, black pepper ground, salt , whole spice, cream, lemon juice and cardamom powder , mix well, now in this mixtures marinate chicken for 2 to 3 hours , now grill it or fry in pan , lastly serve with onion rings and naan.

Thai Beef Salad Recipe in Urdu and English
At Masala TV you can check complete Thai Beef Salad Recipe in Urdu and English. This is one of the best recipes by chef Rida Aftab at Masala TV show Tarka. Check out the other best recipes of chefs Rida Aftab.
Top relevant recipes of Thai Beef Salad Recipe in Urdu