Thai Sweet Chili Chicken Recipe | Food Diaries | Zarnak Sidhwa | Thai Food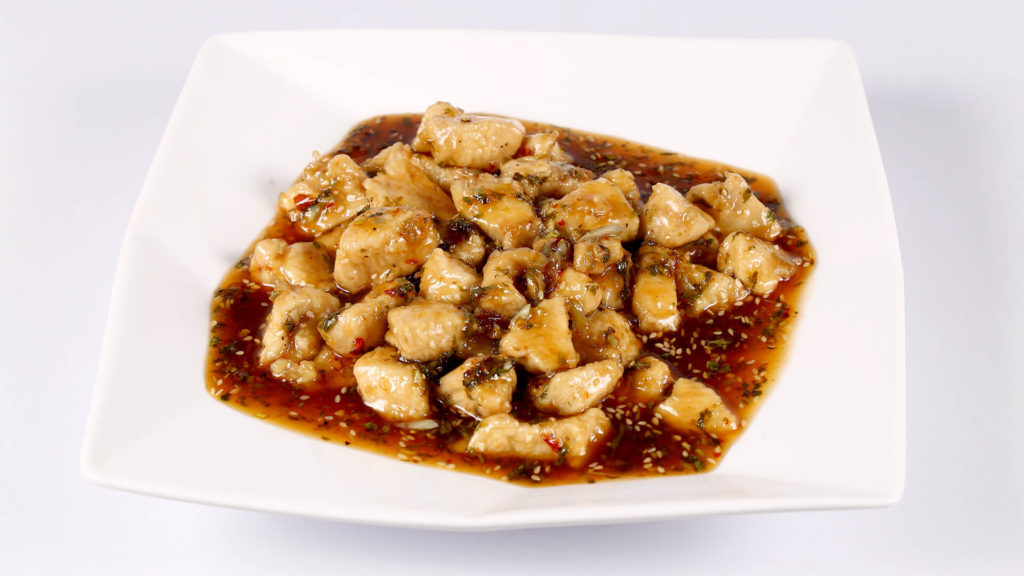 Jul 06, 2022 at 06:52 PM (GMT -04:00)

Check out the Thai Sweet Chili Chicken Recipe in Urdu. Learn how to make best Thai Sweet Chili Chicken Recipe , cooking at its finest by chef Zarnak Sidhwa at Masala TV show Food Diaries. Check all the Pakistan Cooking recipes in Urdu of Masala TV. Also Check Thai Sweet Chili Chicken Recipe , ingredients and complete Method.
Thai Sweet Chili Chicken is an exceptional blend of sweet and spicy flavors that will be a blissful experience for you and your family.
Watch this Masala TV video to learn how to make Thai sweet chili chicken, Chocolate chips scones and Chocolate spread Recipes. This show of Food Diaries with Chef Zarnak Sidhwa aired on 6 February 2020.
Ingredients:
Chicken breast pieces, cubed 2
Salt 1 tsp
Black pepper 1 tsp
Corn flour 2 tbsp
Flour 4-5 tbsp
Garlic minced 1 tsp
Oil to fry
Ingredients for Sauce :
Oil 1 tbsp
Garlic minced 2 cloves
Thai sweet chili sauce 4 tbsp
Lemon juice 1 tsp
Salt pinch
white sesame seeds ½ tsp
coriander leaves ½ tbsp
Method :
Mix all the ingredients for the batter until well combined. Add the chicken into the batter.
Heat oil. Deep fry the chicken until golden brown. Transfer the chicken out to a dish lined with paper towels to soak up the excess oil.
Heat oil and stir-fry the garlic until aromatic. Add the fried chicken, followed by the sweet Thai chili sauce, lemon juice and salt. Stir to coat the chicken well with the sauce. Garnish with the white sesame seeds and coriander leaves.
Ingredients:
Flour 2 cups
Brown sugar ½ cup
Baking powder 3tsp
Salt 1tsp
Unsalted butter ½ cup
Cream ½ cup
Eggs 2
Vanilla essence 1-½ tsp
Chocolate chips ¾ cup
Method :
Mix flour, brown sugar, baking powder and salt. Cut in cold butter until mixture resembles coarse crumbs. Add in cream, eggs, vanilla essence and chocolate chips. Mix gently until combined, knead out on lightly floured surface. Roll dough out between greaseproof paper to ½ inch thick. Cut with knife or cookie cutter. Place on lined baking sheet and bake at 200 degrees c for 12-15 minutes until lightly golden and tested with toothpick comes out clean.
Ingredients:
Almonds 70gm
Cream 200 ml
Milk chocolate 120 gm
Dark chocolate 120 gm
Salt ¼ tsp
Vanilla essence 1 tsp
Method :
Blanch and peel the almonds. Pat dry completely and then toast in a preheated oven at 180 degrees C for 10-12 minutes or until golden brown. Finely grind half the almonds. Coarsely chop the remaining almonds. In a saucepan, heat the cream and finely ground almonds together until the cream bubbles around the edges. Take off heat, cover and let rest for an hour. Pass this through a sieve. Mix the melted chocolate and cream together. Add in the salt and vanilla essence. Fold in the chopped almonds. Store Homemade Chocolate Almond Spread Recipe an airtight container and use as required.

Thai Sweet Chili Chicken Recipe in Urdu and English
At Masala TV you can check complete Thai Sweet Chili Chicken Recipe in Urdu and English. This is one of the best recipes by chef Zarnak Sidhwa at Masala TV show Food Diaries. Check out the other best recipes of chefs Zarnak Sidhwa.
Top relevant recipes of Thai Sweet Chili Chicken Recipe in Urdu