Thai Sweet Chili Noodles Recipe | Food Diaries | Zarnak Sidhwa | Thai Food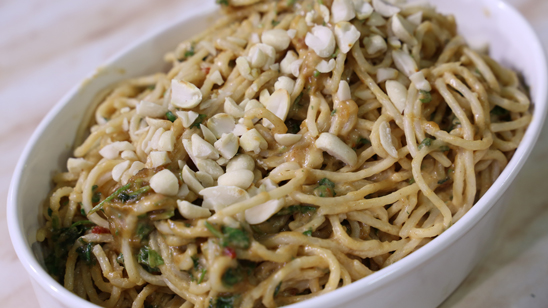 Aug 12, 2022 at 08:41 AM (GMT -04:00)

Check out the Thai Sweet Chili Noodles Recipe in Urdu. Learn how to make best Thai Sweet Chili Noodles Recipe , cooking at its finest by chef Zarnak Sidhwa at Masala TV show Food Diaries. Check all the Pakistan Cooking recipes in Urdu of Masala TV. Also Check Thai Sweet Chili Noodles Recipe , ingredients and complete Method.
Thai Sweet Chili is one of the most famous Thai flavors across the world and with this authentic Thai Sweet Chili Noodles recipe, you'll be able to enjoy these flavors at your home.
Watch this Masala TV video to learn how to make Thai Sweet Chili Noodles ,Leche Flan and Cheesy Danish Pastry Recipe. This show of Food Diaries with Zarnak Sidhwa aired on 10 April 2020.
Ingredients:
8 oz spaghetti
3 tablespoons creamy peanut butter
3 tablespoons Thai sweet chili sauce
1-1/2 tablespoons apple cider vinegar
Chopped peanuts as required
Coriander leaves for garnishing
Lemon wedgesas required
Method:
Add the peanut butter, sweet chili sauce and apple cider vinegar in a small sauce pan. Heat up on low heat, stir and mix well. In a bowl, toss the earlier boiled and drained spaghetti with the peanut sauce. Top with the peanuts and coriander leaves, serve immediately.
Ingredients :
12 egg yolks
1 can evaporated milk
1 can condensed milk
1 teaspoon vanilla essence
3/4 cup caster sugar
2 tablespoons water
Method :
Whisk egg yolks gently, then add condensed milk, evaporated milk, and vanilla essence and stir until combined. (If you whisk too hard, you'll get little bubbles in your flan.)
Add the sugar and water to a pot over medium heat and cook until sugar dissolves. Lower heat and cook, shaking pan (don't stir!) until dark golden brown. Pour melted sugar into a 9" baking pan and tilt pan around until evenly coated. Let set for a few minutes until it hardens.
Pour the milk and egg mixture through a fine sieve into the pan, on top of the caramel. Take a baking tray or dish, large enough to fit your flan and place the pan inside. Pour about an inch of boiling water into the large, outside tray. Put the tray into the oven and bake until a toothpick comes out clean, around 50 to 60 minutes.
Remove the pan from the water bath and let cool. Then, refrigerate until cold. (Don't rush this! If it it's too warm, it might fall apart.) Once cold, preferably next day, run a knife around the edges. Invert onto a rimmed serving plate (there will be extra syrup that flows around it).
Ingredients :
Filling :
8 oz cream cheese
1/2 cup caster sugar
1 teaspoon lemon juice
3/4 teaspoons vanilla essence
Egg Wash :
Glaze :
1 cup icing sugar
3-5 teaspoons milk
½ teaspoon vanilla essence
Method :
Prepare filling by stirring together cream cheese, sugar, lemon juice, and vanilla essence. Divide puff pastry into 2 even parts. Roll first half of puff pastry into a square. Cut into 4 even-sized squares. Transfer squares onto a baking sheet. Dollop about two tablespoons of filling into the center of each square. Fold the corners over the center of the filling, leaving a space about ¼" thick in the center and between corners. Prepare egg wash by whisking together egg and 2 teaspoons water. Brush generously over the top of the puff pastry dough. Bake cheese danishes on 205 degrees C for 17-19 minutes or until light golden brown. Pastries will puff a lot in the oven but will settle as they cool. Repeat steps with second half of puff pastry dough. Allow cheese danishes to cool before drizzling with glaze. To prepare glaze, whisk together icing sugar, milk and vanilla essence. Drizzle glaze generously over cooled cheese danishes.

Thai Sweet Chili Noodles Recipe in Urdu and English
At Masala TV you can check complete Thai Sweet Chili Noodles Recipe in Urdu and English. This is one of the best recipes by chef Zarnak Sidhwa at Masala TV show Food Diaries. Check out the other best recipes of chefs Zarnak Sidhwa.
Top relevant recipes of Thai Sweet Chili Noodles Recipe in Urdu