Thandai Ice-cream Recipe | Food Diaries | Chef Zarnak Sidhwa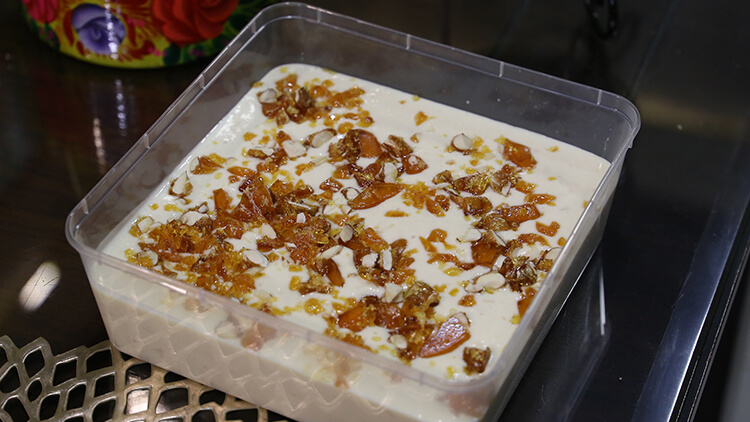 Jul 02, 2022 at 07:15 AM (GMT -04:00)

Check out the Thandai Ice-cream Recipe in Urdu. Learn how to make best Thandai Ice-cream Recipe, cooking at its finest by chef Zarnak Sidhwa at Masala TV show Food Diaries. Check all the Pakistan Cooking recipes in Urdu of Masala TV. Also Check Thandai Ice-cream Recipe, ingredients and complete Method.
A smooth and creamy ice cream with the amazing flavours of almonds, rose, cashews, melon seeds and cardamom.
Watch this Masala TV video to learn how to make Thandai Ice-cream,Lemonade Ice cream and Apple Pie Ice cream Recipes . This show of Food Diaries with Chef Zarnak Sidhwa aired on 23 October 2019.
Ingredients:
Milk 250 ml
Cream 500 ml
Caster sugar ½ cup
Egg yolks 4
Cardamom seeds 3
Black peppercorns 1 tsp
Coriander seeds 1 tsp
Melon seeds 1 tsp
Almonds (blanched) ½ cup
Ginger powder 1 tsp
Cashews 1 tbsp
Nutmeg powder ¼ tsp
Pistachios 1 tsp
Saffron ½ tsp
Rose water as required
Aniseed 1 tsp
Rose petals for garnish
Method:
Whisk egg yolks along with sugar on a double boiler.
Prepare thandai masala: Grind almonds, cashews, pistachios, melon seeds, coriander seeds, black peppercorn, aniseed, cardamom seeds, ginger powder, nutmeg powder along with saffron and rose water. To prepare the ice cream, boil milk in a pan and add cream into it. Add the prepared egg yolk mix to the pan and stir well. Turn off the flame and add a tablespoon more of cream. Mix and freeze overnight. Garnish with rose petals before serving.
Ingredients:
Milk 3 cups
Egg yolks 6
Caster sugar 2/3 cup
Lemon essence 1 tsp
Lemon zest of 3 lemons
Lemon juice 2 tbsp
Frozen lemonade concentrate 1/3 cup
Method:
Heat the milk to a boil. Remove from heat. Beat the egg yolks and sugar together until light. Slow pour the hot milk into the egg mixture, whisking constantly. Turn the mixture into the sauce pan and cook over low heat, stirring with a wooden spoon until it thickens slightly and coats the back of the spoon. Do not allow it to come to a boil or it will curdle. Add in lemon essence, zest and juice. Allow the mixture to cool to room temperature and then refrigerate it, loosely covered with plastic wrap until chilled. Then freeze. Once it starts to set and thicken, add in the lemonade concentrate and continue mixing until set up.
Ingredients for Apple compote:
Brown sugar ¼ cup
Unsalted butter 1 tbsp
Cinnamon 1 tsp
Apples (peeled & cubed) 2
For Ice cream Base:
Condensed milk 14 oz can
Cinnamon ½ tsp
Vanilla essence ½ tsp
Cold cream 2 cups
Crushed cookies ¾ cup
Method:
Place brown sugar and butter in a saucepan. Stir until the butter is melted and add the apples and cinnamon powder. Simmer, covered for few minutes, until the apples are tender. Transfer to a bowl and refrigerate until chilled. Mix condensed milk, cinnamon powder and vanilla essence. Puree half the apple compote (it won't be completely smooth) and stir the pureed compote into the condensed milk mixture. Set aside.
Whip the heavy cream until stiff peaks form. Gently fold half the whipped cream into the condensed milk, then fold in the other half. Stir in most of the cookie crumbs, reserving a tablespoon or two for the top. Pour half the ice cream base into an airtight container or a loaf pan. Top with half the remaining apple compote. Pour in the last half of the ice cream base and top with remaining apple compote and reserved cookie crumbs. Cover and freeze overnight until firm.

Thandai Ice-cream Recipe in Urdu and English
At Masala TV you can check complete Thandai Ice-cream Recipe in Urdu and English. This is one of the best recipes by chef Zarnak Sidhwa at Masala TV show Food Diaries. Check out the other best recipes of chefs Zarnak Sidhwa.
Top relevant recipes of Thandai Ice-cream Recipe in Urdu