Thandai Shrikhand Tart Recipe | Food Diaries | Chef Zarnak Sidhwa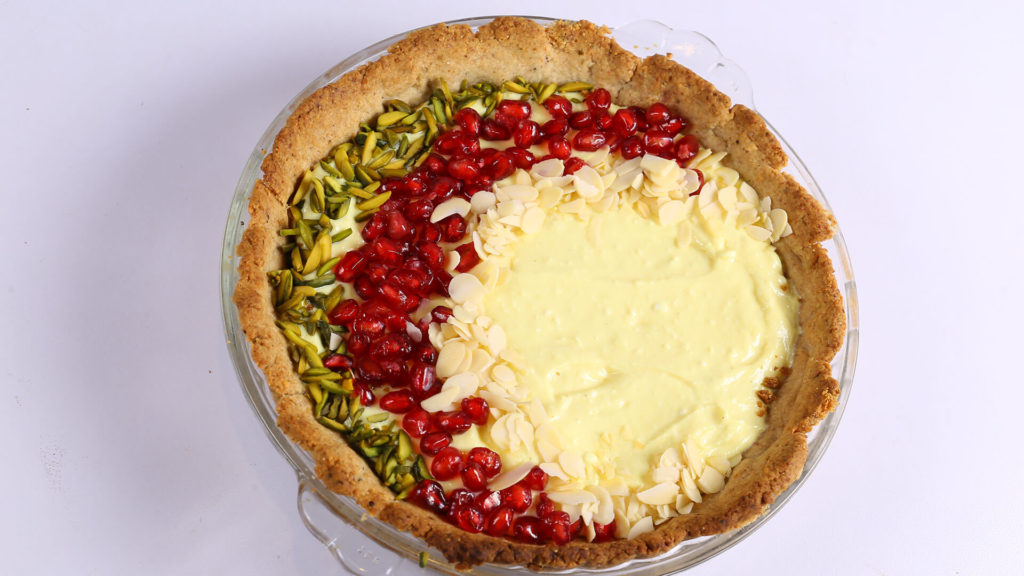 Jun 08, 2023 at 12:46 AM (GMT -04:00)

Check out the Thandai Shrikhand Tart Recipe in Urdu. Learn how to make best Thandai Shrikhand Tart Recipe, cooking at its finest by chef Zarnak Sidhwa at Masala TV show Food Diaries. Check all the Pakistan Cooking recipes in Urdu of Masala TV. Also Check Thandai Shrikhand Tart Recipe, ingredients and complete Method.
Thandai Shrikhand Tart filled with Pistachios, almonds and saffron is a delight to have and make as well. Try out this dish and treat your family!
Watch this Masala TV video to learn how to make Thandai Shrikhand Tart and Bhopali Biryani Recipes. This show of Food Diaries with Chef Zarnak Sidhwa aired on 13 December 2019.
Ingredients for Shrikhand:
Hung curd 2 cups
Caster sugar 1 cup
Cardamom powder 1 tsp
Saffron 6 strands
Pistachios or almonds ¼ cup
Ingredients for tart:
Flour 1-1/2 cups
Salt 1 pinch
Cardamom powder ¼ tsp
Cinnamon powder ¼ tsp
Black pepper powder 1 tsp
Nutmeg powder 1 pinch
Unsalted butter, cold 5 tbsp
Grated coconut ¼ cup
Almonds (blanched &peeled ) 2 tbsp
Cashew nuts 2 tbsp
Pistachios 2 tbsp
Poppy seeds 1 tsp
Sugar ¼ cup
Chilled water as required
For filling & topping:
For Garnish:
Pistachios as required
Mixed fruits as required
Method:
For Shrikhand pour the yogurt into a muslin cloth. Hang it for a few hours till water drains out. If you keep it overnight, do so in the fridge. Remove the fully strained whey free yogurt from the fridge and discard the whey. Add the saffron into the yogurt along with the sugar and briskly mix, add the cardamom powder and stir in the nuts and refrigerate well for 5-6 hours before serving.
For tart coarsely grind the almonds, pistachios and cashews. Mix with the rest of the ingredients including chilled butter and knead well till you get a coarse crumb like mixture. Add a little cold water at a time and knead to make a firm dough. Take care to add a tablespoon of cold water at a time. Once the thandai tart dough is ready, cover it with cling film and keep it in the refrigerator for 30 minutes. Preheat oven to 180 degrees C. Take out the dough from the fridge. Dust the surface with flour and roll the tart dough to make a circle large enough to fit a 7 inch tart pan. Now carefully invert the rolled dough over the tart mould. Press the dough on to the sides and bottom of the tart pan. Prick the tart dough with a fork all over, put a greaseproof paper on it and weigh it down with ceramic beans or rice or beans, bake for about 20 minutes or until the tart is golden.
Once tart is baked, remove it from the oven and allow it to cool completely. Keep the Thandai tart in its pan. Once the Thandai tart is cooled, pour the shrikhand mixture over the tart and tap the pan gently on the counter to release any air bubbles. Top the Thandai tart with your choice of fresh fruit or berries before serving. Sprinkle nutmeg powder and pistachios on it.
Ingredients for Biryani:
Oil 4-5 tbsp
Ginger garlic paste 2 tbsp
Mutton 750 gm
Yogurt 1 cup
Bay leaves 2
Cloves 5-6
Black cardamoms 2
Green cardamoms 3
Nutmeg a pinch
Black peppercorns 6-7
Mace 2
Salt to taste
Sliced onions 3 large
Rice 2 cups
Bay leaf 1
Black peppercorns 3-4
Cloves 3-4
Salt to taste
Screw pine Water ¼ tsp
Saffron few strands
Warm milk 1 tbsp
Chopped mint leaves few
Chopped coriander few
Brown Onions as required
For Raita:
Yogurt 1 cup
Diced cucumber 1
Chopped onion 1
Salt to taste
Roasted cumin powder 1 tsp
Chopped mint leaves as required
Method:
For Biryani heat oil and add onions. Cook till brown in color. In a grinder, add bay leaves, green cardamoms, black cardamoms, cloves, nutmeg, black peppercorns and mace, grind into a fine powder. Set aside. Add saffron strands to warm milk and keep aside. In a pan, add oil and ginger garlic paste, add mutton and sauté well and then add little water and cook till done. In another pan, add 5-6 cups water, bay leaf, black peppercorns, cloves and salt. Once the water starts to boil, add rice and cook till ¾ cooked. Drain the water and spread the rice in a big plate. To assemble, layer half the rice, then mutton, then mint leaves, then brown onions, more mutton and rice. On top, add screw pine water and saffron milk. Cover it with a heavy lid and simmer on low for 10-15 minutes. Garnish it with mint leaves, coriander leaves and brown onions. Serve hot with raita.
For Raita in a bowl, whisk the yogurt to semi thin consistency. Add Cucumber, onion, salt and cumin powder, mix well. Garnish with mint leaves Store in refrigerator till further use.

Thandai Shrikhand Tart Recipe in Urdu and English
At Masala TV you can check complete Thandai Shrikhand Tart Recipe in Urdu and English. This is one of the best recipes by chef Zarnak Sidhwa at Masala TV show Food Diaries. Check out the other best recipes of chefs Zarnak Sidhwa.
Top relevant recipes of Thandai Shrikhand Tart Recipe in Urdu