Tutti Frutti Cheesecake Recipe | Lazzat | Samina Jalil | Dessert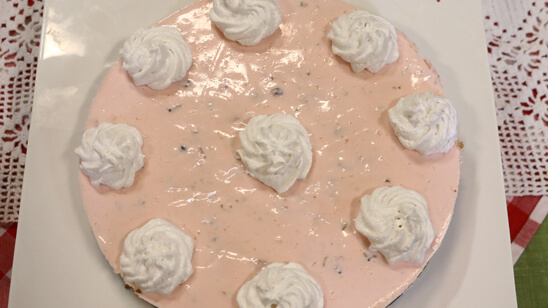 Jul 01, 2022 at 06:08 PM (GMT -04:00)

Check out the Tutti Frutti Cheesecake Recipe in Urdu. Learn how to make best Tutti Frutti Cheesecake Recipe , cooking at its finest by chef Samina Jalil at Masala TV show Lazzat. Check all the Pakistan Cooking recipes in Urdu of Masala TV. Also Check Tutti Frutti Cheesecake Recipe , ingredients and complete Method.
We bet you haven't tried a Tutti Frutti Cheesecake. Well now you can with this fault-proof recipe that will makes it taste like heaven.
Watch this Masala TV video to learn how to make Tutti Frutti Cheesecake and Meat Ball Sub Casserole Recipes. This show of Lazzat with Chef Samina Jalil aired on 19 November 2020.
Base Ingredients:
Biscuits (crushed) 2-1/2 cup
Butter (melted) ¾ cup
Desiccated Coconut 2 tbsp
Filling Ingredients:
Curd cheese 1-1/2 cup
Cream 200 grams
Gelatin 2 tbsp
Caster sugar 8-10 tbsp
Cream (for garnish) 1 cup
Fresh cream 1-1/2 cup
Strawberry essence few drops
Red food color 2-3 drops
Black raisin (small) 2 tbsp
Almond, pistachio (finely cut) 4 tbsp
Orange peel (finely cut) 1 tbsp
Glazed cherries (green, red) 2 tbsp
Method:
Add melted butter and coconut powder in crushed biscuits and set it on a pan and put it in the oven for 6-7 mins. Now in a bowl add fresh cream, cream cheese, caster sugar and curd cheese and beat them. Mix gelatin in water and mix it the mixture. Then add small black raisin, chopped almonds, pistachios, red food color, strawberry essence, green and red glazed cherries and chopped orange peel and mix it softly with your hands and refrigerate it for 5-6 hours. When it gets set then garnish it with cream and serve.
Ingredients:
Bread loaf long buns as required
Cream cheese ¾ cup
Mayonnaise 3/4cup
Mozzarella cheese 1 cup
Italian seasoning 1-1/2cup
Black pepper powder 1 tsp
Ingredients for Meat Balls:
Beef minced 400 gram
Salt 1 tsp
Black pepper powder 1 tsp
Italian seasoning 1 tsp
Bread slice 1
Oil 1 tbsp
Onions 1
Garlic (crushed) 1 tsp
Butter 2 tbsp
Sauce's ingredients:
Tomatoes (boiled) 6
Ketchup 1/2cup
Red chili (chopped) 1tsp
Black pepper (chopped) 1tsp
Vinegar 2tbsp
Salt as required
Thyme, oregano 3/4tsp
Method:
Firstly blend all the sauces ingredients and thicken them in a blender. Add salt, black pepper powder, Italian seasoning, onions, garlic, bread slice and oil in beef mince and mash them. Then shape them in to balls and fry them in butter. Cut the bread slices in big loaves. Mix cream cheese, mayonnaise, black pepper and Italian seasoning and spread them on the bread. Then add mozzarella cheese and sauce and add the fried meat balls in them. Lastly add mozzarella cheese and cover it and at 180 degrees and bake till the cheese melts.

Tutti Frutti Cheesecake Recipe in Urdu and English
At Masala TV you can check complete Tutti Frutti Cheesecake Recipe in Urdu and English. This is one of the best recipes by chef Samina Jalil at Masala TV show Lazzat. Check out the other best recipes of chefs Samina Jalil.
Top relevant recipes of Tutti Frutti Cheesecake Recipe in Urdu