Uzbek Pulao Recipe | Dawat | Abida Baloch | Desi Food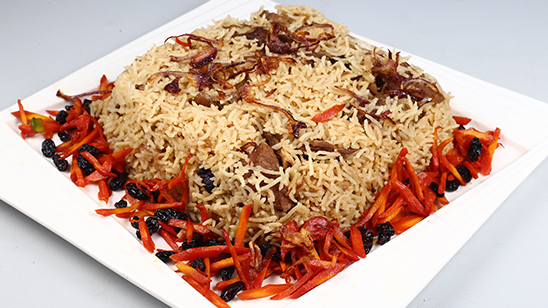 Sep 18, 2021 at 12:16 AM (GMT -04:00)

Check out the Uzbek Pulao Recipe in Urdu. Learn how to make best Uzbek Pulao Recipe , cooking at its finest by chef Abida Baloch at Masala TV show Dawat. Check all the Pakistan Cooking recipes in Urdu of Masala TV. Also Check Uzbek Pulao Recipe , ingredients and complete Method.
Uzbek Pulao is a wonderful combination of raisins, dry plums and other dry fruits along with chicken tikka. Try out this mouth-watering combination for dinner tonight!
Watch this Masala TV video to learn how to make Uzbek Pulao And Fajita Pasta Recipes. This show of Dawat with Chef Abida Baloch aired on 27 July 2021.
Ingredients:
Mutton (cubed) 1/2 kg
Onions (sliced) 2
Oil ½ cup
Sella Rice 3 cups
Carrots (sliced) 2 cups
Cumin seeds 1 tbsp
Coriander Powder 1 tbsp
Garlic 2 tbsp
Salt 1 tbsp
Black Pepper Powder 1 tsp
Chicken stock 2 liters
Carrots chopped 2 cup
Black Raisins (soaked) ¼ cup
Butter 5 tbsp
Whole spices 1 tbsp
Method:
• Heat oil and fry onions and garlic.
• Add mutton cubes, salt ,Whole spices ,cumin seeds and coriander powder and fry for 10 minutes.
• Then add 1-1/2 stock and leave it to cook till meat is tender.
• Now soaked rice cook on high flame.
• Finally add black pepper and carrots then leave on dum for 15 minutes then in a pan heat butter and fry carrot and raisin for 5 minutes then pour on pulao and serve.
Ingredients:
Boiled pasta 1 packet
Chicken boneless (strips) 300 grams
Garlic chopped 4-5 cloves
Lemon juice 2tbsp
Salt 1tsp
Red chili crushed 1 tsp
Red chili powder 1/2 tsp
Oregano 1/2 tsp
Cumin seeds 1tsp
Oil 1/4 cup
Green chilies sliced 4-6
Spring onion (strips) 2-3
Capsicum (strips) 2
Method:
Marinade chicken strips with lemon juice, oregano, garlic, cumin seeds, salt, red chili powder, red chili crushed and oil. Now heat oil in a pan and sauté marinated chicken until it is done, add spring onion, capsicum, green chilies and boiled pasta add and cook on high heat for 2-3 mint then serve.

Uzbek Pulao Recipe in Urdu and English
At Masala TV you can check complete Uzbek Pulao Recipe in Urdu and English. This is one of the best recipes by chef Abida Baloch at Masala TV show Dawat. Check out the other best recipes of chefs Abida Baloch.
Top relevant recipes of Uzbek Pulao Recipe in Urdu