Vegetable Burger Recipe | Food Diaries | Zarnak Sidhwa | Fast Food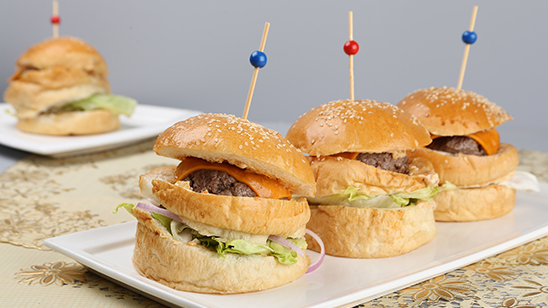 Apr 21, 2021 at 05:11 PM (GMT -04:00)

Check out the Vegetable Burger Recipe in Urdu. Learn how to make best Vegetable Burger Recipe , cooking at its finest by chef Zarnak Sidhwa at Masala TV show Food Diaries. Check all the Pakistan Cooking recipes in Urdu of Masala TV. Also Check Vegetable Burger Recipe , ingredients and complete Method.
Vegetable is healthy, hearty and wholesome. Give yourself a healthy treat this week.
Watch this Masala TV video to learn how to make Vegetable Burger And Strawberry Frozen Yogurt Recipes. This show of Food Diaries with Chef Zarnak Sidhwa aired on 23 February 2021.
Ingredients:
For the patties:
Potatoes, boiled 6
Green Peas 1 cup
Corn 1 cup
Green Chilies 4
Garlic 4–6 cloves
Bread Crumbs 1/3 cup
Corn Flour 3 tbsp
Grated Cheese 1/2 cup
all spice powder 2 tsp
Red Chilli powder 1 tsp
Cumin Powder 1 tsp
Turmeric Powder 1/2 tsp
Salt 1 tbsp
Sugar 1/2 tsp
Oil for frying
For the Sauce:
Mayonnaise 1/2 cup
Tomato Ketchup 1/2 cup
Butter 1 tbsp
Chilli Sauce 1 tbsp
Jalapenos chopped 2
Ground Black Pepper 1 tsp
Oregano 1 tsp
Salt a pinch
Other ingredients:
Burger Buns 4-6
Butter to toast
Small Iceberg lettuce as required
Onion Sliced 1
Tomato 1
Cheese Sliced 4
Method:
All sauce ingredients mix and set aside .Add peas, sweet corn, green chili, garlic cloves to a food processor and grind to a coarse paste. Add it to the mashed potatoes along with the grated cheese, spices, salt, sugar, corn flour and bread crumbs. Mix well. Divide into equal portions and form patties. Heat oil in a pan and fry the patties for 3-4 minutes or until golden. Toast the buns and apply butter. Put patty along with sliced onion, tomato, sauce ,cheese and iceberg and serve immediately.
Ingredients:
Strawberries 140g
Condensed milk ½ can
Yogurt 2 cups
Method:
Roughly chop half the strawberries and whizz the rest in a food processor to a purée. Mix the condensed milk into the puréed strawberries then gently stir in the yogurt until well mixed. Fold through the chopped strawberries. Scrape the mixture into a loaf tin or airtight container and freeze overnight, until solid. Remove from the freezer about 10-15 minutes before you want to serve the frozen yogurt.

Vegetable Burger Recipe in Urdu and English
At Masala TV you can check complete Vegetable Burger Recipe in Urdu and English. This is one of the best recipes by chef Zarnak Sidhwa at Masala TV show Food Diaries. Check out the other best recipes of chefs Zarnak Sidhwa.
Top relevant recipes of Vegetable Burger Recipe in Urdu