Vegetable Fried Rice Recipe | Dawat | Abida Baloch | Desi Food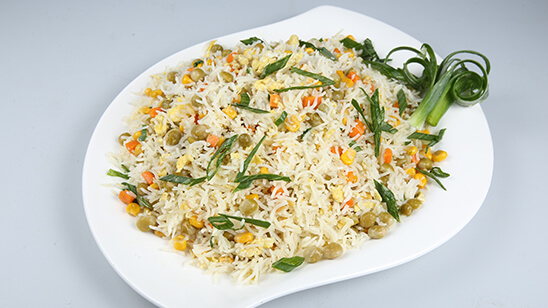 Mar 28, 2023 at 10:37 AM (GMT -04:00)

Check out the Vegetable Fried Rice Recipe in Urdu. Learn how to make best Vegetable Fried Rice Recipe , cooking at its finest by chef Abida Baloch at Masala TV show Dawat. Check all the Pakistan Cooking recipes in Urdu of Masala TV. Also Check Vegetable Fried Rice Recipe , ingredients and complete Method.
Vegetable Fried Rice are a must have! You can prepare these in less than 15 minutes and achieve the perfect taste at the ease of your home.
Watch this Masala TV video to learn how to make Vegetable Fried Rice And Gobi Manchurian Recipes. This show of Dawat with Chef Abida Baloch aired on 14 June 2021.
Ingredients:
Oil 1/4 cup
Carrot diced 1 cup
Garlic, minced 1 tbsp
Spring onion diced 1 cup
Peas 1 cup
Corn 1 cup
Eggs, beaten 2
White rice cooked 3 cups
Chicken powder 1 tbsp
White pepper, to taste
Chopped green chili 1tsp
Method:
In a wok heat up the oil over high heat and cook carrots, green chili, onions, and garlic until onions are translucent. Push all of the vegetables to the side of the pan.
Beat the eggs and pour into the cleared half of the pan. Scramble the eggs and mix with the rest of the vegetables .Add, rice, chicken powder, green part of spring onion and pepper. Mix well and let the rice cook until slightly crispy.
Enjoy!
Ingredients:
Cauliflower blanched 20 florets
For batter:
Plain flour ¾ cup
Corn flour ¼ cup
Red chili powder ½ tsp
Ginger garlic paste ½ tsp
Salt ¼ tsp
Water ½ cup
Oil for deep frying
For Manchurian sauce:
Oil 4 tsp
Garlic ginger 1 tsp
Green chili slit 3
Onion chopped 1/2
Spring onion chopped 1/2 cup
Capsicum cube 1
Tomato sauce 2 tbsp
Chili sauce 2 tsp
Vinegar 2 tsp
Soy sauce 2 tsp
Salt & pepper to taste
Crushed red chili 1tsp
Corn flour 1 tsp
Water ¼ cup
Method:
Make the batter with all ingredients mix well add water as needed and make a free-flowing lamp free better then Add cauliflower florets and coat them well then deep fried them on medium high heat. In a large wok heat oil and sauté garlic ginger and green chili on high flame. Along with onion and spring onion.
Further add capsicum then add 2 tomato sauce, chili sauce, vinegar, soy sauce, crushed red paper, pepper and salt. Mix well and sauté for a minute.
Add corn flour. Give a good mix until the gravy slightly thickens and turns translucent. Additionally, add fried cauliflower. Finally, transfer cauliflower Manchurian to a serving bowl and garnish with chopped spring onions green. Serve with fried rice.

Vegetable Fried Rice Recipe in Urdu and English
At Masala TV you can check complete Vegetable Fried Rice Recipe in Urdu and English. This is one of the best recipes by chef Abida Baloch at Masala TV show Dawat. Check out the other best recipes of chefs Abida Baloch.
Top relevant recipes of Vegetable Fried Rice Recipe in Urdu