Vegetable Seekh Kabab Recipe | Dawat | Abida Baloch | Desi Food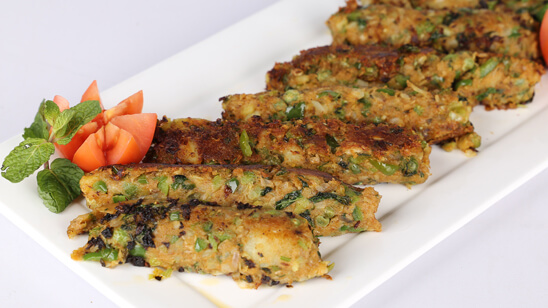 Oct 02, 2022 at 05:13 AM (GMT -04:00)

Check out the Vegetable Seekh Kabab Recipe in Urdu. Learn how to make best Vegetable Seekh Kabab Recipe , cooking at its finest by chef Abida Baloch at Masala TV show Dawat. Check all the Pakistan Cooking recipes in Urdu of Masala TV. Also Check Vegetable Seekh Kabab Recipe , ingredients and complete Method.
Vegetable Seekh Kabab will blow your mind with how great these taste. If you are a Seekh Kabab lover, give this recipe a try!
Watch this Masala TV video to learn how to make Vegetable Seekh Kabab And Chocolate Pomegranate Cheese Cake Recipes. This show of Dawat with Chef Abida Baloch aired on 8 January 2021.
Ingredients:
Oil 2 tsp
Cumin seeds 1tsp
Onion (chopped) ¼ cup
Ginger garlic paste 1 tsp
Green chili (chopped) 1
Gram flour 2 tbsp
Cabbage (shredded) 1 cup
Carrot (grated) 1
Peas ½ cup
Coriander leaves few
Mint leaves few
Spring onions few
Potatoes (boiled) 2 medium
Red chili powder 1 tsp
Turmeric powder ½ tsp
Coriander powder 1 tsp
Cumin powder 1/2 tsp
All spice powder ½ tsp
Salt to taste
Black pepper (crushed) 1/2 tsp
Lemon juice 1 tbsp
Bread crumbs ¼ cup
Oil for roasting
Chaat masala a pinch
Method:
Firstly, in a wok heat oil and sauté cumin seeds. Further add onions, ginger-garlic paste and green chili. Sauté well. Add gram flour and roast for a minute or 2 minutes. Further add mix vegetables and sauté. Mash them all, also add coriander leaves, mint leaves, spring onion, boiled potato, spices, salt and lemon juice. Further add bread crumbs and mix well. Make a ball and insert into skewer and give shape. Roast the kebabs on hot tawa greased with oil. Rotate in between making sure all sides are roasted evenly. Finally, sprinkle chaat masala and serve hot.
Ingredients:
For The Crust:
Chocolate cookie crumbs 1 cup
Melted unsalted butter 3 tbsp
For The Filling:
Curd cheese 1 cups
Icing sugar (sifted) 1/2 cup
Vanilla extract 1/2 tsp
Heavy whipping cream 1/2 cup
Pomegranate seeds 1/4 cup
For The Layering:
Pomegranate juice 1 cup
Corn flour 2 tabs
Sugar to taste
Pomegranate seeds 1/2 cup
Method:
To make the crust: Place the cookies into food processor and pulse until fine crumbs formed. Add the melted butter and mix to incorporate. Pour the ready mixture into the cake pan using a measuring cup or your fingertips press the cookie crumbs to the pan firmly. Place in the fridge while you work on the filling. In a mixing bowl beat the curd cheese, icing sugar and vanilla extract. Beat on low-medium speed 3-4 minutes. Start adding the whipping cream start beating until fluffy. Pour half of the mixture in the pan, sprinkle pomegranates and pour the rest In a saucepan add all the ingredients of top layer and when it boils, allow to thick consistency then Remove from heat and let it cool down to room temperature. Using a regular tablespoon, pour the cooled mixture on the cake until all used. Place in the fridge at least 8 hours to get firm and serve.

Vegetable Seekh Kabab Recipe in Urdu and English
At Masala TV you can check complete Vegetable Seekh Kabab Recipe in Urdu and English. This is one of the best recipes by chef Abida Baloch at Masala TV show Dawat. Check out the other best recipes of chefs Abida Baloch.
Top relevant recipes of Vegetable Seekh Kabab Recipe in Urdu