Wafer Cheesecake Recipe | Masala Mornings | Shireen Anwar | Dessert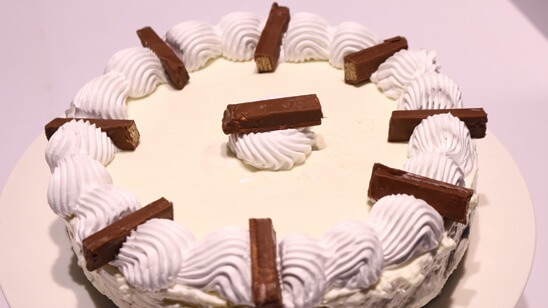 Feb 27, 2021 at 10:36 AM (GMT -05:00)

Check out the Wafer Cheesecake Recipe in Urdu. Learn how to make best Wafer Cheesecake Recipe , cooking at its finest by chef Shireen Anwar at Masala TV show Masala Mornings. Check all the Pakistan Cooking recipes in Urdu of Masala TV. Also Check Wafer Cheesecake Recipe , ingredients and complete Method.
Wafer Cheesecake is one of a kind. It has delightful flavors and texture that melts in your mouth!
Watch this Masala TV video to Learn how to make Wafer Cheesecake ,Bihari chicken biryani and Dum ka phaal Recipes. This show of Masala Mornings with Chef Shireen Anwar aired on 27 August 2020.
Ingredients for base:
Digestive biscuits crushed 2 ½ cup
Butter 4 ounce
Vanilla essence 1 tsp
Chocolate bar 1 cup + ½ cup
Eggs 3 separated
Sugar 5 ounce
Gelatin 2 tbsp
Water ¼ cup
Cream cheese 200 gm
Curd cheese 200 gm
Fresh cream whipped 12 ounce
Fresh cream whipped for decoration
Method for base:
Crush biscuits, mix with melted butter, spread in a 9 inch loose bottom pan, bake for 10 mins on 180 d, remove and cool.
Method for filling:
Make custard with egg yolk and half sugar by cooking together both and stirring continuously, add in dissolved gelatin and keep aside. In another bowl beat both the cheese with vanilla essence, now fold in the egg mixture with gelatin and cheese mixture, beat cream stiff, beat egg white stiff with remaining sugar and fold altogether and chopped kit kat chocolate, pour mixture in the base, chill firm, remove, decorate with kit kat and whipped cream.
Ingredients to marinate:
Boneless chicken 1 kg
Yogurt 1 ½ cup
Salt 2 tsp
Cream 1 cup
Crushed black pepper 1 tsp
Crushed cumin 2 tsp
Crushed red pepper 1 tsp heaped
Ginger garlic paste as required
Grinded cardamom 1 tsp
Other ingredients :
Rice 750 gm
Green chilies ground 3
Coriander leaves 1 cup
Mint 1 bunch
Butter 4 ounce
Oil ½ cup
Yellow food color ¼ tsp
Screw pine essence 1 tbsp
Method:
Marinate boneless chicken cubes with yogurt, salt, cream, crushed black pepper, roasted and crushed cumin, crushed red pepper, grinded cardamom, ginger garlic paste and leave it for 1 hour. In a handi heat butter and oil, add marinated chicken, cover and cook for 20 mins till chicken done. Boil rice with 2 tbsp salt till done, now on top of the cooked chicken, add green chilies, coriander leaves, mint leaves, kewra mixed with yellow color, top with boiled rice, give dum of coal, cover handi, leave it on dum for 20 mins.
Ingredients:
Mutton chops ½ kg
Salt 1 tsp
Small green chilies 15-20
Green coriander 2-3 tbsp
Ginger garlic paste 1 tsp
Oil 1/3 cup
Potatoes 2
Capsicum 1
Green chilies 6
Cumin powder 1 tsp
Onion 2
Crushed black pepper 1 tsp
Allspice powder ½ tsp
Method:
Grind together green chilies and green coriander, hammer the mutton chops and add in 1 cup water, salt, green chili and coriander paste, ginger garlic paste, mix it and cook till the chops tender, slightly boil the sliced potatoes, add in onion, capsicum, crushed black pepper, cumin, allspice powder and potatoes in the chops, then add in ¼ cup and green chilies, simmer for 10 mins and serve.

Wafer Cheesecake Recipe in Urdu and English
At Masala TV you can check complete Wafer Cheesecake Recipe in Urdu and English. This is one of the best recipes by chef Shireen Anwar at Masala TV show Masala Mornings. Check out the other best recipes of chefs Shireen Anwar.
Top relevant recipes of Wafer Cheesecake Recipe in Urdu