Ruz Bukhari Recipe | Food Diaries | Chef Zarnak Sidhwa | Arabic Food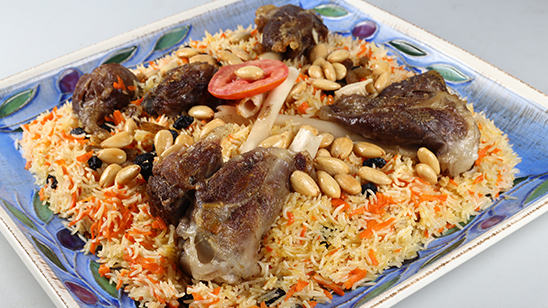 May 30, 2023 at 10:30 PM (GMT -04:00)

Check out the Ruz Bukhari Recipe in Urdu. Learn how to make best Ruz Bukhari Recipe , cooking at its finest by chef Zarnak Sidhwa at Masala TV show Lazzat. Check all the Pakistan Cooking recipes in Urdu of Masala TV. Also Check Ruz Bukhari Recipe , ingredients and complete Method.
Ruz Bukhari is the perfect way to combine well seasoned rice and perfectly marinated meat. Try this Arabic-style dish at home!
Watch this Masala TV video to learn how to make Ruz Bukhari, Zalata and Eggs on Potatoes Recipes. This show of Food Diaries with Chef Zarnak Sidhwa aired on 9 July 2021.
Ingredients:
Lamb shanks 1 kg
Rice 4 cups
Carrots (grated) 3
Raisins 1/2 cup
Oil 3-4 tbsp
Salt to taste
For Garnish:
Almonds (peeled and fried) as required
Method:
Heat oil. Add the lamb shanks and sear them well until brown. Next add the water and salt and lower the flame and let this simmer for 45-60 minutes until the meat is tender and falls off the bones. Once done remove the meat pieces and keep aside and measure the stock that is left. For four cups of rice you will need 8 cups of liquid. So make sure you top up the soup with water to make it 8 cups. In the same pot add the liquid and bring it to a boil. Add the rice and cook once done add the grated carrot and raisins. Add the meat on top and let it simmer for 10 minutes on a low flame. Serve topped with the peeled and fried almonds.
Serve with Zalata.
Ingredients:
Coriander leaves 1 bunch
Mint leaves 1/2 bunch
Garlic 4-5 cloves
Green chilies 6-8
Tomato 1
Salt to taste
Method:
Blend the above ingredients and serve with the Ruz Bukhari.
Ingredients:
Potatoes (quartered and then cut into thin slices) 6
Cumin seeds 1 tsp
Onions (sliced) 3
Green chilies (chopped) 12
Garlic (chopped) 10 cloves
Coriander leaves (chopped) handful
Salt to taste
Oil 3 tbsp
Eggs 6
Ground black pepper 1 tsp
Method:
Heat oil in a pan, splutter cumin seeds. Add green chillies, onions, garlic, and sauté until the onions begin to turn light brown. Add the potatoes and toss them well in the onion mixture. Season the potatoes with salt. Cover and cook on a very gentle flame till potatoes are cooked.
When done add coriander leaves and mix. Flatten out the cooked potatoes evenly. Break the eggs, carefully over the potatoes. Season the eggs with a bit of salt. Cover and cook on a gentle heat. When the eggs are semi set, sprinkle some ground black pepper.

Ruz Bukhari Recipe in Urdu and English
At Masala TV you can check complete Ruz Bukhari Recipe in Urdu and English. This is one of the best recipes by chef Zarnak Sidhwa at Masala TV show Lazzat. Check out the other best recipes of chefs Zarnak Sidhwa.
Top relevant recipes of Ruz Bukhari Recipe in Urdu