Beef Shami Kabab Recipe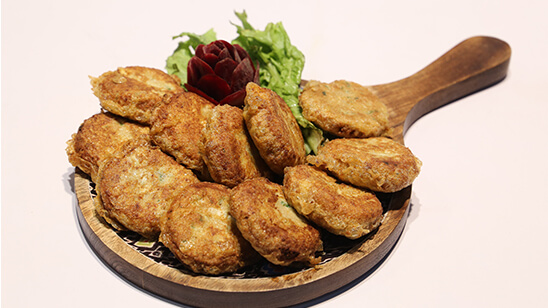 Nov 28, 2023 at 08:34 AM (GMT -05:00)

Check out the Beef Shami Kabab Recipe in Urdu. Learn how to make best Beef Shami Kabab Recipe, cooking at its finest by chef at Masala TV show . Check all the Pakistan Cooking recipes in Urdu of Masala TV. Also Check Beef Shami Kabab Recipe, ingredients and complete Method.
Shami Kababs are a forever favorite dish that we can never get enough of. Try making Bun Kababs, pair these with Pulao or have them as it is; you'll love these either way!
Ingredients:
Boneless beef                  300 gm
Cloves                            5-6
Black cardamom             8-10
Cardamom                     2
Cinnamon sticks             2
Cumin seeds                   1 tsp
Star anise                        1
Whole black pepper        2-4
Soaked split chickpea      ½ cup
Red button chilies           as required
Green chilies                   3-4
Sliced onion                   1
Chopped onion               1
Coriander leaves             ½ bunch
Julienne cut ginger          1 tbsp
Garlic cloves                   4-6
Salt                                 1 tsp
Water                             as required
Egg                                1
Oil                                  as required
Whole all spices             as required
Julienne cut ginger          1 small piece
Method: 
Take a square piece of muslin cloth. • Add whole spices and tie it in the muslin cloth to form a etui. • In pressure cooker add this cloth etui, split chickpea, onion, beef, chilies, garlic, salt and water. • Pressure cook beef for 30-40 minutes or until beef is tender. • Now take out whole spice from the beef. • Add shredded beef then put all remaining ingredients in a chopper along with coriander, ginger, onion, green chilies and chop well until it's a smooth mixture. • Then add in an egg so that the kababs combine well.
What's one side dish that goes perfectly with almost every desi dish and a tea trolley is incomplete without? You guessed it, beef shami kabab. The kababs are made in pretty much every Pakistani households and are the perfect fix for hunger during odd hours, surprise guests, a quick sandwich to take to work or a side dish for your curry.
History of Beef Shami Kabab
Beef shami kabab is a local variety of kebab, originating from the Indian subcontinent. It is part of the popular dish in modern day Indian, Pakistani and Bangladeshi cuisines.
The city of Lucknow in Uttar Pradesh was once the heart of the Mughal command in India, hence the food of the region is rich in regal recipes. Many of the recipes were meat based and this style of Nawabi cooking was all about layers of infused spice, slow cooking and meat on the bone. Shami kebabs are a firm favourite there, but the fact that they are made with blended meat and spices is a little incongruous to the meat-on-the-bone diet. The story goes that these were invented by a chef to a Nawab (nobleman) who had lost all his teeth due to his general overindulgence. In order to keep enjoying his chef's food, the Nawab asked the chef to create something that meant he could eat meat without having to chew. This gave rise to the shami kebab.
Beef Shami Kabab Recipe
A typical Pakistani Shami Kabab are smooth patties of ground beef, mutton, or chicken cooked with split pea lentil and spices, then blended with fresh herbs and lightly fried.
Shami kebabs may be served with roti along with ketchup, hot sauce, Schezwan sauce, chilli garlic sauce, raita or chutney. Before serving the kebabs, it is also common to dip them in a beaten egg mixture and double fry them. They are also commonly eaten with cooked rice or chapati.
If you're looking for delicious mutton shami kabab recipe, beef shami kabab recipe in Urdu or English or chicken shami kabab recipe you should visit Masala TV's website or watch a tutorial on Masala TV's YouTube channel where our renowned chefs teach YouTube teach you how to make authentic and delicious Shami Kabab.

Beef Shami Kabab Recipe in Urdu and English
At Masala TV you can check complete Beef Shami Kabab Recipe in Urdu and English. This is one of the best recipes by chef at Masala TV show . Check out the other best recipes of chefs .
Top relevant recipes of Beef Shami Kabab Recipe in Urdu