Peshawari Chapli Kabab Recipe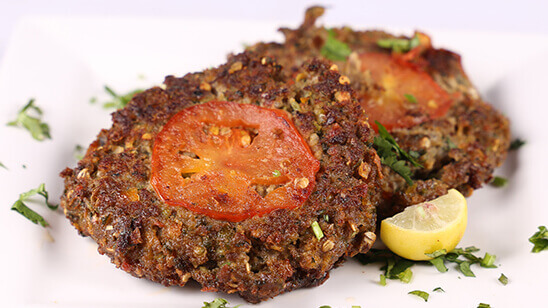 Sep 22, 2023 at 06:38 PM (GMT -04:00)

Check out the Peshawari Chapli Kabab Recipe in Urdu. Learn how to make best Peshawari Chapli Kabab Recipe, cooking at its finest by chef Zubaida Tariq at Masala TV show . Check all the Pakistan Cooking recipes in Urdu of Masala TV. Also Check Peshawari Chapli Kabab Recipe, ingredients and complete Method.
Chapli Kababs are a traditional dish you'll enjoy every bite of. Try this one today!
Watch this Masala TV video to Learn how to make Chapli Kabab Recipe.
Ingredients:
Beef Mince 300 gm
Onions chopped ½ cup
Pomegranate seeds (crushed, soaked and grind) 2 tbsp
All spice powder 1 tsp
Gram flour (roasted) 2 tbsp
Green chilies (chopped) 3-4
Salt to taste
Red chili flakes 2 tsp
Coriander seeds (roasted & crushed) 1 tbsp
Coriander leaves ½ cup
Egg 1
Tomatoes (chopped) ½ cup
Oil for frying
Method:
In a bowl, add beef mince, soaked pomegranate seeds, whole spice powder, roasted gram flour, green chilies, salt, red chili flakes, coriander seeds, coriander leaves, onion and egg. Mix well. Refrigerate mixture for 10-20 minutes. Mix well. Now make patty and place a tomato slice on top. Then heat oil and fry each side for 4-5 min on low flame until it done.
When we think of one of the most popular and world-renowned legacy dishes of our nation the delicious and mouth-watering Pakistani chapli kabab usually tend to be at the top of the list.
Originating from Peshawar hence popularly known as Peshawari Chapli Kabab, this specialty of the Pashtun Cuisine's name is derived from a Pashto word called chaprikh, meaning flat indicating the shape of the globally popular kababs. Mughal culinary influences in the region popularised a number of kebab dishes, resulting in local recipes such as the chapli kebab
While the delectable dish has been one of the major reasons why people travel from far and wide to Peshawar, it is now widely available across Pakistan and even Afghanistan, and India.
The city of Peshawar, where the recipe took hold, has over 2,000 kebab houses that serve the chapli kebab. Such eateries have rapidly expanded in other cities as well. Today, the chapli kebab is featured on the menu of South Asian restaurants across the world.
Peshawari Chapli Kabab Recipe
There are two kinds of popular chapli kababs either mutton chapli kabab or beef chapli kabab. Other than the minced meat of your choice, chapli kababs consist of coriander, pomegranate seeds, green chillies and mint in addition to various different spices.
The original form of chapli kabab recipe found in Peshawar was only made with minced beef but now in some parts of the world it is also made in chicken and lamb. Over the years the recipe of the kababs has evolved but the authentic Peshawar chapli kabab recipe only consists of a selected number of spices.
Not only are chapli kababs a popular street food all throughout the year in Peshawar and surrounding area they are also a highly popular dish during the time of Eid-ul Azha and in ramadan as part of iftar. In winters, green tea such as kahwah may traditionally be served alongside it, while cold drinks are preferred in the summers.
If you happen to crave this mouth-watering dish to enjoy with your loved ones you can find the perfect and true to its authentic taste recipes on Masala TVs website or watch our expert chefs make this dish on our YouTube channel.
Traditionally speaking chapli kababs are usually eaten with a side of raita (yoghurt sauce) a fresh salad and naans fresh out of the tandoor or even in the form of a bun kebab.

Peshawari Chapli Kabab Recipe in Urdu and English
At Masala TV you can check complete Peshawari Chapli Kabab Recipe in Urdu and English. This is one of the best recipes by chef Zubaida Tariq at Masala TV show . Check out the other best recipes of chefs Zubaida Tariq.
Top relevant recipes of Peshawari Chapli Kabab Recipe in Urdu