Singaporean Rice Recipe | Shireen Anwar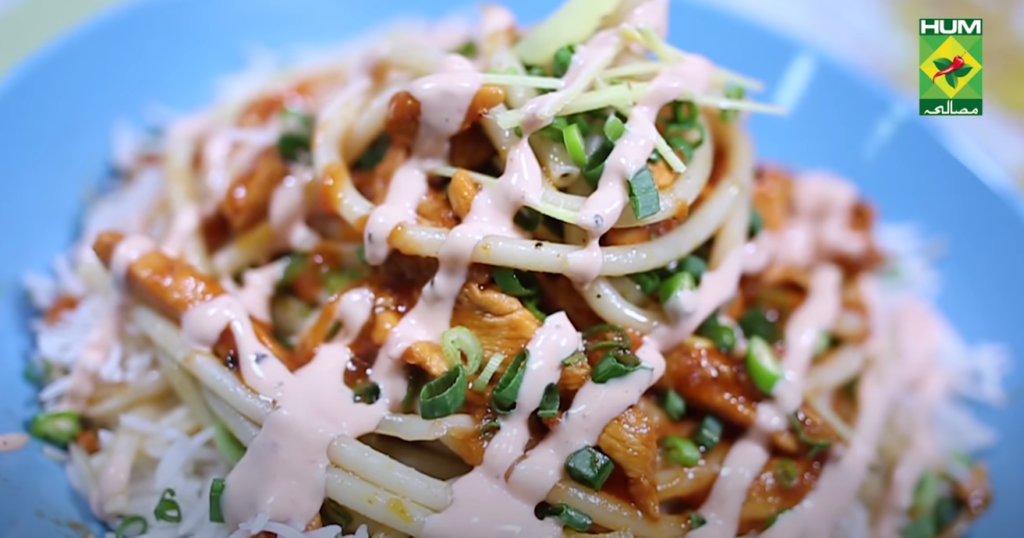 Nov 28, 2023 at 06:58 AM (GMT -05:00)

Check out the Singaporean Rice Recipe in Urdu. Learn how to make best Singaporean Rice Recipe, cooking at its finest by chef Shireen Anwar at Masala TV show . Check all the Pakistan Cooking recipes in Urdu of Masala TV. Also Check Singaporean Rice Recipe, ingredients and complete Method.
Singaporean Rice is the fusion of all our favorites combined in one epic dish that'll blow your mind; it's a burst of flavor in each bite!
Ingredients:
Boneless chicken ½ kg
Soya sauce 1 tbsp
Ketchup ½ cup
Hot sauce 1 tbsp
Vinegar 1 tbsp
Water 3 tbsp
Oil 1 tbsp
Salt 1 tbsp
Red chili powder ½ tsp
Ginger garlic paste 1 tbsp
Crushed black pepper ½ tsp
Ingredients for Stir Fried Vegetables & Noodles:
Boiled noodles 200 gram
Oil 1 tbsp
Sesame seed oil ¼ tsp
Soy sauce 1 tbsp
Julienned ginger 1 tbsp
Julienned capsicum ½ cup
Spring onions ¼ cup
Julienned cabbage 1 cup
Julienned carrots ½ cup
Green onion ½ cup
Salt 1 tsp
Crushed black pepper 1 tsp
Red chili powder 1 tsp
Ingredients for Mayo Sauce:
Mayonnaise ½ cup
Ketchup 1/3 cup
Hot sauce 1 tsp
Salt 1 pinch
Black pepper 1 pinch
Ingredients for Rice:
Rice ½ kg
Salt 1 tsp
Oil 1 tsp
Intentionally given a fancy and unique name to enthrall and invite guests at weddings by caterers across the nation. Singaporean rice originated in the hands of Bohra caterers somewhere in 2000 -2002 when the culture of providing Menu beforehand in weddings had just begun and the exotic name was need of the moment. and has now become a household dish for all of your dawaats and special occasions as it is super easy to make and tastes delicious.
Initially the dish was served alongside tomato corn soups at weddings. It wasn't until 2010 that the recipe got widely popular across weddings in Karachi and has been a hit ever since so much so that it has become a favourite across the nation.
Singaporean Rice is a mouth-watering Pakistani cuisine. As its name, it's not originated in Singapore but it's an invention of Pakistanis. It is basically a combination of two different recipes Rice and stirred noodles topped with Chicken chunks and vegetables with a layer of mayo sauce. Singaporean Rice recipe is surely no less than an ecstasy for the foodies out there.
Singaporean Rice Recipe is way more delicate than the typical Singapore recipes. Pakistani taste of desi dishes, the aroma, the combination of flavors and the presentation of Pakistani recipes has no match with any of the Singaporean recipes. Singaporean Rice is a delicacy which consists of well-seasoned boiled rice, seasoned boiled noodles, layered with each individual's preferred meat like chicken chunks, prawns or fish and topped with sauces (Mayo, Ketchup, Thousand Island sauce,  Martini  or Chimichuri). Vegetarians can also replace meat with their own preference such as your favorite type of vegetables, mushrooms, cottage cheese aka Paneer.
Singaporean Rice can be served with the sideline of scrumptious twisted fries. Furthermore, the ideal combination of chicken gravy and Thousand Island sauce provides tanginess and a zesty flavour that will leave you craving for more.
An ounce of Singapore fried rice contains about 60 calories. The nutritional value, on the other hand, is around 686 calories per serving.  This dish can keep it's shape; the long grain rice is a must-have element when cooking rice. To give Singapore rice a richer colour tone that is pleasing to the sight, dark soy sauce is used. Simultaneously, mild soy adds important flavours to the make it a perfect comfort food.
All the ingredients consumed in this recipe are easily available on every supermarket.
One of our favourite things about Singaporean Rice is that there is a burst and medley of flavours in every single bite along with a variety of different textures.

Singaporean Rice Recipe in Urdu and English
At Masala TV you can check complete Singaporean Rice Recipe in Urdu and English. This is one of the best recipes by chef Shireen Anwar at Masala TV show . Check out the other best recipes of chefs Shireen Anwar.
Top relevant recipes of Singaporean Rice Recipe in Urdu