Beef Steak Recipe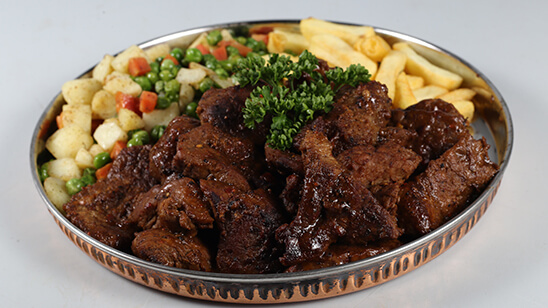 Sep 25, 2023 at 04:39 PM (GMT -04:00)

Check out the Beef Steak Recipe in Urdu. Learn how to make best Beef Steak Recipe, cooking at its finest by chef Shireen Anwar at Masala TV show Masala Mornings. Check all the Pakistan Cooking recipes in Urdu of Masala TV. Also Check Beef Steak Recipe, ingredients and complete Method.
This finger licking good Garlic Steak Bites recipe is for all the protein enthusiast and meat lovers. Must try!
Watch this Masala TV video to learn how to make Garlic Steak Bites , Barbeque Mince and Chocolate Vermicelli Truffles Recipes. This show of Masala Mornings with Chef Shireen Anwar aired on 8 July 2021.
Ingredients:
Under cut fillet 1 kg
Crispy fry 1packet
Soya sauce 2 tbsp
Wooster shire sauce 2 tbsp
Garlic powder 2 tsp
Onion powder 2 tsp
Salt 1 tsp
Black pepper crushed 1 tsp
Oil ½ cup
Butter 1 tbsp
Mixed vegetables sauté for serving
Method:
Marinate bite size pieces of undercut with all the given ingredients and pan fry in batches, when one side brown, turn and fry the other side, add butter, mix well, remove steak bite pieces, in the same pan add some more butter and fry the remaining marination liquid till done, pour this garlicy marination on the steak bites, serve garnished with fries and mixed vegetables.
Ingredients to marinate:
Beef Mince ½ kg
tikka masala 1 tbsp
Tandoori masala 1 tbsp
Ginger garlic 1 tbsp
Crushed red pepper 1 tsp
Raw papaya grinded 1 tbsp
Allspice ½ tsp
Yogurt ½ cup
Blended tomatoes 2
Brown onion crushed 3 tbsp
Oil 1 cup
Whole spices 1 tbsp
Gram flour roasted 1 tsp
Other ingredients :
Ginger julienne 1 tbsp
Dried fenugreek 1 tsp
Coal to smoke
Parathas to serve
Method:
Marinate mince with all the given ingredients for 2 hours, heat oil, add in marinated mince, cover and cook for 30 mins, when mince dry, add roasted gram flour and fry well, lastly add ginger julienne, kasuri methi, leave it on dum for 5 mins, give dum of coal, serve with parathas.
Ingredients:
Butter 4 tbsp
Vermicelli 1 ½ cup crushed
Condensed milk ½ tin
Crushed almonds ½ cup
Saffron soaked 2 pinches
Milk 2 tbsp
Chocolate melted 200 gm
Petit four cases
Coconut for Coating
Heat butter, fry vermicelli for 10 mins until golden brown, add in condensed milk, keep mixing, add chopped almonds, saffron, very little milk, keep stirring, do not overcook, vermicelli should be crunchy, remove from the heat, cool, make into round balls, keep aside, dip them into melted chocolate, coat with coconut and serve. Serve in petit four cases.
Beef Steak
Probably one of the most popular and commonly eaten dishes across the world is the Beef Steak. With different kinds of cuts, cooking time and beef everyone has their own preferences but hardly anyone can say that they don't like a good old well-seasoned Beef Steak.
Beef Steaks have become one of the most popular and staple dish in America. When all else fails it barely takes time to grill a steak and some vegetables and quickly make mashed potatoes for the side. Steak is so popular in America that many restaurants are dedicated to its perfection. The first American steakhouses were called beefsteak banquets and were built in New York City. These restaurants featured the best beef cuts from around the country and were frequented by the wealthy.
History of Beef Steak
Many say that steak had its origins from Florence, Italy.
Legend has it that huge bonfires were lit to cook large meat portions, and the most tasty and tender slices also garnered requests for seconds. This term of "more beef steak" or "bif steik" was born.
So, it is said that the first time a cut of meat was referred to as a steak was in Italy. But, for sure this term referred to the cut, and not the type of meat. As a matter of fact, the Italians use the word steak to refer to any thick cut chop with a bone in it that is cut from the loin of veal (the meat of calves) In Old World measurements, a steak cut would have been a finger or a finger and a half thick.
Beef steak can be cut from different parts of the cow's belly, shoulder, rump, and ribs. But, let's look at where the best steak is cut from. The best cuts of steak you can get from the supermarket or your local butcher are know as tenderloin or filet cuts. This is a classic cut taken from the strip of muscle tucked against the cow's backbone.
 Beef Steak Recipe
A beef steak recipe can be both easy and a bit tricky. Making sure you use the right cut, the correct temperature and the right seasoning and for the perfect amount of time are all factors that could make or break your steak recipe.
A Pakistani steak recipe or desi steak recipe is slightly different than the authentic American recipe. The seasoning might be a bit stronger and according to our taste buds and might be well-done or properly cooked. Steaks across the globe are commonly eaten medium-rare.
A beef steak dinner is incomplete with mushrooms and onions along a side of baked potato and salad.
To find authentic beef steak recipe in Urdu and English visit Masala TV's website. You can also watch beef steaks being made by our expert chefs on Masala TV's YouTube channel.

Beef Steak Recipe in Urdu and English
At Masala TV you can check complete Beef Steak Recipe in Urdu and English. This is one of the best recipes by chef Shireen Anwar at Masala TV show Masala Mornings. Check out the other best recipes of chefs Shireen Anwar.
Top relevant recipes of Beef Steak Recipe in Urdu