Beef Seekh Kabab Recipe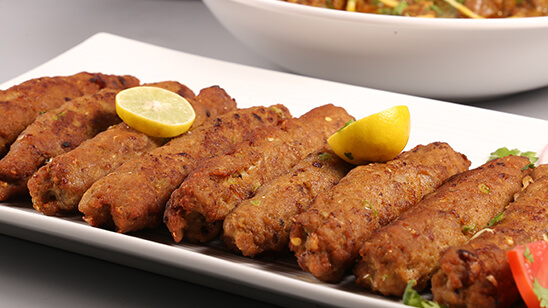 Dec 11, 2023 at 04:04 AM (GMT -05:00)

Check out the Beef Seekh Kabab Recipe in Urdu. Learn how to make best Beef Seekh Kabab Recipe, cooking at its finest by chef Rida Aftab at Masala TV show Tarka. Check all the Pakistan Cooking recipes in Urdu of Masala TV. Also Check Beef Seekh Kabab Recipe, ingredients and complete Method.
Mini Seekh Kabab make a perfect snack, lunch or dinner. Have them at any time and you'll always enjoy them!
Watch this Masala TV video to learn how to make Mini Seekh Kabab and Zafrani Qorma Recipes. This show of Tarka with Chef Rida Aftab aired on 30 April 2021.
Ingredients:
Mince (beef) ½ kg
Ginger 1 piece
Egg 1
Green chilies 2
Garlic cloves 4 bulb
Onions (fried) 1 cup
Red chili powder 2 tsp
Desiccated coconut 1 tbsp
All spice powder ½ tsp
Mace ½ tsp
Salt ½ tsp
Chicken cube 1
Oil for frying
Method:
In a chopper add beef mince, green chilies, garlic cloves, ginger, desiccated coconut, fried onions, all spice powder, mace, red chili powder, chicken cube and salt. Grind it properly. Then add egg and mix well. Now make mini seekh kababs. Then heat oil and fry the seekh kababs. Serve hot.
Whether it's a barbecue night with friends or family, Eid festivities or a dinner at your favourite desi restaurant, it feels incomplete with one of the most popular Pakistani dish, the juicy beef seekh kabab.
Beef seekh kabab are a type of kebab, that are extremely popular in the subcontinent, made with spiced minced or ground meat. Even though they are commonly made with minced beef there are quite a few variations and are now made in lamb and chicken as well. The minced meat is then formed into cylinders on skewers and grilled. It is typically cooked on a mangal or barbecue, or in a tandoor.
Beef Seekh Kabab History
Seekh Kebab were originally known as Shish Kebab and were introduced to India by the Turks (people, especially traders from Turkey). In Turkish, the word Shish actually means a "sword" or skewer and the word Kebab means "to roast". So if we see the literal meaning seekh kabab translate to a roasted sword.
Legend has it that Shish Kebab was first originated on the open field as the Turkish soldiers would take shelter in the forests during night time and hunt for any wild meat that they could find. They would then skewer it on their swords and roast it over fire. Since it seemed to be only source of food they could find in the jungles. Eventually this became their favorite source of food during their night stays in dense forests.
Pakistani Seekh Kabab Recipe
If we were to describe the texture of these delicious and mouthwatering seekh kebabs they are meant to be soft and succulent, a typical beef seekh kabab recipe seasoned with various spices such as ginger, garlic, green chilli pepper, powdered chilli and garam masala, as well as lemon juice, cilantro and mint leaves. Sometimes extra fats are added to further enhance the flavor.
Seekh kebabs are typically served with raita, salad, onion slices, lemon wedges or green chutney and eaten with naan breads or parathas.
Even though immensely popular on a global level, the recipe of seekh kebab are actually pretty easy. You can find various different recipes on Masala TV's website and can even watch a step by step tutorial on Masala TV's YouTube channel by our expert chefs.

Beef Seekh Kabab Recipe in Urdu and English
At Masala TV you can check complete Beef Seekh Kabab Recipe in Urdu and English. This is one of the best recipes by chef Rida Aftab at Masala TV show Tarka. Check out the other best recipes of chefs Rida Aftab.
Top relevant recipes of Beef Seekh Kabab Recipe in Urdu