Chicken Nuggets Recipe | Food Diaries | Zarnak Sidhwa | Fast Food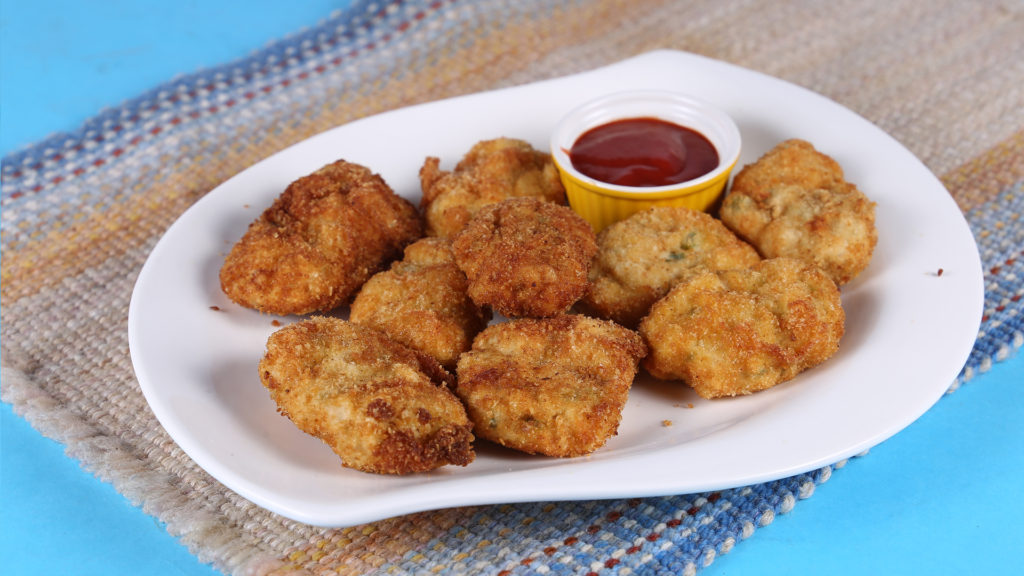 Sep 24, 2023 at 01:50 PM (GMT -04:00)

Check out the Chicken Nuggets Recipe in Urdu. Learn how to make best Chicken Nuggets Recipe , cooking at its finest by chef Zarnak Sidhwa at Masala TV show Food Diaries. Check all the Pakistan Cooking recipes in Urdu of Masala TV. Also Check Chicken Nuggets Recipe , ingredients and complete Method.
Chicken Nuggets are loved by almost everyone and there is no reason to not love it either. This Chicken Nugget recipe has the just the right amount of flavors and you need to try this today!
Watch this Masala TV video to learn how to make Chicken Nuggets,Creamy Mustard Chicken and Buttered Rice Recipes. This show of Food Diaries with Chef Zarnak Sidhwa aired on 22 January 2020
Ingredients :
2 Chicken breast fillets
1 cup Milk
1 lemon Lemon Juice
1 Egg
1/4 cup Chopped spring onions
1/4 cup Grated parmesan cheese
3 tablespoon Soya sauce
1 teaspoon Tabasco sauce
1 teaspoon Salt
1 teaspoon Black pepper
Oil for frying
1 cup Flour
3 Eggs
2 cups Bread crumbs
Method :
Mix milk with lemon juice to make buttermilk. Marinate the chicken pieces in buttermilk. Cover with plastic wrap and leave in the refrigerator overnight. This will tenderize the chicken. Heat oil. Drain and discard the buttermilk. In a food processor, grind the marinated chicken, egg, spring onions, Parmesan cheese, soya sauce, Tabasco sauce, lemon juice, salt and pepper. Make about 2-inch nuggets. Coat the nuggets in flour, then egg, and then the breadcrumbs and heat oil. Deep fry in small batches until golden brown, about 5 minutes. Serve with any spicy sauces.
Ingredients:
2 Chicken breasts
1/2 teaspoon Black pepper powder
2 tablespoons Olive oil
1 tablespoon Butter
1 Onion chopped
4 cloves Garlic, chopped
1/2 cup Cream
1 tablespoon Dijon mustard
1 teaspoon Dried mixed herbs
Method :
Sprinkle salt and pepper on the chicken breasts. In a pan heat 1 tablespoon olive oil and butter. Add chicken and cook until the chicken is browned evenly on both sides and cooked through. Remove from the pan and keep aside. In the same pan add 1 tablespoon olive oil. Add the onions and saute until soft. Add garlic and saute. Add water, cream and dijon mustard and simmer. Add the mixed herbs and season with salt and pepper. Add the cooked chicken to the creamy mustard sauce and simmer for a couple of minutes in the sauce and serve hot.
Ingredients:
2 cups Rice boiled
1 teaspoon Garlic chopped
3-4 Basil leaves
1/2 teaspoon Parsley, chopped
1 teaspoon Dried oregano
1 teaspoon Red chili flakes
2 tablespoon Butter
to taste Salt
to taste Black pepper powder
Method :
Heat butter. Add chopped garlic and fry until they turn golden in colour. Add parsley, dried oregano, chilli flakes, spring onions, basil, salt and pepper and toss well. Add the cooked rice to the pan and mix well to combine. Stir fry till well combined and serve.

Chicken Nuggets Recipe in Urdu and English
At Masala TV you can check complete Chicken Nuggets Recipe in Urdu and English. This is one of the best recipes by chef Zarnak Sidhwa at Masala TV show Food Diaries. Check out the other best recipes of chefs Zarnak Sidhwa.
Top relevant recipes of Chicken Nuggets Recipe in Urdu