Peri Bites Recipe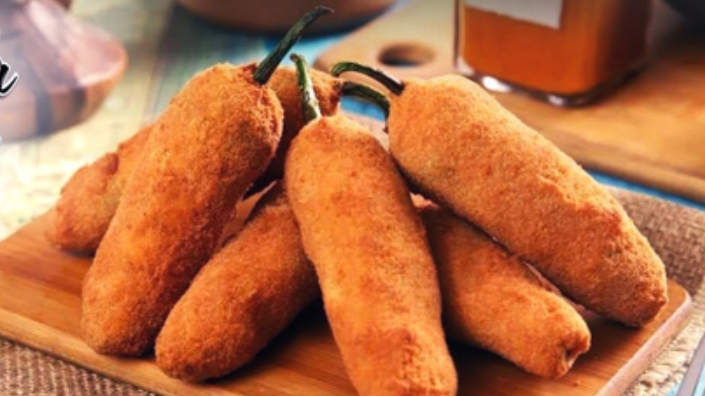 Oct 02, 2023 at 05:20 PM (GMT -04:00)

Check out the Peri Bites Recipe in Urdu. Learn how to make best Peri Bites Recipe, cooking at its finest by chef at Masala TV show . Check all the Pakistan Cooking recipes in Urdu of Masala TV. Also Check Peri Bites Recipe, ingredients and complete Method.
Peri Bites are a forever favorite! Make these very crispy, very cheesy Peri Bites at home for Iftaar and get all the praise you deserve from your loved ones.
A name that we hadn't even heard up until a few years ago has very rapidly become one of our favourite teatime snack.
First introduced by the popular South African multinational fast food chain Nando's that specialises in flame-grilled peri-peri style chicken. Founded in Johannesburg in 1987, Nando's operates over 1,200 outlets in 30 countries. Their logo depicts the Rooster of Barcelos, one of the most common symbols of Portugal.
How Does 'Peri Bites' Get Its Name
Everyone knows what peri bites are and we love eating them with our tea or as an appetizer but how do these delicious stuffed chillies get their name? Here is how.
The word Peri comes from the world famous African Bird's Eye Chilli and the term Piri piri simply means "pepper pepper" in Swahili. The owners of Nando's gave the term a twist and created the globally popular sauce called the peri-peri sauce. The sauce is one of the most important ingredient used to marinate the chicken that is stuffed in the chillies.
The peri-peri sauce itself consists of crushed chiles, lemon, pepper, garlic, salt, onion, bay leaves, vinegar, and oil. All of the ingredients of the sauce are pureed together.
Peri-peri is actually considered to be quite healthy. It is rich in vitamins and minerals — and holds metabolism enhancing and curative properties. The green variety is packed with Vitamin C. The red genre has more Vitamin A than fresh carrot — and sun drying increases the carotene content.
Peri Bites Recipe
Peri peri bites recipe are basically green chillies filled with minced chicken mixed with peri-peri sauce, mayonnaise amongst many other ingredients. The chillies are coated in breadcrumbs and fried. For a more detailed recipe, do visit Masala TV's website or watch our certified make the peri peri bite recipe on our YouTube channel.
For the people that are in love with these mouth-watering chilies, deep-fried with a crisp coat, cheesy center with a little chunk of their famous peri-basted chicken and instead of ordering them every time from Nandos are looking for a more pocket-friendly alternative by making this delicacy at home that is still true to the authentic and delicious flavour should visit Masala TV's website.
You can also find a step-by-step tutorial on YouTube by the amazing and certified chefs of Masala TV.
If too much spice isn't your cup of tea, you can also find various recipes of different dips to choose from on Masala TV's website or can even use a store bought sauce.

Peri Bites Recipe in Urdu and English
At Masala TV you can check complete Peri Bites Recipe in Urdu and English. This is one of the best recipes by chef at Masala TV show . Check out the other best recipes of chefs .
Top relevant recipes of Peri Bites Recipe in Urdu