Food Diaries Recipe | 19 March 2023 | Lava Cake & Mince Potato Chops | Zarnak Sidhwa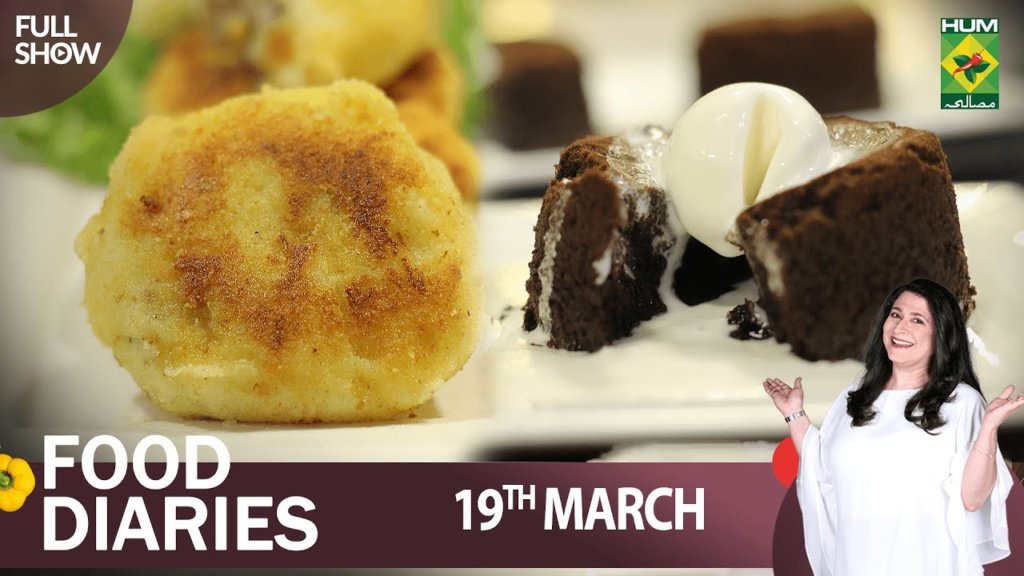 Jun 05, 2023 at 06:46 AM (GMT -04:00)

Check out the Food Diaries Recipe in Urdu. Learn how to make best Food Diaries Recipe, cooking at its finest by chef Zarnak Sidhwa at Masala TV show Food Diaries. Check all the Pakistan Cooking recipes in Urdu of Masala TV. Also Check Food Diaries Recipe, ingredients and complete Method.
Recipes : Lava Cake & Mince Potato Chops
Food Diaries – 18 March 2023 – Chicken Wings, Roasted Garlic Hummus & Date Frittata – Zarnak Sidhwa – Masala Tv
Who doesn't love Lava Cake & Mince Potato Chops. Make these recipes at home and you'll love it.
#lavacake #potatochop #zarnaksidhwa #food #pakistanifood #masalatv #fooddiaries #ramzanrecipes
This show of Food Diaries with Zarnak Sidhwa aired on 19 March 2023.
If you enjoy cooking Pakistani food and are looking for recipes, videos of LIVE shows, totkas, and other food stories in both Urdu and English
Ingredients
Butter (melted) 10gms
Dark chocolate (chopped) 200gms
Butter (chopped) 150gms
Brown sugar 1/3 cup
Eggs 4
Flour 1/4 cup
Vanilla ice-cream to serve
Chocolate (grated) to serve
Method
Grease six ramekins with melted butter. Line bases with baking paper. Place on a baking tray. Melt chocolate, butter and sugar until smooth. Remove bowl from heat and set aside to cool for 2 minutes. Add eggs to chocolate mixture, whisking until combined. Sift in the flour. Divide pudding mixture evenly among prepared ramekins. Bake at 180 degrees C for 12 minutes or until a crust has formed on top, but puddings are still wobbly to touch in the centre. Remove from oven. Stand to cool for 2 minutes. Run a small knife around edge of puddings to loosen. Gently turn onto serving plates. Serve immediately with ice-cream and grated chocolate.
Ingredients
Potatoes (boiled) 5-6
Cornflour 1/4 cup
Cornflour 1 tbsp
Salt 1 -1/4
Ingredients For The Filling
Olive oil 1- 1/2 tbsp
Onion chopped 1
Salt 3/4 tsp
Garlic 3 cloves
Paprika 1 -1/2 tsp
Garam masala powder 1/2 tsp
Ground cumin 1/2 tsp
Ground coriander seeds 1/2 tsp
Ground black pepper 1/4 tsp
Chicken stock cube ½
Ground beef 200 gms
Coriander 3 tbsp
Ingredients For The Assemble
Oil for deep frying
Eggs 2
Breadcrumbs 1 cup
Method
Once the mashed potatoes are no longer hot, add the cornflour and salt, and mix together. To make the filling, heat the olive oil. Add the onions and cook, add the salt, garlic, paprika, allspice powder, cumin, coriander and black pepper, add the ground beef, then turn the heat to high, and mix everything together, breaking up any big clumps. Remove from heat and let it cool to room temperature. Add the coriander and stir to combine. Take a handful of potato and flatten it out in the palm of your hand. Add about 2 tablespoons of the mince mixture and gently fold the sides up, molding it into a ball around the meat. Put the potato chops into the eggwash and then coat in the breadcrumbs, fry in hot oil and then remove to a paper-towel lined plate and serve immediately.

Food Diaries – 19 March 2023 – Lava Cake & Mince Potato Chops – Zarnak Sidhwa Recipe in Urdu and English
At Masala TV you can check complete Food Diaries Recipe in Urdu and English. This is one of the best recipes by chef Zarnak Sidhwa at Masala TV show Food Diaries. Check out the other best recipes of chefs Zarnak Sidhwa.
Top relevant recipes of Food Diaries Recipe in Urdu