Fusion Food Recipe | 13 April 2023 | Papdi Chaat & Pizzettas | Chef Mahnoor Malik | Masala Tv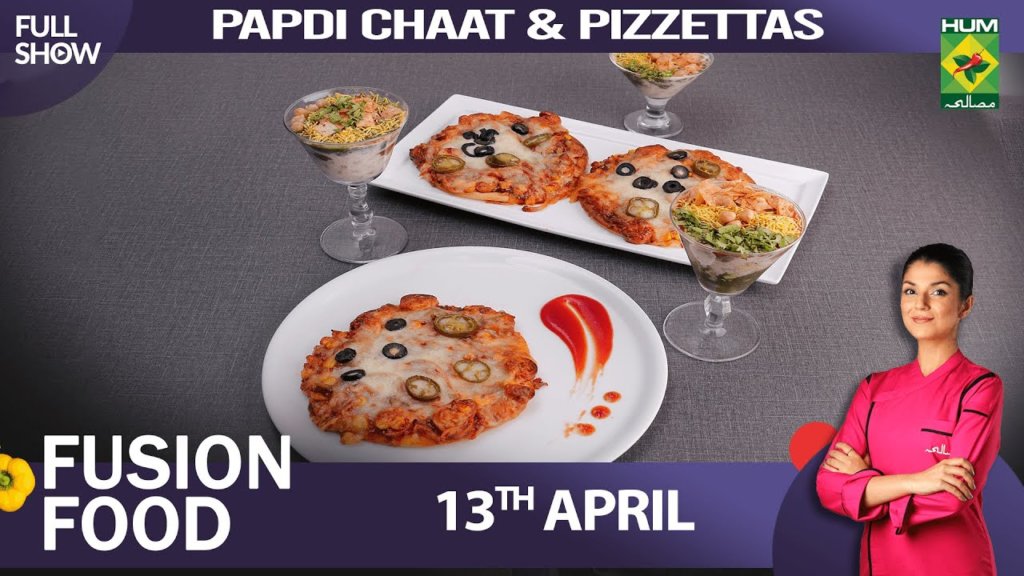 Sep 21, 2023 at 11:31 AM (GMT -04:00)

Check out the Fusion Food Recipe in Urdu. Learn how to make best Fusion Food Recipe, cooking at its finest by chef Mahnoor Malik at Masala TV show Fusion Food. Check all the Pakistan Cooking recipes in Urdu of Masala TV. Also Check Fusion Food Recipe, ingredients and complete Method.
Recipes: Papdi Chaat & Pizzettas
Fusion Food – 13 April 2023 – Papdi Chaat & Pizzettas – Chef Mahnoor Malik – Masala Tv
This show is hosted by Chef Mahnoor Malik who gives a personalized fusion twist to international cuisines. The chef also makes sure to provide a calorie count for each dish in the episode as well as to mention healthy substitutes for the ingredients to ensure a touch of healthiness in her dishes.
#pizzette #papdichaatrecipe #chefmahnoor #mahnoormalik #quickrecipes #food #foodie #fusionfood #ramzanrecipes #ramzan2023 #instafood #foodinsta #desifood
Watch this Masala TV video to learn how to make Papdi Chaat & Pizzettas.
Ingredients
Papdi 20-25
yogurt plain whole milk 1 cup
sugar tsp
green chutney 1/3 cup
tamarind paste 1/3 cup
chickpeas boiled 3/4 cup
boiled potato cubes 1
cumin powder 1 tsp
chat masala 1 tsp
black salt 1 tsp
kashmiri red chili powder 1/4 tsp
sev 1 cup
chopped coriander 2-3 tsp
Method
• To a large bowl, add 1 cup yogurt along with 1 teaspoon sugar. Using a whisk, mix it well until yogurt is smooth. If your yogurt is super thick, you may add little water to thin it out. But remember to not make it thin else it will be runny all over. Yogurt should be thick but flowing consistency.
• Boil the potatoes and chickpeas. Cut the potatoes into small cubes. Ideally, this step can be done in advance.
• Now, arrange the 10 to 15 papdi onto your serving plate. Top the papdis with boiled chickpeas and boiled potatoes cubes. You can also add sprouted moong here.
• Now, add yogurt on top all over. You can add as little or as much yogurt as you like.
• Now, sprinkle cumin powder, chaat masala, kala namal (black salt) and kashmiri red chili powder all over. Followed by corriander chutney and then the sweet tamarind chutney. You can adjust the amount of chutney to preference.
• Finish the papdi chaat by topping with , sev and chopped cilantro. Serve immediately! Make more papdi chaat similarly using the remaining ingredients.
Ingredients:
Butter 50 grams
Knorr ketchup 1 cup
Boiled sausages slice 3
Knorr chili garlic sauce 1 cup
Crushed red chili 1 tsp
Garlic cloves (crushed) 4
Black olives slices ½ cup
Mozzarella cheese shredded 1 cup
Oregano 1 tbsp
Pitta bread /hot dog buns as required
Crushed capsicum 1
Chadder cheese (shredded) 1 cup
Corn ½ cup
Salt and black pepper to taste
Finely cut onion slices 1
Jalapenos slices as required
Method
• Heat butter in a pan and add crushed garlic cloves.
• Spread it on to pita bread or buns and toast in a grill
• Add oil in a wok and sauté crushed garlic in it.
• Mix Knorr tomato ketchup, Knorr chili garlic sauce, salt and pepper, oregano, chili flakes and boiled sliced sausages.
• Add veggies to the mixture on the pan
• Add sliced onion and turn the heat off
• Spread the mixture on the buns
• Top with cheese and jalapenos
• Melt the cheese topping in the oven
• Serve fresh out of the oven.

Fusion Food – 13 April 2023 – Papdi Chaat & Pizzettas – Chef Mahnoor Malik – Masala Tv Recipe in Urdu and English
At Masala TV you can check complete Fusion Food Recipe in Urdu and English. This is one of the best recipes by chef Mahnoor Malik at Masala TV show Fusion Food. Check out the other best recipes of chefs Mahnoor Malik.
Top relevant recipes of Fusion Food Recipe in Urdu