Kabuli Pulao Recipe | Lazzat | Masala TV | Samina Jalil | Desi Food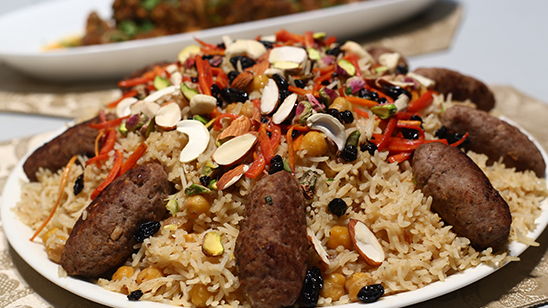 Oct 24, 2021 at 01:22 AM (GMT -04:00)

Check out the Kabuli Pulao Recipe in Urdu. Learn how to make best Kabuli Pulao Recipe , cooking at its finest by chef Samina Jalil at Masala TV show Lazzat. Check all the Pakistan Cooking recipes in Urdu of Masala TV. Also Check Kabuli Pulao Recipe , ingredients and complete Method.
Kabuli Pulao will make you fall in love with Pulao all over again. This combination of dry fruits, Seekh Kabab and flavorful rice is the ultimate best!
Watch this Masala TV video to learn how to make Kabuli Pulao, Ghee Roast Mutton Chops and Tikka Masala Mac and Cheese Recipes. This show of Lazzat with Chef Samina Jalil aired on 7 September 2021.
Ingredients for kabab:
Beef mince ½ kg
Cinnamon powder ½ tsp
Black pepper powder 1-1/2 tsp
Salt as required
Onion 1
Ginger 1 piece
Meat tenderizer 1-1/2 tsp
Oil for frying
For rice ingredients:
Boiled Sella rice ½ kg
Boiled white chickpeas 1-1/2 cup
Carrot (finely sliced) ¾ cup
Small raisins 4 tbsp
Lemon juice 2 tbsp
Brown sugar ½ cup
Chicken stock 1 cup
Mix dry fruit as required
Oil ¾ cup
Butter 2 tbsp
Cinnamon sticks 2 pieces
Bay leaves 2
Method:
For kabab ingredients all ingredients grind and make kabab and fry in oil .then heat butter and Small raisin and finely cut carrot fry .now brown sugar melt then add chicken stock and make syrup .then heat oil and add cinnamon stick and bay leaves fry then add boil chickpeas and mix .then add lemon juice and chicken stock ,syrup and cook till than boil then add rice and leave on dum .finally dish out and garnish with dry fruits and carrot then place kabab and serve it .
Ingredients:
Mutton chops 750 grams
Turmeric ½ tsp
Ginger garlic paste 1 tbsp
Clarified butter ½ cup
Yogurt ½ cup
Curry leaves 10-12
For Masala ingredients:
Cayenne chili (whole) 2-3 large
Whole coriander 1 tbsp
White cumin 1 tsp
Fennel ¾ tsp
Black pepper 8-10
Cloves 4-5
Star anise 1
Whole red chili 4
Cinnamon stick 1 piece
Further ingredients:
Ginger 1 medium piece
Garlic 4-5 cloves
Lemon juice 2 tbsp
Salt to taste
Clarified butter 4 tbsp
Method:
Heat the clarified butter and add mutton chops ,ginger garlic paste and turmeric add and roast .then cook till meat tenders .now in a frying pan add Kashmiri red chili(cayenne chilli) ,whole coriander ,white cumin ,black pepper ,cloves ,star anise ,whole red chili and cinnamon add and roast .after this add ginger ,garlic ,salt and lemon juice add and then grind the masala .now add 4 tbsp clarified butter and roast the masala .then add cook mutton chops and yogurt mix .finally add curry leaves and leave on dum and serve hot .
Ingredients:
Boiled macaroni pasta 4 cups
Boiled chicken 300 grams
Mashed garlic 2 tsp
All spice powder 1 tsp
Cumin powder 1 tsp
Coriander powder ½ tsp
Tomato paste 2 tbsp
Salt 1 tsp
Cream 1 packet
Mozzarella cheese 1-1/2 cup
Fresh coriander (Finely chopped) 2 tbsp
Yogurt ½ cup
Turmeric ½ tsp
Onion finely chopped 1
Butter ½ cup
Tomato ketchup 2 tbsp
Red chili powder 1 tsp
Method:
• Firstly butter heat in a pan and sauté small onion.
• Now add mashed garlic and fry lightly.
• Then tomato paste, tomato ketchup, yogurt, salt, cumin powder, turmeric, coriander powder and all spice powder add and masala roast.
• Now add half cup of water and cream cook till than boiled.
• Then add boiled macaroni pasta and green coriander.
• After this add boiled chicken and mix.
• Now dish out and remove then add mozzarella cheese and bake till than comes to colour.

Kabuli Pulao Recipe in Urdu and English
At Masala TV you can check complete Kabuli Pulao Recipe in Urdu and English. This is one of the best recipes by chef Samina Jalil at Masala TV show Lazzat. Check out the other best recipes of chefs Samina Jalil.
Top relevant recipes of Kabuli Pulao Recipe in Urdu