Kathiawari Channay Recipe | Lazzat | Samina Jalil | Desi Food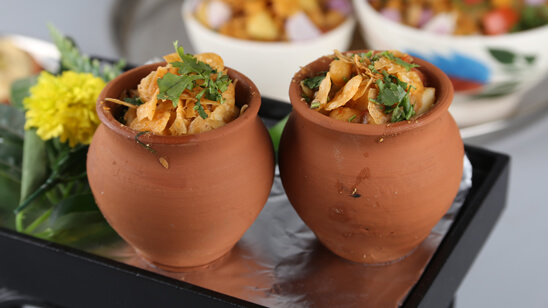 Jan 18, 2022 at 02:51 AM (GMT -05:00)

Check out the Kathiawari Channay Recipe in Urdu. Learn how to make best Kathiawari Channay Recipe , cooking at its finest by chef Samina Jalil at Masala TV show Lazzat. Check all the Pakistan Cooking recipes in Urdu of Masala TV. Also Check Kathiawari Channay Recipe , ingredients and complete Method.
Kathiawari Channay recipe is a must-learn. It is full of taste and flavor so give it a try for dinner tonight!
Watch this Masala TV video to learn how to make Kathiawari Channay , Rabri and Tawa Qeema Recipes. This show of Lazzat with Samina Jalil aired on 2 February 2021.
Ingredients:
White chickpeas 3 cup
Boiled potatoes 3-4
Red chili powder 1 tsp
Red chili crushed 1 tsp
Turmeric ¼ tsp
Chicken powder 1-1/2 tsp
Chopped tomato 1
Ketchup ½ cup
Tamarind pulp 2 tbsp
Sugar 1 tbsp
Chaat masala as required
Green coriander as required
Green chilies as required
Onion finely chopped as required
Corn flour few
Chopped tomato 1
Papri ½ cup
Method:
Boil chickpea with 2 cup of water for 5 minute. Add red chili powder, crushed red chili, sugar, chaat masala, tamarind pulp, chicken powder, turmeric, ketchup and potato. After 15 minute add dissolve corn flour cook till thick. Take out in bowl add green coriander, green chilies, onion and papri, serve.
Ingredients:
Milk 1-1/2 liter
Dried milk 4 tbsp
Whole dried milk 2 tbsp
Clarified butter 1 tbsp
Cardamom powder 2 pinches
Sugar ½ cup
Almonds, pistachio as required
Method:
Keep milk for boil. When cream come keep side in pan. when milk turn to 1-1/2 cup add dried milk, whole dried milk, clarified butter and sugar powder mix well. Add cream in it mix well. Remove rabrin in dish garnish with almonds and pistachio.
Ingredients:
Chicken mince ½ kg
Crushed red chili 1- ½ tsp
Chopped ginger garlic 2 tbsp
Clarified butter ½ cup
Butter 2 tbsp
Fenugreek leaves 1 tsp
Green chili 5-6
Turmeric ½ tsp
Salt 1 tsp
Crushed whole spice ½ tsp
Crushed cumin 1 tsp
Mango pickle paste 1 tbsp
Onion 2
Coriander ½
Tomato 3-4
Method:
Put onion, chopped ginger garlic and clarified butter on iron griddle and fry them. Now add chopped tomatoes and ½ cup water, let it cook for a while, when tomatoes get cooked add chicken mince, salt, red chili, turmeric, crushed fennel, crushed whole spice and cook. Add fenugreek leaves, mango achar paste and let it simmer. Dish out. Now fry long chopped strips of green chili in butter and garnish tawa tarka qeema with it along with coriander.

Kathiawari Channay Recipe in Urdu and English
At Masala TV you can check complete Kathiawari Channay Recipe in Urdu and English. This is one of the best recipes by chef Samina Jalil at Masala TV show Lazzat. Check out the other best recipes of chefs Samina Jalil.
Top relevant recipes of Kathiawari Channay Recipe in Urdu