Shepherd's Pie Recipe | Bake With An Expert | Chef Saad Ahmed | 10 October 2022 | Masala Tv Recipes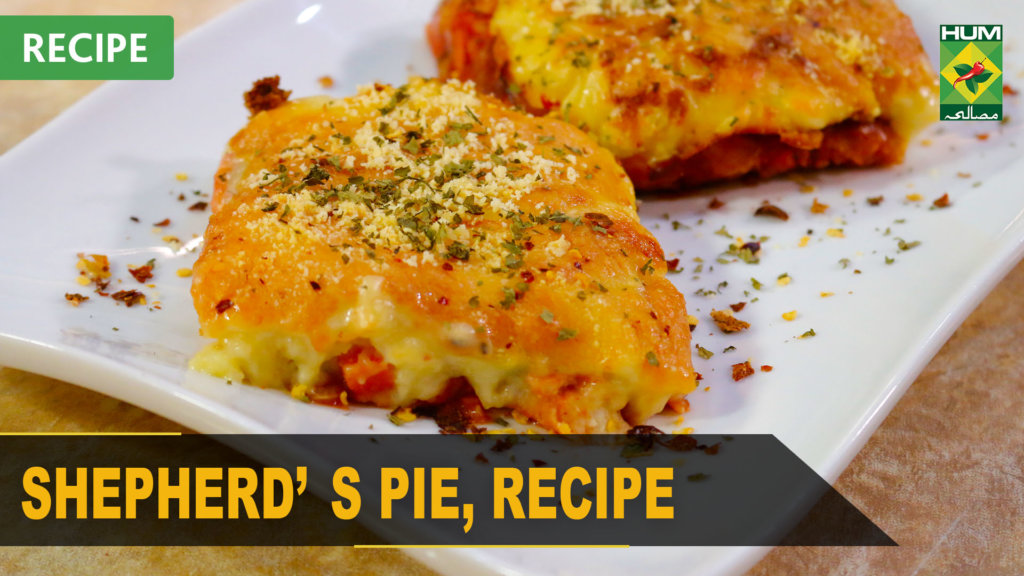 Jan 26, 2023 at 11:37 PM (GMT -05:00)

Check out the Shepherd's Pie Recipe in Urdu. Learn how to make best Shepherd's Pie Recipe , cooking at its finest by chef Saad Ahmed at Masala TV show Bake With An Expert. Check all the Pakistan Cooking recipes in Urdu of Masala TV. Also Check Shepherd's Pie Recipe , ingredients and complete Method.
Subscribe To Masala TV Recipes YouTube Channel! https://bit.ly/MasalaTV
This show features two new fresh faces from the culinary world; Chef Saba Aftab and Chef Saad Ahmed. Chef Saba provides theme-based patisserie solutions while Chef Saad provides an insight to savory and dessert based baking solutions.
Ingredients
Olive oil 2 tbsp
Onion 1 cup
Chicken mince 100 grams
Mixed herbs 3 tsp
Salt ½ tsp
Ground black pepper ½ tsp
Worcestershire sauce 1 tbsp
Garlic cloves 2
All-purpose flour 2 tbsp
Tomato paste 2 tbsp
Chicken cube broth 1
Frozen mixed peas & carrots 1 cup
Frozen corn 1/2 cup
For Potato topping:
Potatoes cubes 2 large
Unsalted butter 2 tbsp
Garlic powder ½ tsp
Salt ½ tsp
Ground black pepper ¼ tsp
Parmesan cheese ¼ cup
Method
Make the meat filling.
• Add the oil to a large skillet and place it over medium-high heat for 2 minutes. Add the onions. Cook 5 minutes, stirring occasionally.
• Add the chicken mince to the skillet and break it apart with a wooden spoon. Add the mixed herbs salt, and and pepper. Stir well. Cook for 6-8 minutes, until the meat is browned, stirring occasionally.
• Add the worcestershire sauce and garlic. Stir to combine. Cook for 1 minute.
• Add the flour and tomato paste. Stir until well incorporated and no clumps of tomato paste remain.
• Add the broth, frozen peas and carrots, and frozen corn. Bring the liquid to a boil then reduce to simmer. Simmer for 5 minutes, stirring occasionally.
• Set the meat mixture aside. Preheat oven to 400 degrees f.
Make the potato topping.
• Place the potatoes in a large pot. Cover the potatoes with water. Bring the water to a boil. Reduce to a simmer. Cook until potatoes are fork tender, 10-15 minutes.
• Drain the potatoes in a colander. Return the potatoes to the hot pot. Let the potatoes rest in the hot pot for 1 minute to evaporate any remaining liquid.
• Add butter, half & half, garlic powder, salt, and pepper. Mash the potatoes and stir until all the ingredients are mixed together.
• Add the parmesan cheese to the potatoes. Stir until well combined.
Assemble the casserole.
• Pour the meat mixture into a 9×9 (or 7×11) inch baking dish. Spread it out into an even layer. Spoon the mashed potatoes on top of the meat. Carefully spread into an even layer.
• If the baking dish looks very full, place it on a rimmed baking sheet so that the filling doesn't bubble over into your oven. Bake uncovered for 25-30 minutes.** cool for 15 minutes before serving.
Notes
*if you can't find frozen mixed peas and carrots, you could use ½ cup frozen peas and ½ cup frozen sliced carrots.
**bake at 400° f. Start preheating the oven after you make the meat mixture.
Ingredients
For base:
Digestive biscuit 4 packets
Melted butter 150 grams
For caramel
Melted butter 100g
Brown sugar 1 cup
Condensed milk 1 cup
Salt as per taste
For Chocolate ganache topping:
Heavy cream 1\3 cup
Dark chocolate 150 grams
Method
• Preheat oven to 160c/320f. Grease and line the base only of a 23cm / 9″ tart tin
• With a loose base. (or a spring form pan of a similar size)
• Roughly break up biscuits and place in a food processor, then whizz until fine crumbs form. Or do this step with a zip lock bag and rolling pin.
• Pour crumbs into a bowl, add melted butter, mix until it looks like wet sand and no dry crumbs remain. Pour into tin, then press firmly into base and sides – use something flat like a cup to assist (refer to video).
• Transfer to tray (safe handling), place in oven and bake for 10 minutes, then remove and cool slightly (5 minutes in fridge).
Place cream and chocolate in a heat proof bowl. Microwave in 2 x 30 second bursts, stirring in between, until smooth. For ganache

Shepherd's Pie Recipe in Urdu and English
At Masala TV you can check complete Shepherd's Pie Recipe in Urdu and English. This is one of the best recipes by chef Saad Ahmed at Masala TV show Bake With An Expert. Check out the other best recipes of chefs Saad Ahmed.
Top relevant recipes of Shepherd's Pie Recipe in Urdu