Tarka Kabab Biryani Recipe | Tarka | Rida Aftab | Desi Food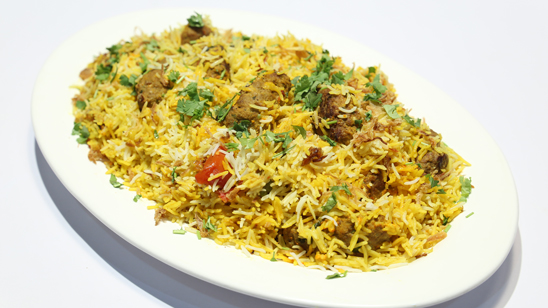 Oct 20, 2020 at 10:27 PM (GMT -04:00)

Check out the Tarka Kabab Biryani Recipe in Urdu. Learn how to make best Tarka Kabab Biryani Recipe , cooking at its finest by chef Rida Aftab at Masala TV show Tarka. Check all the Pakistan Cooking recipes in Urdu of Masala TV. Also Check Tarka Kabab Biryani Recipe , ingredients and complete Method.
Tarka Kabab Biryani is a mood-changer! It's such an amazing blend of flavour and spices that you'll keep wanting more of it!
Watch this Masala TV video to learn how to make Tarka Kabab Biryani and Khoya Custard Recipes. This show of Tarka with Chef Rida Aftab aired on 29 June 2020.
Ingredients for kabab :
Beef mince ½ kg
Red chili powder 1 tsp
Crushed red chili 1 tsp
Green chili 6
Green coriander, mint ½ bunch each
Onion chopped 1 cup
Fried onion 1 cup
Salt 1 tsp
Ginger garlic paste 1 tbsp
Egg 1
Cumin 1 tsp
Oil ½ cup
Ingredients for biryani:
Boiled rice 750 grams
Tomato 250 grams
Mix all spice 1 tbsp
Onion 250 grams
Red chili powder 2 tsp
Salt 1 tsp
Turmeric 1 tsp
Coriander power 2 tsp
Ginger garlic paste 2 tsp
Food color as required
Dried plump 50 grams
Oil ½ cup
Method:
In mince onion ,red chili powder ,ginger garlic paste ,egg ,cumin and salt add and chopped in chopper .then make long kabab then heat oil and fry it .after this in a pot add green chilies ,coriander ,fried onion ,salt and crushed chili add and stove off .now heat oil and fry onion .then add tomato ,dried plump and all spices add and roast .then add boil rice .now ready kabab masala add .after this pour on food color and mix then add remaining rice and leave on dum for half an hour .
Ingredients:
Milk 1 liter
Whole Dried milk 1 cup
Custard powder 4 tbsp
Ready red jelly 1 packet
Pineapple 1 cup
Finely cut almonds 50 grams
Sugar 1 cup
Cream 1 packet
Vanilla essence few drops
Fine Vermicelli 1 cup
Method:
Boil the milk then add sugar and custard powder dissolve and cook till mixture thick and stove off then cool it .after this pine apple add in chopper and chop thickly .then add cream ,pine apple and dried milk mix and then add fried vermicelli .finally add in a bowl then garnish with chopped almonds and serve it .

Tarka Kabab Biryani Recipe in Urdu and English
At Masala TV you can check complete Tarka Kabab Biryani Recipe in Urdu and English. This is one of the best recipes by chef Rida Aftab at Masala TV show Tarka. Check out the other best recipes of chefs Rida Aftab.
Top relevant recipes of Tarka Kabab Biryani Recipe in Urdu