Cheesy Lentil Bake Recipe | Food Diaries | Zarnak Sidhwa | Baked Item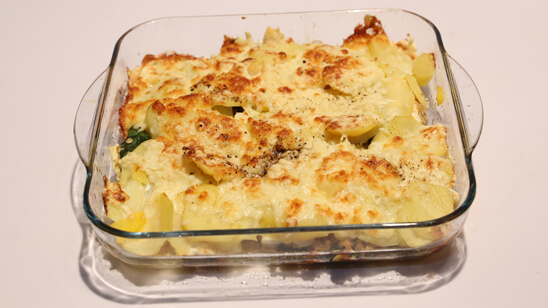 Sep 24, 2023 at 04:42 PM (GMT -04:00)

Check out the Cheesy Lentil Bake Recipe in Urdu. Learn how to make best Cheesy Lentil Bake Recipe , cooking at its finest by chef Zarnak Sidhwa at Masala TV show Food Diaries. Check all the Pakistan Cooking recipes in Urdu of Masala TV. Also Check Cheesy Lentil Bake Recipe , ingredients and complete Method.
Cheesy Lentil Bake is one of a kind bake dish that is fun to make with kids. Spend quality time with your family by making this at home!
Watch this Masala TV video to learn how to make Cheesy Lentil Bake and Mocha Mousse Recipes. This show of Food Diaries with Chef Zarnak Sidhwa aired on 9 September 2020.
Ingredients:
Spinach leaves 200 gm
Red lentils 200 gm
Cottage cheese 400 gm
Parmesan cheese (grated) 30 gm
Cheddar cheese (grated) 100 gm
Potatoes (sliced) 6 large
Milk 45 ml
Stock cubes 2
Salt & pepper to taste
Bay leaf 1
Method:
Boil the lentils with water, bay leaf, stock cubes, salt and pepper. Dry and leave very little water so lentils turn pasty. Remove from heat and add the spinach. It will wilt in the heat of the lentils. Add the drained and cubed cottage cheese, grated parmesan cheese. Put the peeled and sliced potatoes in a pan of salted water and bring to a boil but they should be partially cooked. Rinse them in cold water to prevent further cooking. Grease a deep pyrex dish and add the mixture. Layer the potatoes over the top overlapping them in concentric circles. Brush the potato slices with milk and season with salt and pepper. Sprinkle over the grated cheddar cheese and bake in the oven at 180° for 30-40 minutes. The top should be well browned and the mixture bubbling.
Ingredients:
Chocolate, chopped 4 oz
Caster sugar 1/4 cup
Coffee 1/4 cup
Caster sugar 2 tbsp
Sea salt a pinch
Eggs, separated 4
Vanilla essence 1 tsp
Whipping cream 3/4 cup
Grated chocolate for garnish
Method:
Place the yolks in a heatproof bowl. Fill a pan with 2 inches of water. Place over the stove and bring to a simmer. Add 1/4 cup sugar, cooled coffee and sea salt to the egg yolks and whisk to combine. Place in the bowl of gently simmering water, and whisk constantly until the yolks almost double in volume, and reach a temperature of 160 degrees, about 1 minute. Remove the bowl from heat and add the chopped chocolate, whisking until melted and fully incorporated. Set aside and allow the mixture to come to room temperature. Once the egg whites reach room temperature, fit a stand mixer with the whisk attachment and beat at medium speed until frothy. With the mixer still running, add the remaining 2 tablespoons of sugar a little at a time. Increase the speed to medium high and whip until stiff, glossy peaks form. Beat the cream until it forms stiff peaks. Reserve 1/2 cup for garnish, and store covered in the refrigerator until ready to use. Fold the egg whites into the chocolate mixture gently, then fold in the remaining whipped cream until just incorporated. Pour into glasses, mugs or ramekins, cover, and chill a minimum of 2 hours, and up to one day in advance. Whisk the reserved 1/2 cup whipped cream briefly before serving, and garnish the mousse with the cream and grated chocolate.

Cheesy Lentil Bake Recipe in Urdu and English
At Masala TV you can check complete Cheesy Lentil Bake Recipe in Urdu and English. This is one of the best recipes by chef Zarnak Sidhwa at Masala TV show Food Diaries. Check out the other best recipes of chefs Zarnak Sidhwa.
Top relevant recipes of Cheesy Lentil Bake Recipe in Urdu