Cheesy Beef Sliders Recipe | Lazzat | Masala TV | Samina Jalil | Fast Food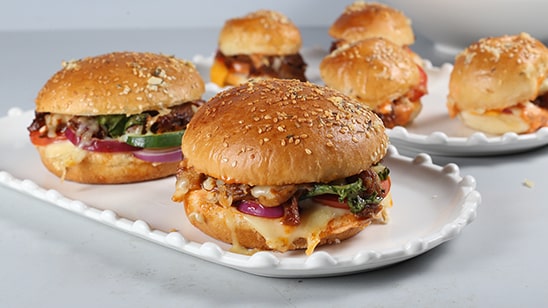 Sep 25, 2023 at 03:40 PM (GMT -04:00)

Check out the Cheesy Beef Sliders Recipe in Urdu. Learn how to make best Cheesy Beef Sliders Recipe , cooking at its finest by chef Samina Jalil at Masala TV show Lazzat. Check all the Pakistan Cooking recipes in Urdu of Masala TV. Also Check Cheesy Beef Sliders Recipe , ingredients and complete Method.
Cheesy Beef Sliders are one of a kind fast food dish that are loved by people of all age groups but especially children. Give your kids a treat with these sliders!
Watch this Masala TV video to learn how to make Cheesy Beef Sliders , Coffee Smoothie and Masala Daal Mash Fry Recipes. This show of Lazzat with Chef Samina Jalil aired on 17 September 2021.
Ingredients:
Boiled Beef 2 Cups
Sausages 3-4
Onion (Finely Cut) 1
Chili Garlic Sauce 4 tbsp
Worcestershire Sauce 4 tbsp
Oil 4 tbsp
Hot Sauce 2 tbsp
Barbeque Sauce 2 tbsp
Crushed Garlic 1 tbsp
Butter ½ Cup
Thyme, Oregano ½ tsp
Cheese Slice 6
Tomato Slice 6-8
Lettuce Leaves as required
Sauce 1 cup
Buns as required
Mozzarella Cheese 1-1/2 cup
Ingredients for Sauce:
Mayonnaise ½ cup
Hot Sauce 1 tbsp
Ketchup 2 tbsp
Lemon Juice 1 tbsp
Method:
First shred beef. Then heat oil and fry onion in it then add crushed garlic. Now mix beef, finely cut sausages, chili garlic sauce, Worcestershire sauce, hot sauce and barbeque sauce in it then add thyme and oregano and let it cool down. Mix all ingredients of sauce. Now put cheese slice, tomato slice, lettuce leave on bun then put beef mixture and sauce. Add mozzarella cheese again add sauce and put the other part of bun. Mix crushed garlic, thyme and oregano in melted butter and brush on bun. Now bake in pre heat oven until cheese melts.
Ingredients:
Bananas 4
Oats 4 tbsp
Ice 1 tbsp
Peanut butter 2 tbsp
Milk 2 cups
Brown sugar 4 tbsp
Yogurt as required
Method:
In a blender, blend all the above ingredients and serve.
Ingredients:
Split Bengal gram (boiled) ½ cup
White lentil (boiled) 1-1/2 cup
Tomatoes (boiled & cut) 3-4
Red chili powder 1-1/2 tsp
Turmeric ½ tsp
Salt to taste
Ginger garlic paste 1 tbsp
Mix whole all spice 1 tbsp
All spice powder ½ tsp
Butter 4 tbsp
Clarified butter ½ cup
Asafoetida 2 pinch
Ginger (finely cut) as required
Green chilies as required
Green coriander as required
Mint as required
Fry onion as required
Method:
Heat butter and oil add whole all spice, ginger garlic paste, boiled tomatoes, salt, red chili powder and turmeric and saute gravy. Now add white lentil, split Bengal gram and 1 cup of water and let it cook. When lentil and gravy get mix well then add asafoetida, all spice powder, little ginger and green chilies and let it simmer. Now take out in dish and garnish with green coriander, green chilies, ginger and fry onion.

Cheesy Beef Sliders Recipe in Urdu and English
At Masala TV you can check complete Cheesy Beef Sliders Recipe in Urdu and English. This is one of the best recipes by chef Samina Jalil at Masala TV show Lazzat. Check out the other best recipes of chefs Samina Jalil.
Top relevant recipes of Cheesy Beef Sliders Recipe in Urdu