Fusion Food Recipe | 13 March 2023 | Recipes: Lahori chargha & Memoni khausey | Mahnoor Malik | Masala Tv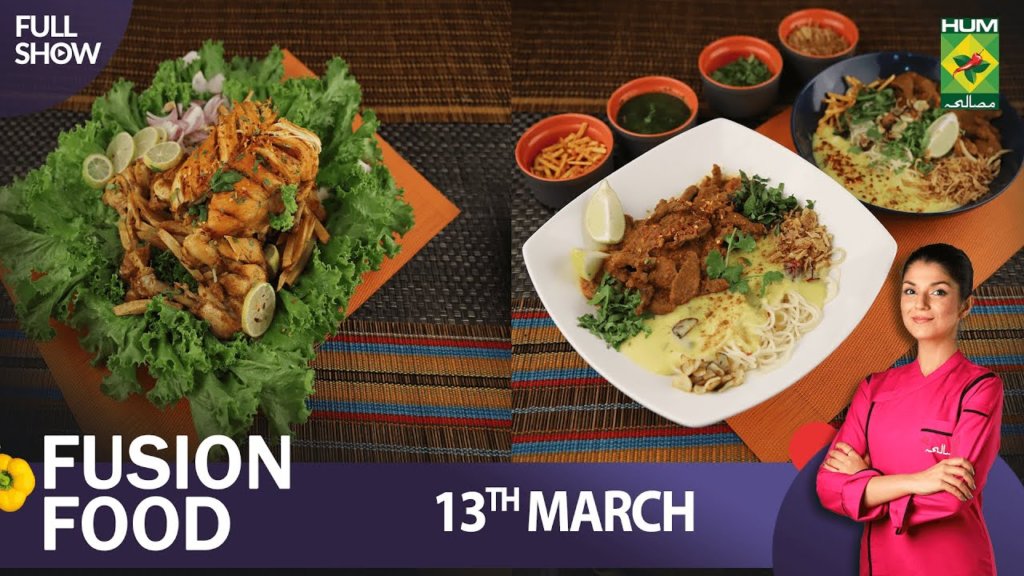 Dec 09, 2023 at 01:23 PM (GMT -05:00)

Check out the Fusion Food Recipe in Urdu. Learn how to make best Fusion Food Recipe, cooking at its finest by chef Mahnoor Malik at Masala TV show Fusion Food. Check all the Pakistan Cooking recipes in Urdu of Masala TV. Also Check Fusion Food Recipe, ingredients and complete Method.
Recipes: Lahori chargha & Memoni khausey
Fusion Food – 13 March 2023 – Recipes: Lahori chargha & Memoni khausey – Chef Mahnoor Malik – Masala Tv
This show is hosted by Chef Mahnoor Malik who gives a personalized fusion twist to international cuisines. The chef also makes sure to provide a calorie count for each dish in the episode as well as to mention healthy substitutes for the ingredients to ensure a touch of healthiness in her dishes.
#lahorichargharecipe #memonikhausey #mahnoormalik #quickrecipes #food #foodie #fusionfood
Watch this Masala TV video to learn how to make Lahori chargha & Memoni khausey.
Ingredients
Kashmiri chili powder 2 tablespoon
cumin powder ½ tablespoon
coriander powder 2 teaspoon
red chilli flakes 1 tablespoon
garam masala ½ teaspoon
turmeric powder ½ teaspoon
black pepper powder ½ teaspoon
cornflour 2 tablespoon
ginger garlic paste 1 tablespoon
chat masala 1 teaspoon
salt 1 teaspoon
oil 2 tablespoon
vinegar 3 tablespoon
egg 1
zarda color ¼ teaspoon
other
Oil to fry
lemon juice 2 tablespoon
Sides:
Salad leaves
Green chutney
Onion slices
Garlic raita
French fries
Spicy ketchup
Method
Prepare Chicken
• Wash and pat dry with a kitchen towel. Place deep letter V- shapes cuts on the chicken breast with a sharp knife. Similarly, place 1-2 deep cuts on the leg pieces. Set aside.
Marinate
• Mix all the ingredient listed under charga marinade in bowl. This marinade is enough for 1-1.25 kg chicken.
• Take marinade in your hand and apply it all over the chicken. Wear gloves to avoid spice burns. Also tie the legs of the chicken with a cotton thread.
• Marinate chicken for at least 4 hours on the counter in a cool place or preferably overnight in the fridge.
Steam
• Then place the chicken in the steamer. Make sure the water level is at least ½ inch below the steaming plate. Place the lid tightly and steam for 20-25 minutes until the chicken is tender. Remove chicken from steamer and set aside.
Fry Chicken chargha
• Before frying the chicken, prepare the platter with fried or baked potatoes, fresh veggies and green chutney, and garlic dip.
• Fill a non-stick wok with 2-3 inches of oil. Heat the oil on a medium-high flame and place the steamed charga in it. Cook for 2 minutes on each side until the chargha is throughly heated and golden. Turn and remove the chicken with help of two tongs.
• Place the crispy fried chicken on the platter. Pour lemon juice and sprinkle chaat masala and serve.
Ingredients for Coconut Curry
green chilies 3
can full-fat coconut milk 400milliliter
flour ¾ cup gram
full-fat yogurt ¾ cup
ginger garlic paste 1 tablespoon
turmeric 1 teaspoon
Salt to taste
neutral flavored oil ¼ cup
curry leaves 15
dried whole red chilies 4
Beef Stew/Curry
neutral flavored oil ¼ cup
boneless beef 1 pound
onion, sliced thin 1 medium
tomatoes, pulsed 2
ginger garlic paste 1 tablespoon
coriander powder 2 teaspoons
garam masala 2 teaspoons
cumin seeds 1 ½ teaspoons
red chili powder 1 ½ teaspoons
turmeric 1 teaspoon
ground cumin ½ teaspoon
ground black pepper ½ teaspoon
Salt to taste
Assembly/Garnish
Spaghetti 1 pound
Fried spaghetti or crushed potato chips
Fried onions
Garlic, sliced and fried until golden brown
Cilantro, chopped
Mint, chopped
Boiled eggs, diced
Fresh lemon or lime juice
Chaat masala
Crushed red pepper flakes
Instructions
Prepare Coconut Curry
• Combine green chilies, coconut milk, gram flour, yogurt, ginger garlic paste, turmeric, and salt in the jar of a blender and blitz until smooth. Add 4 cups water and pulse until combined. Set aside.
• Heat oil in a large vessel over medium heat. Add red chilies and curry leaves and cook for a few seconds. Add coconut milk mixture and bring to a boil, then reduce heat to medium low. Cook uncovered until thickened and reduced, adding water as necessary, about 20 to 30 minutes. Remove from heat and set aside.
Prepare Beef Stew/ Curry
• Combine all of the ingredients in a large vessel and add 2 cups water. Cook over medium heat until the meat it cooked through and tender, about 45 to 60 minutes. Add water as necessary, and set aside.
Assemble Khao Suey
• Place spaghetti on individual plates. Top with coconut curry and beef stew. Garnish with desired condiments.

Fusion Food – 13 March 2023 – Recipes: Lahori chargha & Memoni khausey – Mahnoor Malik – Masala Tv in Urdu and English
At Masala TV you can check complete Fusion Food Recipe in Urdu and English. This is one of the best recipes by chef Mahnoor Malik at Masala TV show Fusion Food. Check out the other best recipes of chefs Mahnoor Malik.
Top relevant recipes of Fusion Food Recipe in Urdu