Fusion Food Recipe | 22 Feb 2023 | Recipes: Lemon Curd Chicken & Smashed Potatoes | Mahnoor Malik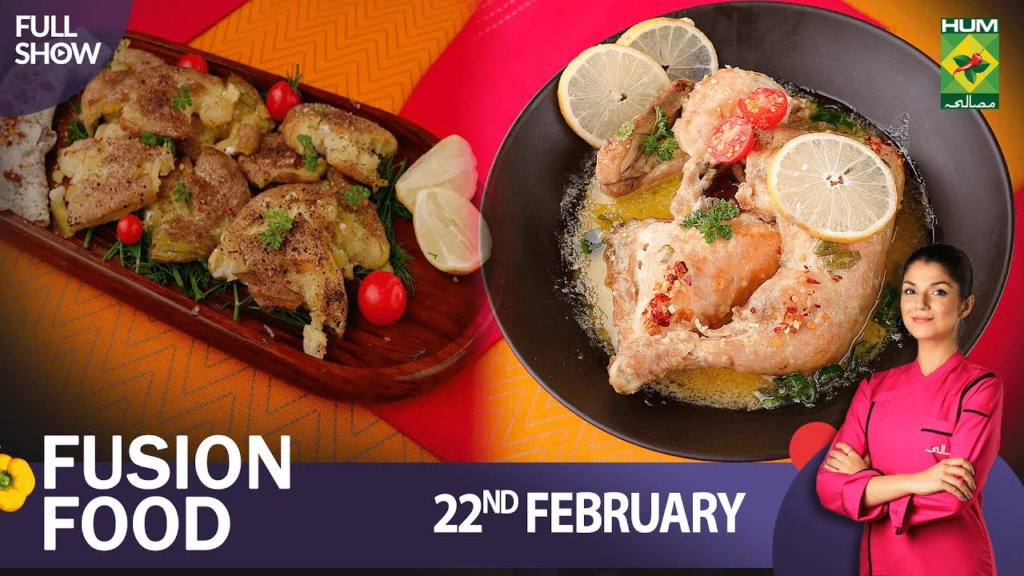 Nov 28, 2023 at 08:15 PM (GMT -05:00)

Check out the Fusion Food Recipe in Urdu. Learn how to make best Fusion Food Recipe, cooking at its finest by chef Mahnoor Malik at Masala TV show Fusion Food. Check all the Pakistan Cooking recipes in Urdu of Masala TV. Also Check Fusion Food Recipe, ingredients and complete Method.
Recipes: Lemon Curd Chicken & Smashed Potatoes
Fusion Food – 22 Feb 2023 – Recipes: Lemon Curd Chicken & Smashed Potatoes – Mahnoor Malik – Masala Tv
This show is hosted by Chef Mahnoor Malik who gives a personalized fusion twist to international cuisines. The chef also makes sure to provide a calorie count for each dish in the episode as well as to mention healthy substitutes for the ingredients to ensure a touch of healthiness in her dishes.
#lemoncurd #potatoes #salad #mahnoormalik #quickrecipes #food #foodie #fusionfood
Watch this Masala TV video to learn how to make Lemon Curd Chicken & Smashed Potatoes.
Ingredients
For lemon curd
Egg yolks 4 large
Granulated sugar 2/3 cup (134g)
Lemon zest 1 Tbsp (about 1 lemon)
Fresh Lemon juice 1/3 cup (80ml)
Salt 1/8 teaspoon
Unsalted butter, softened to room temperature 6 Tbsp (86g)
For chicken
Chicken wide cut with bones ½ kg
All-purpose flour ¼ cup
Kosher salt ¼ teaspoon
Olive oil 2 tablespoons
Rice vinegar 1 tablespoon
Chicken stock ¾ cup
Lemon curd 1 cup
Water ¼ cup
Lemon zest 1 tablespoon
Scallions thinly sliced 2
METHOD For lemon curd
Fill the bottom pot of your double boiler with 1-2 inches of water. (Or use the DIY double boiler method listed in the notes.) Place on high heat. Once the water begins to boil, reduce to low heat to keep the water at a simmer.
Place egg yolks, granulated sugar, lemon zest, lemon juice, and salt into the top pot of your double boiler. Using a silicone whisk, whisk until completely blended, then continue to whisk as the curd cooks. Constant whisking prevents the egg yolks from curdling. Whisk and cook until the mixture becomes thick, resembling the texture of hollandaise sauce, about 10 minutes. If curd isn't thickening, turn up the heat and constantly whisk.
Remove pan from heat. Cut the butter into 6 separate pieces, then whisk into the curd. The butter will melt from the heat of the curd. Pour curd into a jar or bowl and place a piece of plastic wrap directly on top so it is touching the top of the curd. (This prevents a skin from forming on top.) The curd will continue to thicken as it cools. Once cool, the plastic wrap can be removed.
Refrigerate the curd for up to about 10 days.
METHOD For chicken
Pour the flour and salt into a large plastic bag and add the chicken pieces. Shake well and make sure all pieces are evenly coated.
Heat the olive oil in a large skillet over medium-high heat. Shake off any excess flour. Add the pieces and pan-sear for two to three minutes on each side or until they are almost cooked through and golden brown.
Remove the meat from the pan and reduce the heat to medium. Add the vinegar and chicken stock and scrape up any drippings or brown bits with a whisk.
Add the lemon curd and ¼ cup of water and stir well to combine.
Once everything is mixed well and bubbling, add the meat back in and simmer for two to three minutes, or until the sauce has thickened a little.
Top with the scallions and lemon zest and serve.
Ingredients
Medium potatoes 1 – 1.2kg
Salt (for boiling) 1 tbsp
Unsalted butter, melted 2 tbsp
Olive oil 1 tbsp
Salt (for sprinkling) 3/4 tsp
Black pepper 1/4 tsp
Finely chopped parsley, Garnish
METHOD
Cook potatoes: Bring a pot of water to the boil, add 1 tbsp salt. Cook potatoes until soft. It's ok if the skin splits.
Preheat oven to 200°C/390°F (180°C fan).
Steam dry: Drain the potatoes and let them dry in the colander for 5 minutes or so.
Smash! Place on the tray then use a large fork or potato masher to squish them, keeping them in one piece. Thin = crisper. Thicker = fluffier insides. (Both good!) More nubbly surface = better crunch!
Steam dry again: Leave on the tray to steam dry for 5 minutes or so – makes them crispier!
Drizzle: Drizzle with butter, then olive oil. Sprinkle with salt and pepper.
Bake: Bake for 45 minutes (small potatoes) to 55 minutes (medium) or until deep golden and crispy. Do not flip!
Serve hot, sprinkled with parsley if desired.

Fusion Food – 22 Feb 2023 – Recipes: Lemon Curd Chicken & Smashed Potatoes – Mahnoor Malik in Urdu and English
At Masala TV you can check complete Fusion Food Recipe in Urdu and English. This is one of the best recipes by chef Mahnoor Malik at Masala TV show Fusion Food. Check out the other best recipes of chefs Mahnoor Malik.
Top relevant recipes of Fusion Food Recipe in Urdu