Fusion Food Recipe | 24 Jan 2023 | Recipes: Kabab Shots & Lasagna Style Paratha | Mahnoor Malik | Masala Tv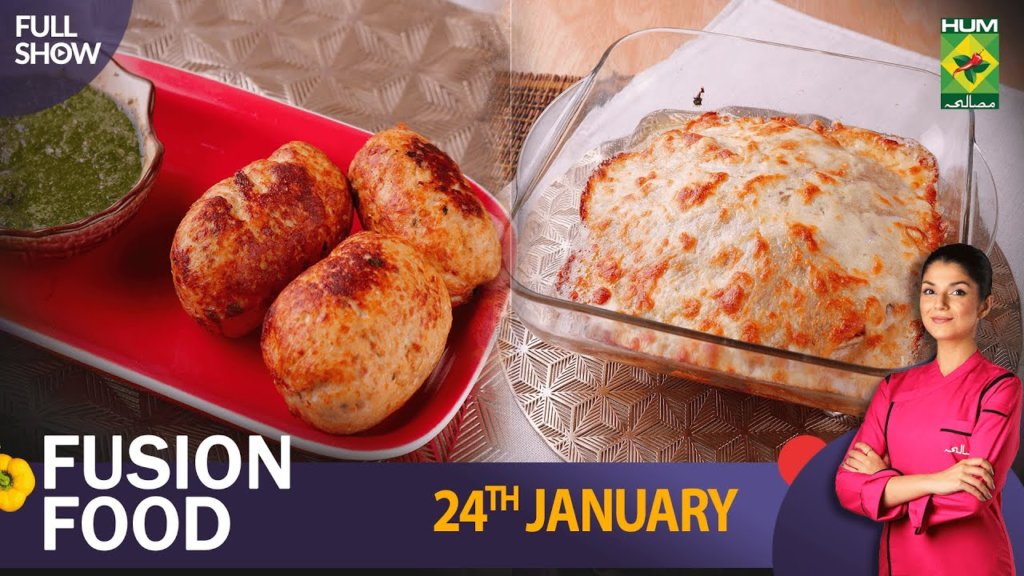 Nov 28, 2023 at 09:20 AM (GMT -05:00)

Check out the Fusion Food Recipe in Urdu. Learn how to make best Fusion Food Recipe, cooking at its finest by chef Mahnoor Malik at Masala TV show Fusion Food. Check all the Pakistan Cooking recipes in Urdu of Masala TV. Also Check Fusion Food Recipe, ingredients and complete Method.
Fusion Food – 24 Jan 2023 – Recipes: Kabab Shots & Lasagna Style Paratha – Mahnoor Malik – Masala Tv
This show is hosted by Chef Mahnoor Malik who gives a personalized fusion twist to international cuisines. The chef also makes sure to provide a calorie count for each dish in the episode as well as to mention healthy substitutes for the ingredients to ensure a touch of healthiness in her dishes.
We bet you have never had as good as this one!
#kababshots #paratharecipe #masalatv #mahnoormalik #quickrecipes #food #foodie #fusionfood
Watch this Masala TV video to learn how to make Kabab Shots With Chutney & Lasagna Style Paratha.
Ingredients:
Chicken breast 350 gm
Onion 1 roughly cut in medium pieces
Garlic 4 cloves
Ginger 1 tbsp chopped
Vinegar ½ tbsp (you may use lemon juice as well)
Clarified butter 20 to 30 gm
Green chilies 3
Red chili powder ½ tsp
Salt ½ tsp
Cumin powder ½ tsp
Coriander powder ½ tsp
All spice powder ¼ tsp
Dry milk powder 5 gm
Egg crack 1
Cling film restaurant grade
Skewers for making kababs or sticks
Cooking oil for frying kababs
Cut the chicken breast roughly in medium to small pieces.
In a chopper add onion, ginger slices, garlic cloves and finely chop these.
Add vinegar now and blend it with vegetables well.
Do not stop the chopper and gradually add ghee in it. Vinegar that we already added will help to immensify the ghee well.
Add green chilies, salt, red chili powder, cumin powder, coriander powder, garam masala powder, dry milk powder, blend these well.
Now add chicken pieces and grind it well to a fine mixture. The mixture will be sticky and ghee and all vegetables will be fully combined with chicken. Mix egg now. Bind it fully. Take this gola kabab mixture out of chopper.
Spread a cling film over the working surface.
Grease your hands with oil, put over the cling film about 110 grams of gola kabab mixture, put a skewer or stick in the middle and wrap the cling film carefully covering the kabab mixture. Keep in the cling film Roll tightly.
Tie both ends of the cling film and skewer or stick with a string to seal it perfectly. This will look like a sausage shape at this stage.
You can take out stick if you want to.Now divide this large gola kabab in small pieces by tying knots of string on small portions of the stick. Make according to little shot glass size.
Repeat the same process with complete gola kabab mixture.
We need a large cooking pot for cooking these gola kababs if using skewers.
After the boiling starts turn the flame to low (but the boil should remain in water). Dip the gola kabab skewers in this water and let these cook for 12-15 minutes.
Take out and bring it to room temperature.
Cut the string knots, remove the cling film and take out in the dish. Cooking of gola kababs is complete at this stage.
For adding golden brown color on the top, heat cooking oil in a frying pan and fry the kababs for 3-4 minutes.
Now you can serve.
Method
Take the chopped coriander leaves, chopped green chillies & ginger, cumin powder, chaat masala, lemon juice and salt in a grinder jar or a small blender jar.. add citric blend a little more.
Add 1 or 2 teaspoon water or as needed and grind or blend to a fine consistency.
Add a few teaspoons more of the water if required. But don't make the chutney too thin or watery.
Add it to glasses top up with kababs enjoy
Ingredients:
 Minced chicken 500 gm
Carrot 1
Tomatoes puree 2 to 4
Oil 1tbsp
Salt 1 tsp
Black pepper 1tsp
Crushed chilli peppers to taste
Onion 1
Garlic 2 to 3 cloves
Soy sauce 1 tsp
Mixed herbs
Cheddar cheese
Mozzarella cheese
For The Paratha
Wheat flour as required
Water room temperature as required
Oil as required
Prepare red sauce with meat. Heat oil at low flame add garlic and onion sauté a bit add tomato puree blanched carrots, salt pepper and soya sauce cook for a minute or two then blend everything well together now add it to pan again cook . Now in a same pan cook minced chicken add thered sauce, puree sauce now add tomato paste, crushed chillies and mixed herbs give for another 2 min and sauce is ready.
Mix all paratha Ingredients and make a dough rest it for 15 to 30min
Now roll out the paratha and half done it.
3 paratha for 1 lasagna. Cook 1 paratha to crisp for the middle section.
Place half done paratha then filling then cheddar cheese. Then crispy paratha then again the filling and cheese then half done paratha again. Now top it with mozzarella cheese.
For stove place it in a pan on a stand cover with the lid and let cheese melt.
For oven bake it on 180°c for 15 to 20min.

Fusion Food – 24 Jan 2023 – Recipes: Kabab Shots & Lasagna Style Paratha – Mahnoor Malik – Masala Tv in Urdu and English
At Masala TV you can check complete Fusion Food Recipe in Urdu and English. This is one of the best recipes by chef Mahnoor Malik at Masala TV show Fusion Food. Check out the other best recipes of chefs Mahnoor Malik.
Top relevant recipes of Fusion Food Recipe in Urdu