Gajrela Recipe | Food Diaries | Zarnak Sidhwa | Dessert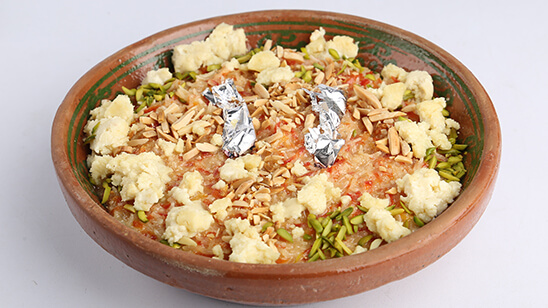 Jul 07, 2022 at 03:12 AM (GMT -04:00)

Check out the Gajrela Recipe in Urdu. Learn how to make best Gajrela Recipe , cooking at its finest by chef Zarnak Sidhwa at Masala TV show Food Diaries. Check all the Pakistan Cooking recipes in Urdu of Masala TV. Also Check Gajrela Recipe , ingredients and complete Method.
Gajrela is our favorite Desi Dessert but it is often difficult to get the right proportion of ingredients. With a recipe so great this time, you'll ace it without a doubt!
Watch this Masala TV video to learn how to make Gajrela and Orange rosemary cinnamon biscuits Recipes. This show of Food Diaries with Chef Zarnak Sidhwa aired on 29 December 2020.
Ingredients:
Carrots, grated 1 kg
Basmati rice 1/2 kg
Milk 2 liters
Sugar 1 kg
Khoya 1/2 kg
Green cardamoms 5
Wheat flour 2 tbsp
Oil as required
For garnish:
Silver paper as required
Almonds and pistachios chopped as required
Method:
Cook soaked rice and carrots together. When the rice is fully cooked, then add milk and reduce it to half and then add sugar. Cook it for 10 minutes and then take it off the flame. When cold, add khoya and green cardamom powder. Make a mixture of wheat flour and oil and add in serve decorated with silver paper and almonds and pistachios.
Ingredients:
Icing sugar 1/3 cup
Flour 1 cup
Baking powder 1 tsp
Custard powder 1/2 cup
Ground cinnamon 2 tsp
Dried rosemary 1 tsp
Finely grated orange rind 1 tbsp
Chilled butter, chopped 185gm
For cinnamon sugar:
Caster sugar 1/4 cup
Cinnamon powder 1/4 cup
Method:
Place icing sugar, flour, custard powder, cinnamon, rosemary and orange rind in a food processor. Process until well combined. Add the butter and process until a dough form. Turn dough onto a clean work surface and shape into a disc. Cover with plastic wrap and place in the fridge for 10 minutes to rest.to make the cinnamon sugar, combine the sugar and cinnamon in a bowl.roll tablespoonfuls of dough into balls. Roll in cinnamon sugar to coat. Place on the lined trays. Use a fork to flatten slightly. Bake at 190 degrees c for 15-20 minutes or until biscuits are golden. Cool on wire racks.

Gajrela Recipe in Urdu and English
At Masala TV you can check complete Gajrela Recipe in Urdu and English. This is one of the best recipes by chef Zarnak Sidhwa at Masala TV show Food Diaries. Check out the other best recipes of chefs Zarnak Sidhwa.
Top relevant recipes of Gajrela Recipe in Urdu