Greek New Year's Cake Recipe | Food Diaries | Zarnak Sidhwa | Dessert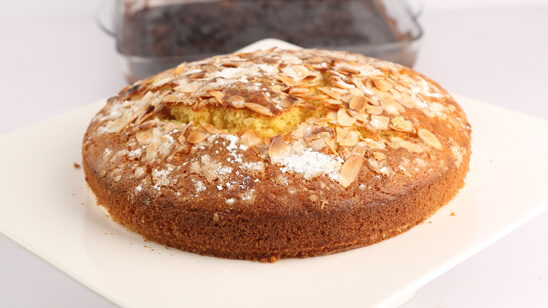 Mar 25, 2023 at 12:16 PM (GMT -04:00)

Check out the Greek New Year's Cake Recipe in Urdu. Learn how to make best Greek New Year's Cake Recipe , cooking at its finest by chef Zarnak Sidhwa at Masala TV show Food Diaries. Check all the Pakistan Cooking recipes in Urdu of Masala TV. Also Check Greek New Year's Cake Recipe , ingredients and complete Method.
Why waste money on cakes when you can make beautiful looking delicious Greek New Year's Cake at home. Follow this step by step recipe to up your baking games.
Watch this Masala TV video to learn how to make Greek new year's cake and Hot Chocolate Pudding Recipes. This show of Food Diaries with Chef Zarnak Sidhwa aired on 31 December 2020.
Ingredients:
butter 1 cup
caster sugar 2 cups
flour 3 cups
eggs 6
baking powder 2 teaspoons
warm milk 1 cup
baking soda ½ teaspoon
lemon juice 1 tablespoon
blanched slivered almonds ¼ cup
caster sugar 2 tablespoons
Method:
Generously grease a 10" round cake pan. beat the butter and sugar together until light. Stir in the flour and mix. Add the eggs one at a time, mixing well after each addition. Combine the baking powder and milk, add to the egg mixture, then combine the lemon juice and baking soda, stir into the batter. Pour into the prepared cake pan. bake at 180 degrees c for 20 minutes. Remove and sprinkle the nuts and sugar over the cake, then return it to the oven for 20-30 additional minutes, until cake springs back to the touch. Gently cut a small hole in the cake and place a coin in the hole. Try to cover the hole with sugar. Cool cake on a rack for 10 minutes before inverting onto a plate. serve cake warm. Each person in the family gets a slice starting with the youngest. The person who gets the quarter in their piece, gets good luck for the whole year.
Ingredients:
Butter ½ cup
Chocolate 100 gm
Caster sugar 1 cup
Eggs 4
Flour 2 cups
Baking powder 2 tsp
Cocoa powder ¾ cup
Hot coffee ½ cup
Vanilla essence 1 tsp
For the syrup:
Water 1 cup
Sugar 2/3 cup
Cocoa powder 2 tbsp
Butter 2 tbsp
Method:
Melt the chocolate and butter together, and then allow cooling slightly. Beat the eggs and sugar together until pale and fluffy. Stir in the cooled chocolate mixture. Sift the dry ingredients into the chocolate mixture. Mix in the hot coffee and vanilla. Pour the batter into a greased dish and place in the oven.
Allow to bake at 180 degrees C for 25-30 minutes until a toothpick inserted comes out clean.While the pudding is baking, combine all the syrup ingredients and bring to a simmer. Allow to simmer for 5 minutes then remove from the heat. Pour the syrup over the pudding as soon as it is out of the oven and allow to absorb. You can poke a few holes into the pudding with a toothpick to allow the syrup to soak properly.Allow the pudding to stand for 10 minutes then serve with ice cream.

Greek New Year's Cake Recipe in Urdu and English
At Masala TV you can check complete Greek New Year's Cake Recipe in Urdu and English. This is one of the best recipes by chef Zarnak Sidhwa at Masala TV show Food Diaries. Check out the other best recipes of chefs Zarnak Sidhwa.
Top relevant recipes of Greek New Year's Cake Recipe in Urdu