Jodhpuri Aloo Recipe | Food Diaries | Zarnak Sidhwa | Desi Food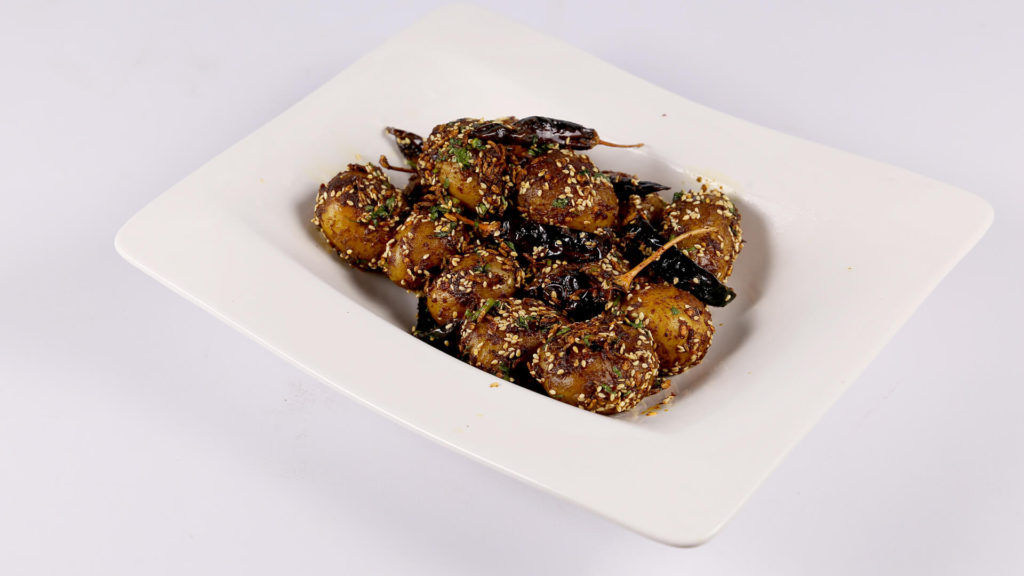 Apr 18, 2021 at 01:44 AM (GMT -04:00)

Check out the Jodhpuri Aloo Recipe in Urdu. Learn how to make best Jodhpuri Aloo Recipe, cooking at its finest by chef Zarnak Sidhwa at Masala TV show Food Diaries. Check all the Pakistan Cooking recipes in Urdu of Masala TV. Also Check Jodhpuri Aloo Recipe, ingredients and complete Method.
Jodhpuri Aloo are spicy and flavorful. This unique and easy to make recipe will make you fall in love!
Watch this Masala TV video to learn how to make Jodhpuri Aloo, Paneer kheer and Paneer Recipes. This show of Tarka with Chef Rida Aftab aired on 3 January 2020.
Ingredients:
Baby potatoes boiled 500 gm
Dry red chilies 2
Sesame seeds 2tsp
Cumin seeds 1tsp
Fennel seeds 1tsp
Turmeric powder ½ tsp
kashmiri red chili powder 1tsp
Red chili flakes 2tbsp
Dry mango powder 1tsp
Coriander leaves chopped 2tbsp
Oil 1tbsp
Salt to taste
Method :
Boil the baby potatoes. Heat oil, add the dry red chilli, cumin seeds, fennel seeds, white sesame seeds and let splutter. Add the red chilli flakes, boiled baby potatoes, kashmiri red chili powder and turmeric powder. Season with salt and mix well. Toss the baby potatoes occasionally from time to time. Slowly roast the potatoes until they are slightly crisp on the outside. This will take around 12-15 minutes. Now, add in the dry mango powder, combine well and switch off the heat. Garnish jodhpuri aloo with coriander leaves, sesame seeds and serve hot.
Ingredients:
Milk 1 liter
Cottage cheese, crumbled 1 cup
Saffron strands as required
Sugar ¼ cup
Cardamom powder ½ tsp
Almonds chopped as required
Pistachios chopped as required
Silver paper to garnish
Method:
Boil the milk until it becomes half its quantity. Add the saffron strands, sugar, cardamom and the crumbled cottage cheese. Simmer until it has thickened. Transfer the paneer kheer in a serving bowl, garnish with almonds and pistachios and silver leaf.
Ingredients:
Milk 3 liters
Lemon juice ¼ cup
Method:
Boil milk. Add in the lemon juice. The milk begins to curdle separating into cheese and whey. Turn off the heat and allow the cheese to rest in the whey for about few minutes. Separate the whey and the chenna using a thin sieve strainer. Drain the excess water and give the paneer a shape. Allow the paneer to continue to drain for about 2 to 3 hours until it becomes firm. Once drained completely, invert it on a flat plate and refrigerate.

Jodhpuri Aloo Recipe in Urdu and English
At Masala TV you can check complete Jodhpuri Aloo Recipe in Urdu and English. This is one of the best recipes by chef Zarnak Sidhwa at Masala TV show Food Diaries. Check out the other best recipes of chefs Zarnak Sidhwa.
Top relevant recipes of Jodhpuri Aloo Recipe in Urdu