Khoye Ka Tosha Recipe | Lazzat | Samina Jalil | Desi Food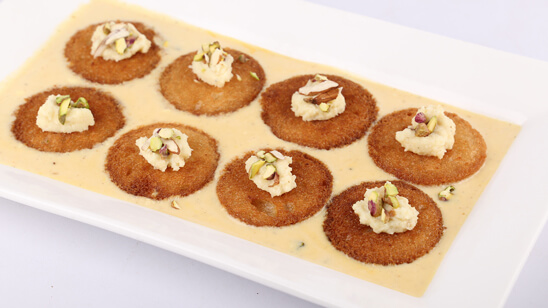 Sep 21, 2023 at 11:47 AM (GMT -04:00)

Check out the Khoye Ka Tosha Recipe in Urdu. Learn how to make best Khoye Ka Tosha Recipe , cooking at its finest by chef Samina Jalil at Masala TV show Lazzat. Check all the Pakistan Cooking recipes in Urdu of Masala TV. Also Check Khoye Ka Tosha Recipe , ingredients and complete Method.
Khoye Ka Tosha is a classic master piece that has the most divine taste. It has a specific type of aroma that makes us want to have even more of it. Try it and love it!
Watch this Masala TV video to learn how to make Khoye Ka Tosha ,Gola kabab and Dahi Ki Chutney Recipes. This show of Lazzat with Chef Samina Jalil aired on 9 November 2020.
Ingredients:
Bread slices 10-12 slices
Clarified butter for frying
Almonds, pistachios (finely cut) 4tbsp
Green cardamom (powdered) 1/2tsp
Whole dried milk 1- ½ cup
Desiccated Coconut 1tbsp
Condensed milk 6tbsp
Milk 2cups
Saffron color 1 pinch
Method:
deep fried the round slices of bread. Now add condensed milk, whole dried milk and cook it till it thickens. Then add saffron color and mix it to set it on a flat dish. Now add coconut powder, condensed milk with green cardamom powder in rest of the whole dried milk. Lastly put 1tbsp whole dried milk on the fried slice of bread, garnish it with chopped almonds and pistachios and serve.
Ingredients:
Beef mince 750gm
Ginger garlic paste 1tbsp
Papaya paste 1tbsp
All spices (powder) 3/4tsp
Long pepper powder 1/4tsp
Fried onions (crushed) 4tbsp
Green cardamom (powder) 1tsp
Salt 1-1/2tsp
Green chilies 2-3
Red chili powder 2tsp
Cardamom ½ bunch
Cream 2tbsp
Bread slice 1
Oil for frying
Coal 1
Ingredients for cups:
Samosa strips as required
Egg yolk 1
Oil for frying
Onion slice, lettuce for garnishing
Method:
Except the beef mince add all the ingredients in the chopper and leave it for 2hours. Now make kababs in the shape of a ball and fry them and also smoke it with coal. Then on a samosa strip spread the egg yolk and layer it with another strip. Now put hot oil over it and press it with a round spoon till it looks like a shape of a bowl and then fry it completely. Now cool all the cups. Cut the onion and lettuce and garnish it with it and serve the kababs hot.
Ingredient:
Yogurt 1 cup
Chopped mint 1 tbsp
Chopped green coriander 1 tbsp
White cumin 1 tsp
Garlic 2 cloves
Black pepper 6-8
Salt as required
Method:
Except yogurt all ingredient's mix and grind well. then add yogurt and mix well. then ready delicious chantey.

Khoye Ka Tosha Recipe in Urdu and English
At Masala TV you can check complete Khoye Ka Tosha Recipe in Urdu and English. This is one of the best recipes by chef Samina Jalil at Masala TV show Lazzat. Check out the other best recipes of chefs Samina Jalil.
Top relevant recipes of Khoye Ka Tosha Recipe in Urdu