Tikka Bread Roll Recipe | Mehboob's Kitchen | Mehboob Khan | Appetizer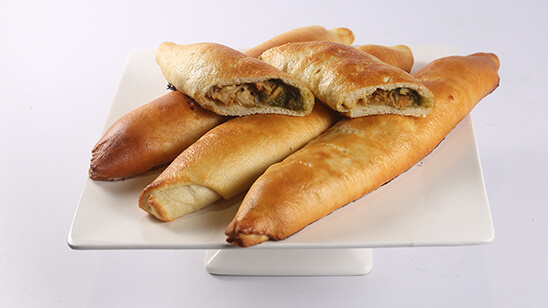 Sep 25, 2023 at 03:47 PM (GMT -04:00)

Check out the Tikka Bread Roll Recipe in Urdu. Learn how to make best Tikka Bread Roll Recipe , cooking at its finest by chef Mehboob Khan at Masala TV show Mehboob's Kitchen. Check all the Pakistan Cooking recipes in Urdu of Masala TV. Also Check Tikka Bread Roll Recipe , ingredients and complete Method.
This Tikka Bread roll has a crusty texture with a delicious filling that tastes like a tikka.
Watch this Masala TV video to learn how to make Tikka Bread Roll ,Lucknowi biryani And Anday khoye ka halwa Recipes. This show of Mehboob's Kitchen with Chef Mehboob Khan aired on 9 March 2020.
Ingredients:
Flour ½ kg
Yeast 1 tbsp
Sugar 1 tbsp
Salt 1 tsp
Oil 3 tbsp
Eggs 2
Tikka boti 1 packet
Cheddar cheese 1 cup
Mozzarella cheese 1 cup
Onion sliced 1
Green chutney ½ cup
Oil 5 tbsp
Method:
In bowl add yeast, water, sugar mix well and left for rinse. Add egg, salt, flour and oil mix well. Add water make soft dough and leave for rinse. Heat 5 tbsp of oil add chicken boti fry for 6 to 8 minute, remove and cool. Cut boti into small cubes. Add onion, cheddar cheese, mozzarella cheese and green chutney mix well. Roll dough and make balls of 150 gm. Roll the ball filled chicken batter again roll. Keep for 20 minute to rinse. Brush with egg and bake at 200 C for 25 to 30 minute.
Ingredients:
Chicken 750 gm
Potatoes 3
Rice basmati 750 gm
Ginger garlic paste 3 tbsp
Ginger julienned cut 2 tbsp
Yogurt whipped 2 cup
Green chilies 4-5
Green chilies ground 15-20
Green coriander ground ½ cup
Mint (ground) ¼ cup
Almond finely chopped 10-12
Almond peeled 6-7
Curry leaves 25
Cardamom small 3-4
Whole black pepper 3-4
Lemon juice 4 tbsp
Lemon sliced 2
Oil or clarified butter 1-1/2 cup
Lucknowi biryani masala 50 gm
Method:
Heat oil or clarified butter fry onion. Mix lucknowi masala, yogurt, curry leaves, ginger julienned, fried onion, ginger garlic paste, green coriander, mint, green chili paste, lemon juice, almond paste, oil or ghee. Apply masala on meat keep for 30 to 40 minute. Cook marinated meat on low flame. Add as required water. Remove from flame. Add potato sliced, lemon sliced, green chilies, whole almond on meat cover and cook. Add remaining oil or ghee, cardamom, black pepper and curry leaves fry well and apply bhagar on meat. In separate pan add 3 liter water and salt, boiled rice till half done. Sieve rice. Add layer of rice on meat. Add lemon juice cover and cook on low flame for 15 minute.
Ingredients:
Eggs 1 dozen
Clarified butter ½ kg
Sugar ½ kg
Whole dried milk ½ kg
Cardamom powder 10
Pistachios finely chopped 3 tbsp
Almond finely chopped 3 tbsp
Method:
Break egg in bowl add clarified butter, cardamom powder and sugar mix well. Toast whole dried milk in pan. add egg mixture in pan cook on low flame. Add cardamom, whole dried milk and food color cook for 2 minute. Remove in serving dish garnish with pistachio and almonds.

Tikka Bread Roll Recipe in Urdu and English
At Masala TV you can check complete Tikka Bread Roll Recipe in Urdu and English. This is one of the best recipes by chef Mehboob Khan at Masala TV show Mehboob's Kitchen. Check out the other best recipes of chefs Mehboob Khan.
Top relevant recipes of Tikka Bread Roll Recipe in Urdu